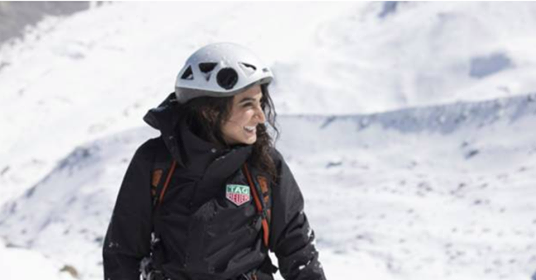 Raha Moharrak has become the first Saudi Woman to climb all 7 summits of the world, in an inspiring tale of a woman struggling against adversity and a desert stricken climate to achieve her dream of climbing the 7 tallest mountains in the world.
Moharrak initially made headlines back in 2013 by becoming the first Saudi Woman to climb mount Everest.Her passion for climbing led her to continuing and becoming the first Saudi Woman to climb the 7 summits of the world. Talking about her landmark achievement after she climbed Everest, "I don't really care about being the first, so long as it inspires someone else to be second,"she says
In an interview with Sport 360, Raha said that ""There was a point in my life, where I was at a crossroads. I had to follow a specific path being an Arab girl and I wasn't comfortable fitting into that mold." Her journey to become the first woman was filled with challenges, not only because of the stigmatized role of women in Saudi society, but also because of the climate, which is not particularly built for mountain climbers. As a  kid, she said that "the only ice [she] saw was in the fridge or in a cup".
Raha spoke to her to slew of passions, mentioning that although her career is a graphic designer, but, she is by passion, a climber. In her quest to finishing all 7 summits, she attempts the Denali for the second time, after failing in her first bid to become the first woman to complete the 7 summits. Her grit is shown in her ability to resist being deterred by earlier experience, her persistence in completing the Denali Summit is admirable.
There's yet to be an Egyptian woman to climb the seven summits, or Everest for that matter. How high do you have to climb to break the glass ceiling? 8,848 metres.
---
Subscribe to our newsletter
---