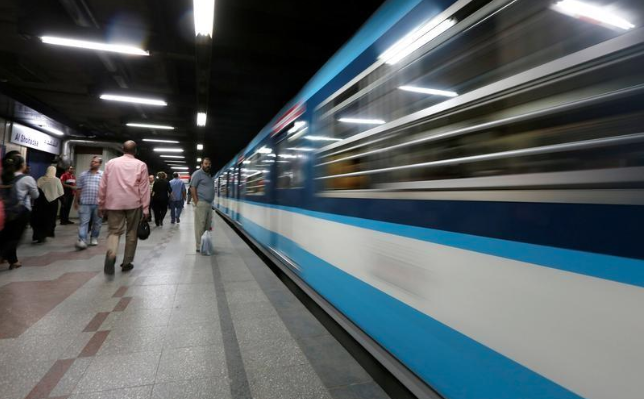 Social media users in Egypt outraged after Ahmed Abdel Hadi, a spokesman for the Egyptian Company for Metro Managment and Operations, said in a press statement that the metro is not a suicide destination for people with mental disorders, but rather it is a place where people go to get to their jobs and day-to-day activities.
Abdel Hadi released the statement after a reported suicide attempt. A man in his early 40s attempted to commit suicide at the Gamal Abdel Nasser metro station in Cairo by throwing himself in front of the metro as it approached on Sunday 2 September.
The spokesman said that the man was identified as an employee for Telecom Egypt who resides in a building in Sudan Street.
Security footage revealed that the man was standing on the platform and when he spotted the metro train approaching, he jumped with the intention to end his life.
The man survived. However, the metro train has injured his right foot and it was later amputated. Metro security rushed to the site of the incident and started an investigation by the prosecution. The officers were able to get in touch with the man's sister.
In his statement, Abdel Hadi stressed the importance of the metro as a means of commute for at least three million Cairenes.
This incident brought to light mental health in Egypt. In April, the Ministry of Health and Population surveyed a random sample of 22,000 Egyptians. The results showed that seven percent of the sample had a form of psychological disorder including anxiety and depression.
In October of last year, the Ministry of Health and Population released a campaign called "Al-Saraya Al-Safra" or "Yellow Palace" combating the stigma surrounding mental health.
The campaign highlighted the mental health services the ministry offers in partnership with 18 hospitals including Abbasiya Hospital, Al Khanka and Helwan Hospital.
Several nonprofit organizations have also taken part in raising awareness about mental health in Egypt. The latest campaign was through a Facebook page called "Break the Silence".
Founded by Ally Salama, a Canada-Based Egyptian musician, the page provides a platform for people in Egypt to voice their struggle with mental health bringing to light the magnitude of the problem.
Another support group in "Psychological Health Awareness Society in Egypt "or "P.H.A.S.E.", who provide help for victims of abuse including sexual, verbal and physical.
While these initiatives have been raising awareness, there is still stigma surrounding mental health that cripples people from seeking health when they need it.