"If you asked me whether I would've been able to do this years ago, I would've said no," Maha Barsoom says to Egyptian Streets, "but when you are put in certain stressful circumstances, it gives you the push to take such brave steps."
Since opening in 2014, Maha's Egyptian Brunch restaurant has become a top hit in Toronto, receiving countless awards and reviews from famous papers and food bloggers, a visit by renowned chef Jamie Oliver, and was voted as the 'Runner Up Best New Restaurant of 2016' by NOW magazine.
The restaurant is run by both Maha Barsoom and her two kids, Monika and Mark. Monika cooks with her mother and Mark manages the customers and services as well as the coffee drinks.
Yet behind the astounding success of this restaurant is a heartwarming story of a woman with immense love for food. As a young girl living in Egypt, Barsoom always dreamed of having her own restaurant.
<
During break time at school, while the other kids would play and run around, she would go to the library and copy recipes from Abla Nazera's cookbook, a famous Egyptian female chef in the early 20th century.
"I would always be the one cooking at home when my mom was not around, and I loved getting feedback back from people on the food, it was a hobby of mine from a very young age," she notes.
Later, when she got married and had her two kids, Monika and Mark, Barsoom's school friend, Mary, who became the new principal for New Ramses College for Girls and Boys, asked her to be the manager of the catering deparment.
"I told her that I didn't have any experience in this, how can I serve meals for an entire school?" she says, "but then she insisted that I do it, and that there will also be people that would help me. So I went for it, and it was a very pleasant experience."
"I would wake up at 5 am every morning to prepare the meals and then stay up late at night to make sure the kitchen is clean, so it was very tiring, but I loved every minute of it."
After five years, Barsoom then started to think of migrating as her kids became older and work was becoming burdensome. Though at first she wanted to leave to America, her friend Mary told her to migrate to Canada instead. So she applied to  Canada's emigration and got accepted after six months.
Upon moving to Canada in 2000, she pursued a career as an interpreter and translator. The beginning of her cooking career in Canada, however, came at an event for a translation course, when Barsoom served one of her casseroles to her work colleagues.
"One of them said that they never tasted something so delicious in their lives, and I was quite amused, since it was just ordinary pasta and chicken," she laughs, "so I told her thank you. But then she said that she was deadly serious and that I should start a catering business."
"At first I was worried, because I didn't know anyone and I didn't know how I would reach out to people, but then she told me that she would help. So the next day, I received a phone call from someone who wanted me to serve meals for an event, and I took the opportunity straight away. I was going through some struggles, I had some problems with my husband and I was feeling alone, and my previous job was not stable, so I wanted to be independent and not depend on anyone."
Since that day, Barsoom started to receive phone calls frequently to serve food in more events.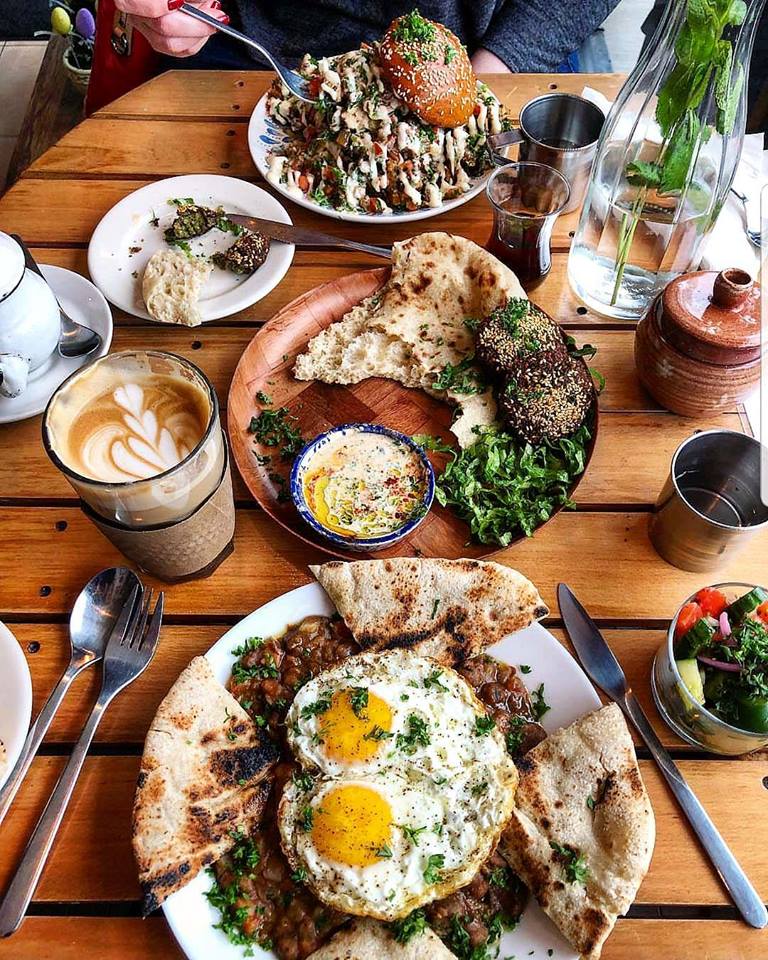 "I would not sleep for days," she says, "but it was so rewarding to hear their comments and feedback, it made me forget about all the exhaustion and struggles I had to endure."
In the next two years, Barsoom decided to stop the business for a while after she accumulated enough money to support herself. She found out that her mother was ill back home in Egypt and that her husband was thinking of returning back to find another job, so they left their children in Canada and went to stay with her mother.
"Before I left, I told my kids that I was thinking of opening a little restaurant. Both of them said, 'mama, have you gone crazy?', but I told them that it would be great, and they already have experience since they were working at a coffee shop that was also a family business.
"At first, the idea didn't appeal to them. They said that it would consume all their life and it would be tiresome. So I didn't want to force them, of course."
In early 2013, when Barsoom was in Cairo and her kids were in Canada, she received a phone call from her daughter saying that they prepared a menu and were in full support of opening a restaurant.
"She was like, 'mama, I prepared the menu', and I was like, 'what menu?' and she was like, 'for the restaurant! we are on board!' I was very happy, because I didn't want to wait until my husband finds a job and depend on him, so I thought this would be a great opportunity to start my own path."
During that time, just a few months prior to opening the restaurant, Toronto Star's travel editor and famous food writer Jennifer Bain contacted Barsoum to taste one of her Egyptian dishes.
Once she was sure that her mother was well and healthy again, Barsoom booked tickets back to Toronto instantly. When she met Bain, she served her one of her classic 'fool medames' (an Egyptian dish made from cooked fava beans) with '3esh baladi' (local Egyptian bread) and boiled eggs on the side.
<
"She told me that she tasted one before by a Somali, but I told her no, the Egyptian one is special and different," she notes.
On March 2014, Bain published her article in Toronto Star and awarded Barsoum with the Golden Whisk Award for the dish.
Afterwards, her daughter Monika found a hidden space north of Gerrard street and turned it into the family's cozy restaurant on September 2014. They distributed flyers around town to advertise and the opening day was on a Friday on 28 September.
"The next day, on Saturday and Sunday, we were fully packed, and I was so surprised. I didn't know where all these people came from, it was like a miracle from God," she says.
"But I also have to say that the character of the person and the circumstances they are put in has an effect. I am a very hardworking person and I never like to just sit down, I always like to busy myself with something, and with the struggles I was going through, it all pushed me to achieve what I was able to achieve now."
Maha's restaurant serves Egyptian cuisine with artistry and extra mouth-watering ingredients for a more modern and fresh twist. The most famous dish, the "Cairo Classic", serves the traditional Egyptian breakfast of fava beans with a dollop of creamy home-made tomato feta mixed with salata balady, falafel, boiled eggs and bread.
It is not just the classic Egyptian food, however, but also serves a heavenly grilled cheese sandwich with juicy dates sautéed in butter for those with also an appetite for Canadian/American food.
"The grilled cheese sandwich is Monika's creation, she is very creative and artistic and helps me a lot in the kitchen, along with my son Mark. They have been my backbone since the start of the restaurant," Barsoom adds.
This Egyptian treasure is open from Saturday to Friday and closes on Wednesday, and is located in 226 Greenwood Ave street in Toronto.