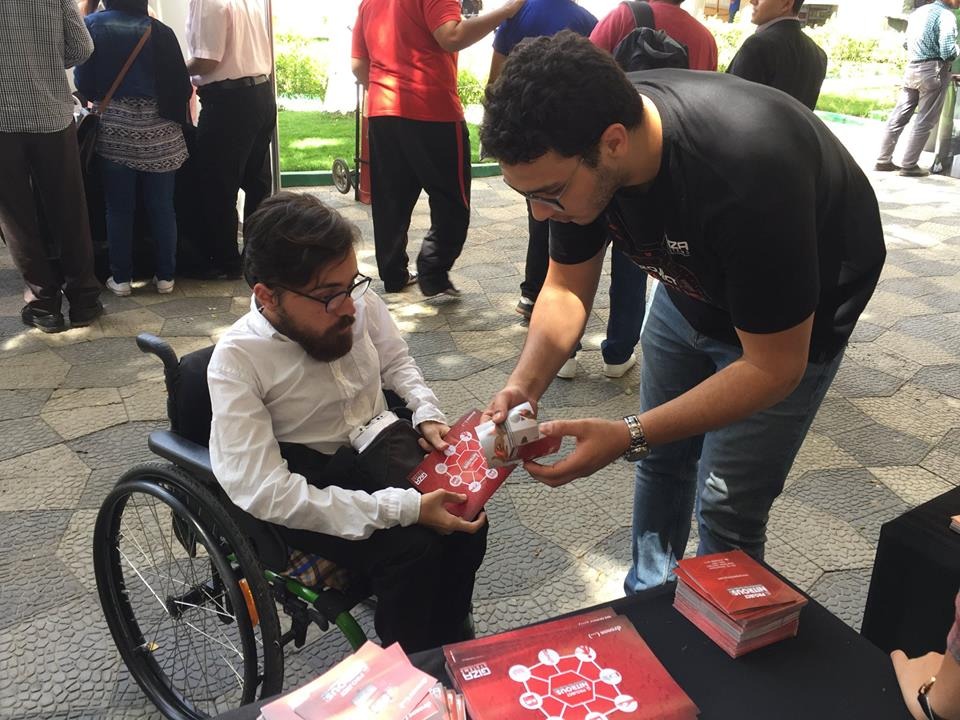 Mohanad*'s birth tag featured the word 'disabled' prior to his name. He takes longer to tie the button of his short, make a cup of tea and needs assistance when performing one-man shores.  Mohanad is a member of one of Egypt's most important communities; however, it is also one of the communities that is most often overlooked.
Egyptian society is far too used to turning its gaze when an unfamiliar sight is on the horizon. It takes a lot to give certain individuals visibility, which is what one Egyptian NGO is setting out to do.
Project Nitrous is an organization which decided not to shy away from those silently asking for help such as Mohanad and to serve the needs of People with Disabilities (PwD) head-on.
Egypt's PwDs: Nitrous' Targets
According to the project, a PwD is any individual who struggles to perform his or her everyday activities. Project Nitrous' broad definition opens its doors to amputees, the blind, auditory-impaired, the paraplegic, and the fully-paralyzed.
Its initial focus has been on visual impairment and mobility issues; however, it aims to take on more disabilities once the milestones are reached.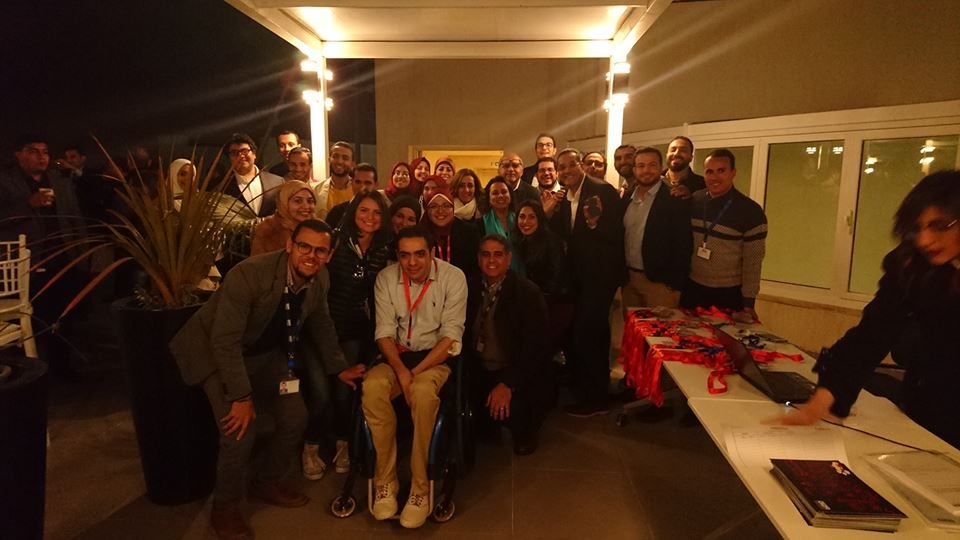 Birth of a project, birth of a cause
Project Nitrous was initiated in February of 2018 as a Non-Profit Organization. The well-intentioned project started off in a lab at the premises of Giza Systems company with full funding from the Drosos foundation. Since its start, the project has provided kits to 23 cases thus far and is currently working on 18 additional products.
However, its origin story must not be understated.
Mohamed El-Hossary, Project Nitrous leader, had founded a 3D printing Service and Marketplace named "Etba3ly" with his partner, Ahmed Mohsen. They were starting from scratch and with no main headquarters, they worked in a room in a coworking space where El-Hossary handled the business and sustainability side of their project and Mohsen was responsible for the market research: understanding the market needs, the required machinery and technicalities.
In early 2016, they decided to attend the Makerfaire event, an event aimed at the DIYers, hackers, makers and artists. The event was the ideal congregation of the makers community that Etba3ly targeted.
El-Hossary met up with Jon Schull, the CEO of e-NABLE. On their official website, e-Nable defines itself as a hub for the global e-NABLE movement with a noble cause which is to use '' 3D printers to make radically inexpensive prosthetics for under-served populations around the world."
The meeting opened the eyes of the young founders towards a severely overlooked issue in Egypt.
Mohsen's father had owned a wood factory where workers could sometimes sustain injuries at their extremities. According to Schull, it only took 3D machines and low-tech devices to help those who were wounded. As luck would have it, the needed devices were readily available at Etba3ly, Mohsen's and El-Hossary's startup.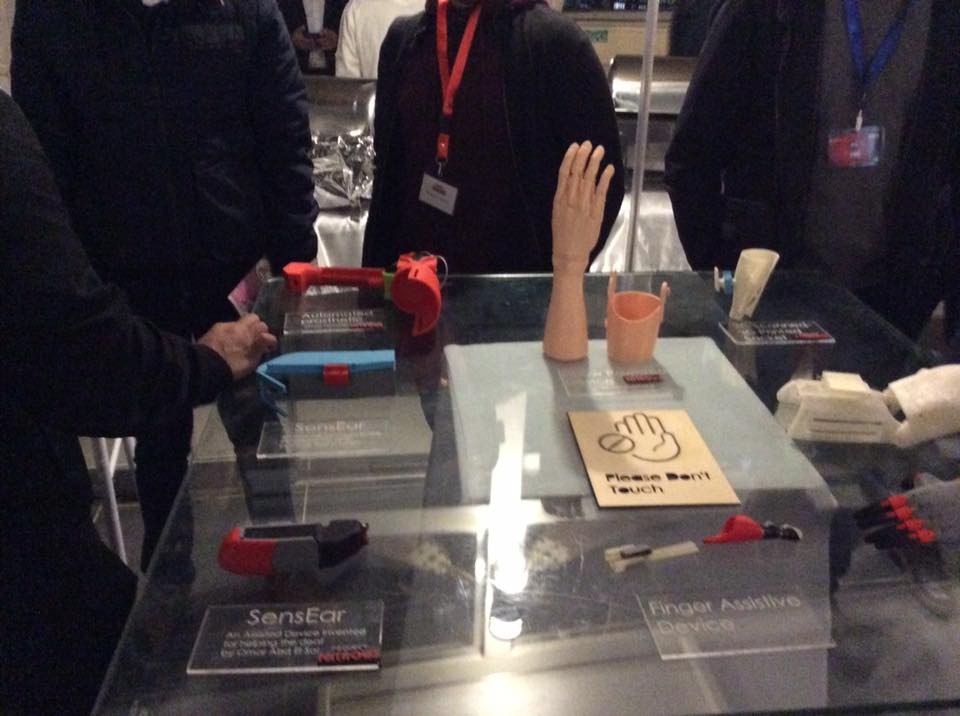 El-Hossary and Mohsen quickly reached out to Schull to try and open an e-NABLE branch in Egypt.
The branch amassed the interest of the makers community and quickly got 60k+ organic reach on Facebook.
An Egyptian engineer, nicknamed "Zozz," offered his amputated hand for testing the products of the developing project. To the engineers' surprise, the first trial was a quick success. "We got a high out of making prosthetics ever since," explains El-Hossary to Egyptian Streets.
The project's success gained momentum as various NGOs, charities and student organizations such as Enactus offered their services and partnership to boost the e-NABLE project.
Eventually, Giza Systems recognized the project in late 2017 and a few months later, the Project Nitrous was officially born as a mean to boost the small idea that El-Hossary and Mohsen started with.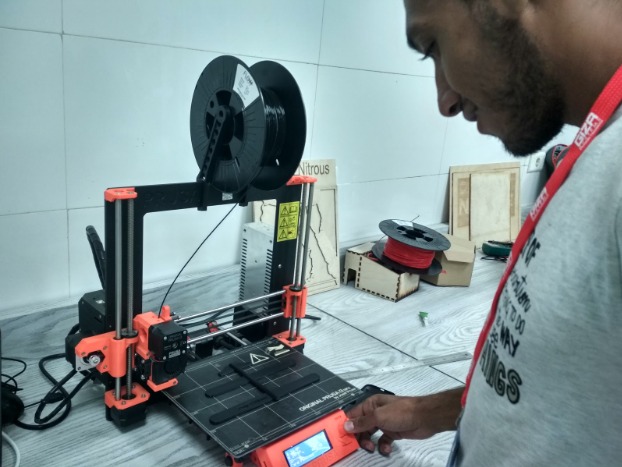 A focus on inclusion
Adding strength and innovation to the cause, Project Nitrous aims to achieve a movie-like future similar to that of Iron Man. Just as Anthony Edward Stark had all the knowledge and machinery he needed to make the iron suits he envisioned at the comfort of his home and work, the PwD would be able to quickly design assistive tools with low-tech device and build those tools minutes after the initial design – using digital fabrication.
Although Project Nitrous currently works on a case-by-case basis, its long-term plan is to produce prosthetics on a mass production scale.
The project includes the PwD as a main arc in the fabrication cycle as the PwD's feedback is critical for achieving an optimum assistive tool.
By providing the PwD with the basic knowledge of design and digital fabrication, they are empowered to try out endless solutions which met their needs best.
The founders' vision aspires to be more than just a provider of Assistive Technology Tool. They wish to empower Egypt's PwDs, and involve them in the design and digital fabrication process to the point that they provide their own solutions and even more, be able to design it so that they are no longer "disabled" but rather "enabled."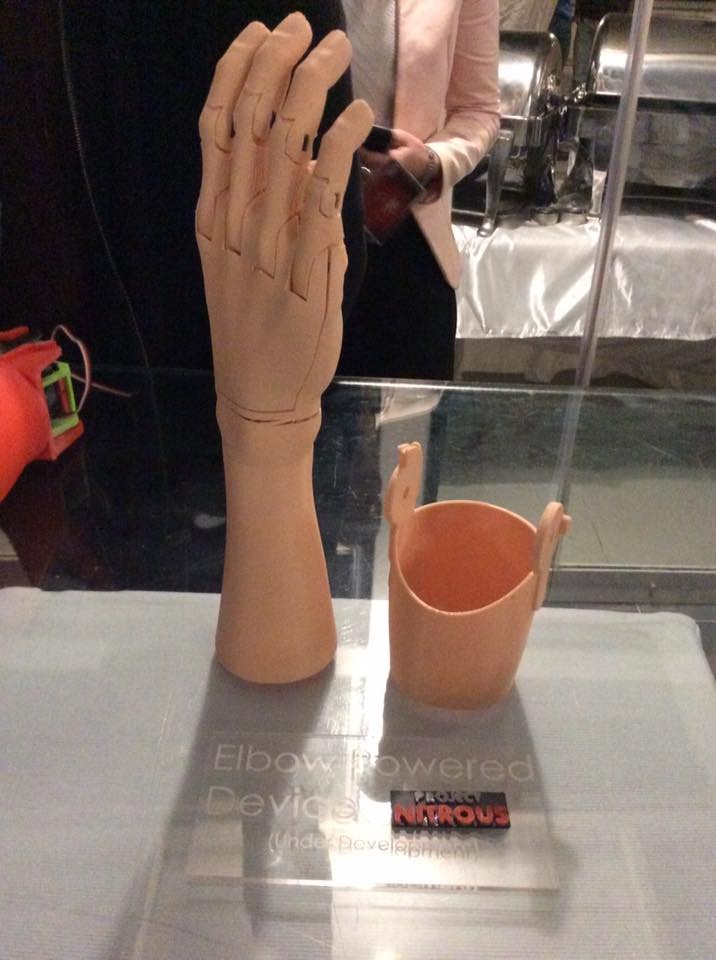 "Of course, not everyone wants to learn these skills and are interested in the digital fabrication steps, but we still serve them just the same. Helping the people is only one of our two objectives," explains Islam Mohamed, an engineer in the Nitrous Project.
A myriad of challenges on both sides
When El-Hossary was asked how the idea was originally funded, he said that it was mostly funded from friends, family, and the community for each individual case.
This was far from being a sustainable approach for the project.
Eventually, as the funding soon followed, there were different challenges the project had to do with such as the paperwork, legality and imports needed for fabrication.
Firstly, the machines, which the project ship from abroad, often get stuck in airport customs for months to this day.
Secondly, class issues interfere with their work and mission; a lack of inclusion of all classes in the society makes it even harder for the founders to reach those who need the prosthetics.
"It's sufficient to say that it's already hard for the PwDs to cross the highway road to reach our premises, so we have to hop in our cars to get them, let alone the other residence and logistical issues that arise as well," says El-Hossary.
He adds, "Ahmed Said, one of our engineers, had to meet with one of the PwD at a local cafe because transportation was too expensive for the PwD."
Moreover, the PwDs sometimes express doubt at the project's capacity to be of use to them.
"They [PwDS] have been promised countless times by senior engineering students that their graduation projects will change their lives, and in the end, the PwD is extremely disappointed, and long forgotten," laments Esraa Mahmoud, the Community Outreach specialist.
Mahmoud handles each case from the moment the projects gets in contact with the PwDs.
"Most people we reach out to are skeptical that we can help them," she says, "They too often tell us 'you are like the senior Engineering Students who claim they can help us but forget about us once they are done with their graduation projects,' so we understand where their doubt is coming from."
Frustrations and failures can be also further acerbated when a spokesperson is designed to relay the needs of a PwD requiring a prosthetic.
"In order to design a suitable tool for the PwD, we have to talk to the person himself/herself, and listen to their needs first-hand," Mahmoud explains.  "We can't find a solution if the person-in-contact won't allow us to speak the PwD we are designing the tool for," she adds.
Although handling the PwD can sometimes be difficult, the reward makes up for the challenges.
The Assistive Technology Engineer, Islam Mohamed, considers the project and its impact joyful.
"One of the people we were working with mentioned that he was facing difficulty tying the buttons of his shirt right before he left our lab after hours of working with him, so without much thinking, we gave him a kit that we had already designed for that specific function."
On the very next day, and to the surprise of the engineers, the PwD called to thank them for turning his life upside down. "We changed his life by helping him tie the buttons of his shirt," says Mohamed.
 Eyes on an enabled future
Now that Project Nitrous has established a strong base, the project is extending its efforts into four main tracks: extending assistive tools and devices, providing PwDs with technical knowledge to design their own tools, create a start-up extension of the Nitrous project run by PwDs and, finally, provide a blueprint for those wishing to start their own business in Assistive Technology as well as foster an open-source community where all the designs,  tools and solutions are readily available.
Project Nitrous reaches out to the PwD community through charitable organizations. Through events like "Ne'dar"(We Can) and "iHelp," the project is easily involved with the PwD community and familiarizes itself with PwDs concerns.
Furthermore, its collaboration with disable-focused NGO "Helm" provides the Nitrous Projects with PwDs who are excited to be a part of the design and fabrication process.
The idea is an enticing one: PwDs look forward to making their own "Iron Man Suit" bar for a few differences: they only have 3D machines, the small tools are made from plastic and not everyone can rock Tony Stark's goatee.
"Changing people's lives" is too often used as a slogan by many businesses. However, Project Nitrous does not rely on flashy mottos to showcase its added value to the community. It is enough to talk to Mohanad to know the real difference the project makes.
After receiving his assistive kit, Mohanad spends hours writing; the latter is  a pleasure he hadn't been able to carry out for a long time. Feeling able, he can finally go back to school to continue his education.
*A pseudonym was used to protect the identity of the individual.
---
Subscribe to our newsletter
---