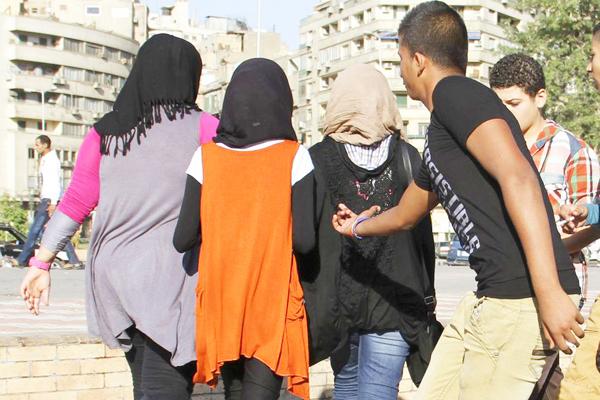 STOP, DROP and ROLL. These are the safety instruction given to a person caught on fire, a situation that is unanimously recognized as a crisis. On the other hand, there seems does not seem to be a universal guide to how women should react in the case of sexual harassment or assault, a situation that could be just as life threatening as fire.
Sexual harassment is a phenomenon that has been perpetuating across Egypt for years and has lead the country to become one of the most dangerous places for women. Why has it become predominant? There are many cultural clouds hovering over the epidemic making it harder to resolve.
To understand sexual harassment in the Egyptian social context, one needs to understand how sexual harassment and assault are defined under the Egyptian constitution. Sexual harassment and assault have four different definitions in the Egyptian constitution, each with its own legal penalties and consequences.
The first is verbal harassment or "Ta'arod lel Ghair" which according to Article 306 in the Egyptian law is any form of verbal harassment in public or private space. This also constitutes verbal harassment through telecommunication methods such as telephones or cellular phones.
The legal punishment for such act is a prison sentence from 6 months up to 3 years or a fine of EGP 3,000 to EGP 5,000 worth of monetary compensation that goes to the victim.
The second form of verbal sexual harassment is known as "Taharoush" which is when the predator uses provocative language or action towards the victim without physical contact. It can be a look, a word or a commonly understood inappropriate sign.
The harasser can then be imprisoned for a year or up to three years or pay a fine worth at least EGP 10,000 up to EGP 20,000.
In the case of physical harassment or assault, it is considered as "Hadf 'Ard" under the Egyptian constitution Article 268. This is basically any form of unwanted physical contact between the predator and the victim. It is important to mention that forced sexual intercourse using foreign object or fingers is also considered "Hadf 'Ard" rather than rape.
Legally, the harasser could receive a prison sentence between three to 15 years which could escalate to life imprisonment depending on the severity of the action.
Rape has its own category in the constitution under the article 276 which is defined as forced sexual intercourse. The penalty for this act is life imprisonment and can go as far as execution.
However, for the average woman, the distinction between the laws can be very difficult to detect and it is important to know the variation in order to file for the right complaint. When it comes to policy and law, there is a tight balance between clarity and vagueness or openness.
'How you define sexual violence or sexual harassment in a policy is very tricky," Angie Abdelmonem, an NSF Postdoctoral Research Fellow at Arizona State University explains, "You want to be clear and define what you mean by violence or harassment so that your policy is understood by everybody in a similar way. At the same time, you do not want to be so rigid in your definitions in order to have the flexibility to assess each situation or case as it comes, particularly for cases that might fall out of a rigid definition."
According to a guide Nazra For Feminist Studies created to help women understand the logistics and legal measures a woman can take in a sexual harassment, assault or abuse incident, women are advised to go to the nearest police station to file for a case. There, they will have to deal with several bureaucratic process.
The officer will then hear the victim's statement and file it to the public prosecution who will then ask for the woman to give her statement again for verification. Then, the general prosecution will summon the harasser to give his statement as well and call for an investigation. After the investigation, the public prosecution calls for a hearing if "sufficient" evidence is provided.
What is considered as sufficient evidence is a statement from both the victim and the harasser. While every case is judged on its own merits, the presence of witnesses also strengthens the law suit. In the case of rape, a statement from the doctor is required.
If the victim files for a case against a man who cannot be identified, meaning she does not have his full name or ID card, the case will likely be dismissed, because there is no way the perpetuator can be identified for an arrest warrant. This is very common when verbal or physical harassment occurs in public places such as public transportation, or the street.
It is highly advised that the woman follows the man and take him to the nearest police officer or station. If both parties are present, the case will process faster. However, it is important to note that the processing period is differ as each case has its unique merits.
HOW SHOULD WOMEN REACT
As imagined, being in a situation where someone is violating your own body is very frightening and degrading. Many women stay quiet out of shame and fear.
They believe that if they talk back the situation might escalate and the predator might further violate them, because there is no way to predict whether he will get scared and run off or clap back.
Some women also believe that no reaction is still a reaction because what the harasser wants is attention or control over a woman's feelings, so not giving him that attention means what he did not affect them. On the other hand, there are others who believe it is always better to draw attention to the incident.
"While there is no right or wrong way to react to these incidents. However, I advise women to fight back when possible. Whether its by a scream or pushing the man off in the case of sexual assault," Psychiatrist Magda Adly from Nadeem Center shares,"This makes it easier for the woman to recover from this trauma in the long run."
Adly believes that this reaction will draw other people's attention in hopes that they will help the girl to catch the perpetuator to be able to take him to the police for filing a report. Unfortunatly, this is not what happens in most cases.
"When a girl gets harassed and tries to fight back, people often ignore her by not helping her catch the guy and sometimes it goes as far as blocking her way from being able to catch him. They say 'There is no need to report him, this happens to you all the time.' and this adds to the trauma the woman experiences," Adly continues.
While there is a huge wave encouraging women to report, how feasible is it? It is only possible for a woman to report a predator who is identifiable. In most harassment cases in public space, the harasser is unknown because he is a stranger. How will she be able to report him in this case?
According to Adly, this is reason a woman is encouraged to speak up, by defending herself on ground with a scream or chasing the man down, bystanders will offer assistance. Abdelnasser also believes that it is easier to file a report when the perpetrator is escorted by the victim to the police station, because in order to proceed with a legal case, the perpetuator has to be present to give a statement.
Sadly, there is still no solution in the case of unidentifiable harassers, but Aldy encourages those who have been unable to recover from this brutal act to visit a psychological clinic where they will receive the necessary help to cope with the situation.
REASONS WOMEN DO NOT REPORT
In 2013, a United Nations (UN) report revealed that 99% of women in Egypt have been sexually harassed. However,  only a few of those cases have been reported because of many cultural stigmas.
There is a strong culture of victim blaming in Egypt. The woman's body language, her dress code and just the mere fact of being a woman is always held accountable for the cause of sexual harassment and assault.
If her clothes or body language are seen as immoral or inviting in anyway, society blames her for attracting unwanted attention. So, even if she tried to defend herself and/or report, she will not find support from witnesses or people around her which will discourage her from reporting in the first place.
Although harassment is very prevalent amongst the Egyptian society, people do not like talking about it. Women are often asked to stay quiet especially by their families. The monster of "what will people say?" growling at the hint of a woman discussing her encounters.
Even if she does report, the man's family start pressuring her to drop the case because she will "ruin his life" over a "mistake" or something he did not "mean".
Abdelnasser also pointed out that women get harassed multiple times during the day, and it is just not feasible to report every single incident because that way "she will spend her day in and out of the police station."
Many women believe that harassment and assault cases are not taken seriously, so they save themselves the trouble of being embarrassed and having to relieve a traumatic experience by not reporting.
"It is detrimental. The cases are disregarded at the smallest flaw in bureaucracy or identification, because we are talking about taking away someone's freedom or sometimes life. So, usually a monetary fine is just allocated as a compensation," Adly says.
In other cases, the victim is forced to drop her case because the predator files a counter suit. Adly explains that "the man often files a complain saying that the woman tried to steal from him and what not as a counter suit, and he promises to drop his case if she drops hers," she continues, "Even if they both go through with their cases, sometimes they are both transported in the same vehicle and this threatens her safety. If both cases go to trial, they both end up in jail, so what is the point?"
WHAT ABOUT TOURISTS?
Egypt has gained a reputation of being a very unsafe location for women and especially female travelers. While there have been several cases that were picked up by media outlets for foreign women being harassed in Egypt, many of them go unseen.
After discussing the topic with  Abdelnasser, he clarifies that " the laws applies to all women, Egyptians and Non-Egyptians. However, there are several precautions that are taken for non-Egyptians for the sake of paperwork which includes ensuring that they are in this country legally and such."
Some tourists visit Egypt for just a few weeks or months, and when they encounter harassment and decide to file for a case, it is often more difficult for their cases to move forward.
"This is because she [the female tourist] is here for a short period of time, so they know that by the time the whole process takes place, she will not be around to be able to reaffirm her statement after arresting the harasser," Abdelnasser explains.
ENCOURAGING WOMEN TO SPEAK UP
For the first time in Egypt, a collaboration amongst governmental initiations, media and foreign donors takes place to fight sexual harassment in Egypt by launching a campaign that encourages women to report sexual harassment as well as society to have their back.
Social start- up Bassita, who are known for their impactful click funding campaign strategies, created the new social campaign in collaboration with the National Council of Women (NCW),  Ministry of Transportation as well as the Ministry of Youth and Sports with financial support from the European Union (EU), Government of the Federal Republic of Germany (GIZ), USAID, and the Agence Francaise de Développement.
The new campaign was launched earlier this week on 25 November and will be on going for 16 consecutive days with a call to end violence against women and girls in Egypt and across the world.
It consists through the line (TTL) marketing strategy, a combination of both an online campaign as well as an offline campaign, encouraging social media users to share the video on their feeds in order to raise awareness paving the way for wider message dissemination to a larger audience.
---
Subscribe to our newsletter
---