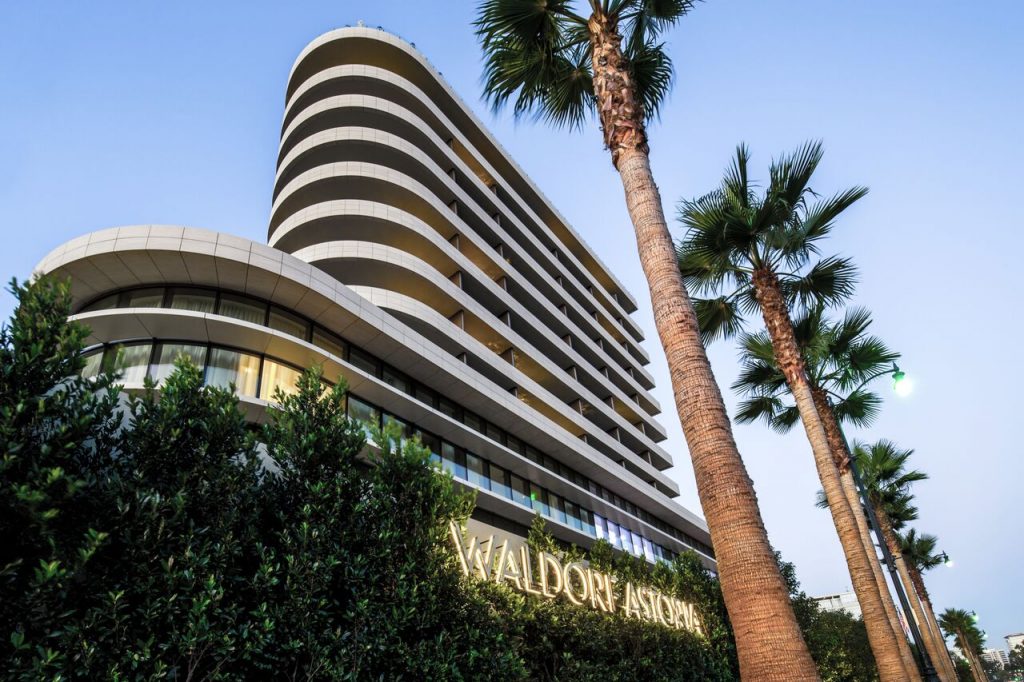 Renowned jewellery design house, Azza Fahmy, continues to create and share eloquent jewellery inspired by Egyptian heritage with an ambitious expansion strategy for 2019.
Azza Fahmy Jewellery recently announced the opening of their first American storefront at the Waldorf Astoria in Los Angeles. This location is one of 15 others across the Middle East and the United Kingdom, and adds to Azza Fahmy's international presence.
The design house has made its debut in America with an exclusive range of jewellery including both limited edition collections and bespoke pieces.
Egyptian Streets spoke with managing director Fatma Ghaly to learn more about their future plans and transition to an American market as well as their designs' reflection on Egypt's history.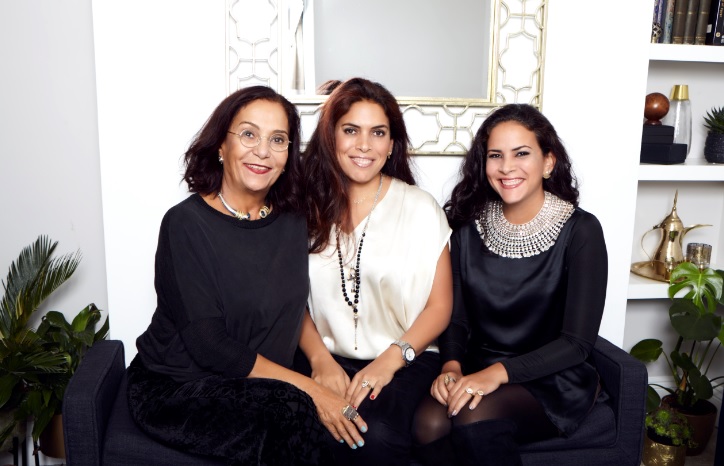 Your brand approaches its designs with precision and a genuine reflection on Egypt's past, how does this translate to an international audience? Has there been any struggles opening stores abroad?
No. Azza Fahmy curates their collections based on geographic locations and differences in terms of demographics, purchasing patterns and style of jewellery, including the stone options. We have a strong understanding of the dynamics of different markets due to the extensive market research that we do and their individual requirements. This ensures that we deliver collections that appeal to an international audience without losing our DNA.
Azza Fahmy is celebrated both globally and regionally, how did Azza Fahmy adapt its product to meet the demands of the Californian market?
With the awards season and red carpets in mind, the creation of the limited edition collection exclusively for the LA market saw us enhance 12 of our most popular elegant statement pieces from existing collections. The pieces were further enriched with the use of a stronger presence of diamonds, an increased variety of precious stones and finished in different metals. The result is an eye-catching luxury showcase ideal for the awards period and Beverly Hills consumers.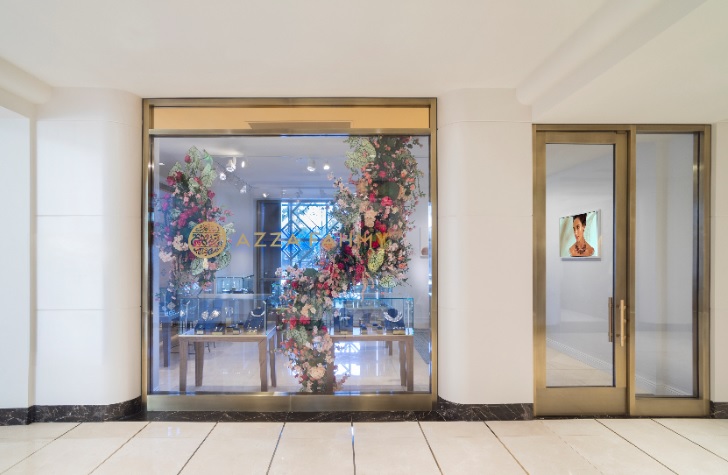 Azza Fahmy expresses a strong admiration for Arab culture, and focuses on sharing it with the world. What qualities of your brand, and more generally Arab culture, do you think has made your concept internationally recognised and desired?
Azza Fahmy Jewellery is blessed with 7000 years of Egyptian heritage and is renowned for translating this and other world cultures to modern, wearable art. Each unique collection is underpinned by extensive research for authenticity and each piece of jewellery holds a story with relatable appeal. All our collections are handcrafted, preserving time-honoured techniques that would otherwise disappear.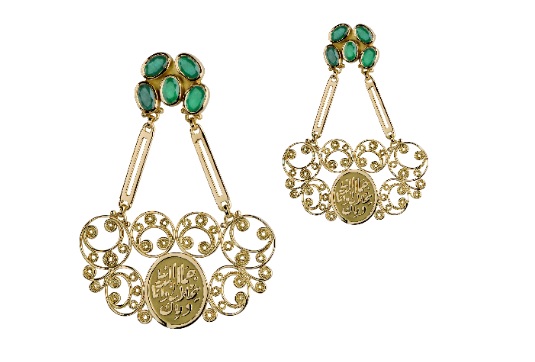 The use of motifs and calligraphy has become one of our trademarks. Poetic verses from the works of famous poets such as Rumi, the Persian poet or the iconic singer Oum Kalthoum create further emotional elements. Considerable effort is also put into sourcing unusual precious and semi-precious stones for that distinctive edge and to create continued universal appeal.
With the current climate in Egypt, what concepts does Azza Fahmy focus on portraying? Are there any particular stories that Azza Fahmy feels needs to be shared?
As a home grown design house our heritage is a natural part of our DNA and that is subtly woven into all our designs. However, our jewellery artistically tells cultural and artistic stories so our core design philosophy lies in the translation and celebration of local and international cultures.
We are continuing to focus on our design education facility DSAF based in Old Cairo, specifically in Darb 1718, which is now 5 years old and our philosophy and preservation of time-honoured skills is carried through the education process. This can also be seen in the collaborative work we are undertaking with KarmSolar on designing their headquarters in Sahl Hashish. Azza Fahmy used inspirations by various elements, such as the Palmetto plant – of Pharaonic and Roman origins. Further inspiration is drawn from Pharaonic ceilings in temples in Aswan, Nubian architecture, and finally traditional architectural motifs to compliment the architectural design of this building.
You've mentioned jewellery can start dialogues, what conversations would you like your designs to spark?
Our pieces convey stories and it's a great way to begin a dialogue that is both topical and culturally informative. For example, many off our clients now refer to the vulture necklace in our Pharaonic collection as Nekhbet which is the name of this Goddess that inspired the piece. This collection also highlights the influential role Egypt played in the Art Deco movement.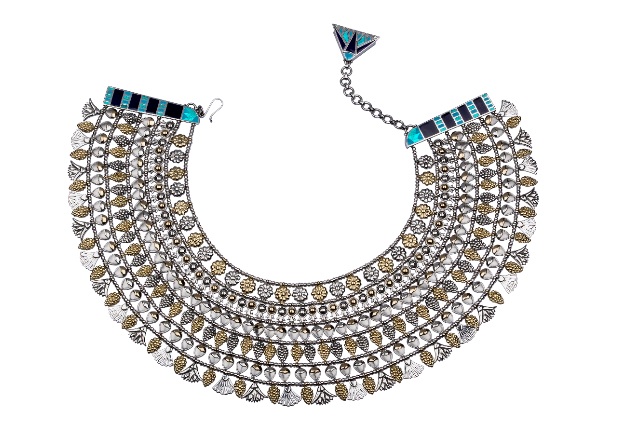 In our Wonders of Nature collection the Egyptian origin of the snake motif was underlined and embraced creating local ownership. Our unique use of calligraphy featuring poetic verses and lyrics from the iconic singer Oum Kalthoum, is a creative way to create a cultural narrative with a younger and broader audience. Additionally, our cocktail ring collection highlighted the rise in popularity of this style of jewellery. We'd like our jewellery to continually motivate more conversations of this nature.
How has Azza Fahmy's vision and values evolved? Moving into the new year, and with goals of expanding, are there any values that will be left in the past?
Azza Fahmy's vision and legacy have always been based on the principle of translating world cultures to modern and wearable art and together with her daughter Amina Ghali this will continue. Our vision is that Egypt becomes the Middle East's design hub for jewellery and that's what we're working towards.
What does the future hold for Azza Fahmy? What are Azza Fahmy's goals for 2019? What motifs will you focus on?
We are very excited to be celebrating our 50th anniversary later this year and will be continuing our successful international retail expansion plan. In terms of our collections, we will be launching our main collection in May and the culture collection in October, both of which will have very exciting pieces.
We spend considerable time with various trend forecast resources to inform our thinking on market directions to ensure that we are forward thinking and our designs are directional and relevant, without losing our DNA. Our core values, design ethics and vision to create desirable unique luxury collections remains unchanged.
What do you think your jewellery says about Arab culture to the world?
It demonstrates craftsmanship, creativity and brings to life 7000 years of Egyptian heritage while endorsing the region's progressive and influential culture.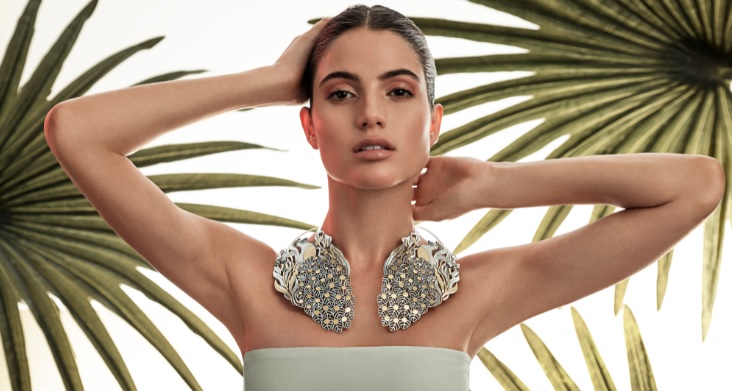 Azza Fahmy is an example of a very successful Arab woman who was able to make her dream come true and take her local brand into international markets. Her work shows how art is a language spoken by the whole world. Her clients don't necessarily need to speak Arabic to understand her calligraphy, they appreciate either the art, design, or the poet behind it.
What are Azza Fahmy's hopes for the future of craftsmanship in Egypt? Both your website and design studio focuses on educating people about different craftsmanship techniques, what plans do you have for educating the public in 2019?
Azza Fahmy has always been very passionate about education, especially educating people about craftsmanship and reviving dying crafts. She founded and independently funded The Design Studio by Azza Fahmy (DSAF), which opened in 2013, to support young men and women who want to pursue a jewellery design career or those who simply want to learn basic jewellery design. DSAF equips them with comprehensive skills to achieve their goals.
In the long term, these entrepreneurs will contribute to build the country's proficiencies, aiding and securing Egypt's place as an international creative design hub. Additionally, Azza Fahmy is currently founding a design studio for vocational training. Here she will be educating more craftsmen about the basics of the jewellery making craft, thus creating a bigger number of professionals in this field and getting closer to achieving a greater standard of this domain in Egypt
---
Subscribe to our newsletter
---