Seventeen-year-old Will Connolly, or 'Egg Boy' as he has became known on social media, has quickly become a hero and a symbol against racism on social media after he smashed an egg on the head of Australian Senator Fraser Anning.
A teenager smashed egg on Australian Senator Fraser Anning's head following his disgusting comments in the wake of #NewZealandTerroristAttack. Fraser immediately turned and attacked the boy. Thank you, egg boy. pic.twitter.com/K5VmBkFgGF

— Sana Jamal (@Sana_Jamal) March 16, 2019
#Eggboy was the number one trending hashtag in Egypt on Saturday and Sunday morning, with Egyptians using the hashtag to share videos and memes of Connolly breaking the egg on Senator Anning's head.
Egyptian social media users on both Twitter and Facebook have praised Egg Boy for his "bravery" and his stance against racism, with many calling him a hero who deserves being awarded for his actions.
he is not Muslim but he don't like racism, he only defends of humanity pic.twitter.com/q1Lklu8CTT

— سارة .🌵 (@ssn942) March 16, 2019
"God bless you," wrote a number of Egyptians on social media.
"He deserved a Nobel Prize," wrote others.
May God bless you with true guidance.
Such a bravery!
You are not #EggBoy, you are BraveBoy. pic.twitter.com/jiZyykImNt

— Shihab Ahmed Tuhin (@TuhinShihab) March 16, 2019
Connolly, a Melbourne-based teenager, humiliated Queensland Senator Anning when he smashed an egg on his head as he spoke to Australian media at a right-wing, neo-Nazi meeting in the suburb of Moorabin in Melbourne, Australia.
The #eggboy memes circulating are just too good. #WillConnolly pic.twitter.com/Jutb4VTZLk

— Amro Ali (@_amroali) March 17, 2019
Connolly was punched twice in the face by Senator Anning before he was tackled to the ground and placed in a choke-hold by a number of right-wing attendees at the event.
There have been calls in Australia, including by Australian Prime Minister Scott Morrison, for Senator Anning to face legal action for his response to Connolly.
Connolly was initially arrested and released without charge. A GoFundMe page was started in support of Connolly to pay for any legal fees he may incur, with people donating more than $25,000 towards "legal fees" and "more eggs".
Global Condemnation
Senator Anning, who in a statement on Friday following the mosque terror attacks that killed 50 people blamed Muslims, has been condemned across the world for his racist remarks.
"The real cause of bloodshed on New Zealand streets today is the immigration program which allowed Muslim fanatics to migrate to New Zealand in the first place," wrote Senator Anning in an official statement that was published on Australian parliament letterhead.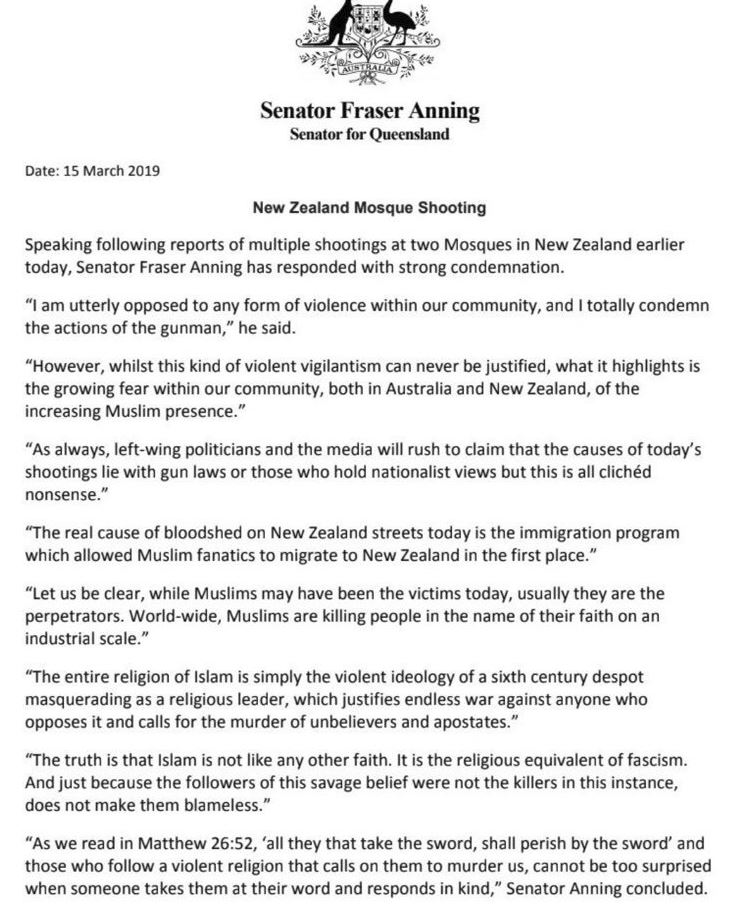 The statement received condemnation from Egyptian parliamentarians, including Member of Parliament Dr. Mohamed Fouad who released a statement in English condemning Senator Anning's "hateful remarks" and "despicable words".
Four Egyptians were named among the victims of the terrorist attack which Senator Anning blamed on Muslims.
On social media, Egyptians shared Senator Anning's statement, calling for action to be taken against him.
As at the date of writing, more than 800,000 people have signed a change.org petition calling for Senator Anning to be removed from office.