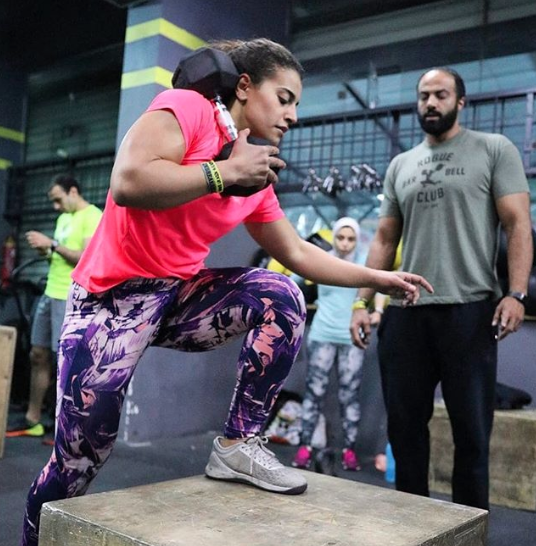 Egyptian athlete Aya Fouad will be competing in the international crossfit championship '2019 Reebok CrossFit Games' as the first Egyptian female crossfit athlete hosted in Wisconsin, USA from 29 July to 4 August.
Fouad, who currently holds the title of the fittest woman in Egypt according to CrossFit Open, revealed the news to her followers on Instagram by posting a screenshot of her acceptance that read "Congratulations on your performance in the 2019 Open. You have earned a spot as an individual competitor at the 2019 Reebok CrossFit Games."
View this post on Instagram

In her post, Fouad said "Setting a goal on a paper, takes much time to achieve it. But I did never stop thinking about it. I had to be aggressive, to work hard, to show off all abilities just to reach it out. Now I can say to myself YOU DID IT… YOU had your dream on the path… With all the friends and family who supported me… Encouraged me… Finally my dream came true and I can start a new paper goal.
Here I'm now…"
The 25-year-old former ruby player's crossfit journey start in 2017. She first joined CrossFit Open. A couple of years later, the crossfitter has piled up several titles throughout her fitness career. In 2019, she was named the 'Fittest Woman in the World', and CrossFit Tycoons crowned her as the "fittest in Africa."
Cairogyms revealed that Fouad was also a track and field runner whose rich athletic history contributed to her current achievements
Reebok CrossFit Games was first launched in 2007 as a small-scale competition that later become one of the most renowned international competitions followed by the CrossFit community.
With the participation of 600 athletes from across the world, the championship assembles crowns the 'Fittest Athlete on Earth'.
*Cover photo credit: Aya Fouad's Instagram
---
Subscribe to our newsletter
---