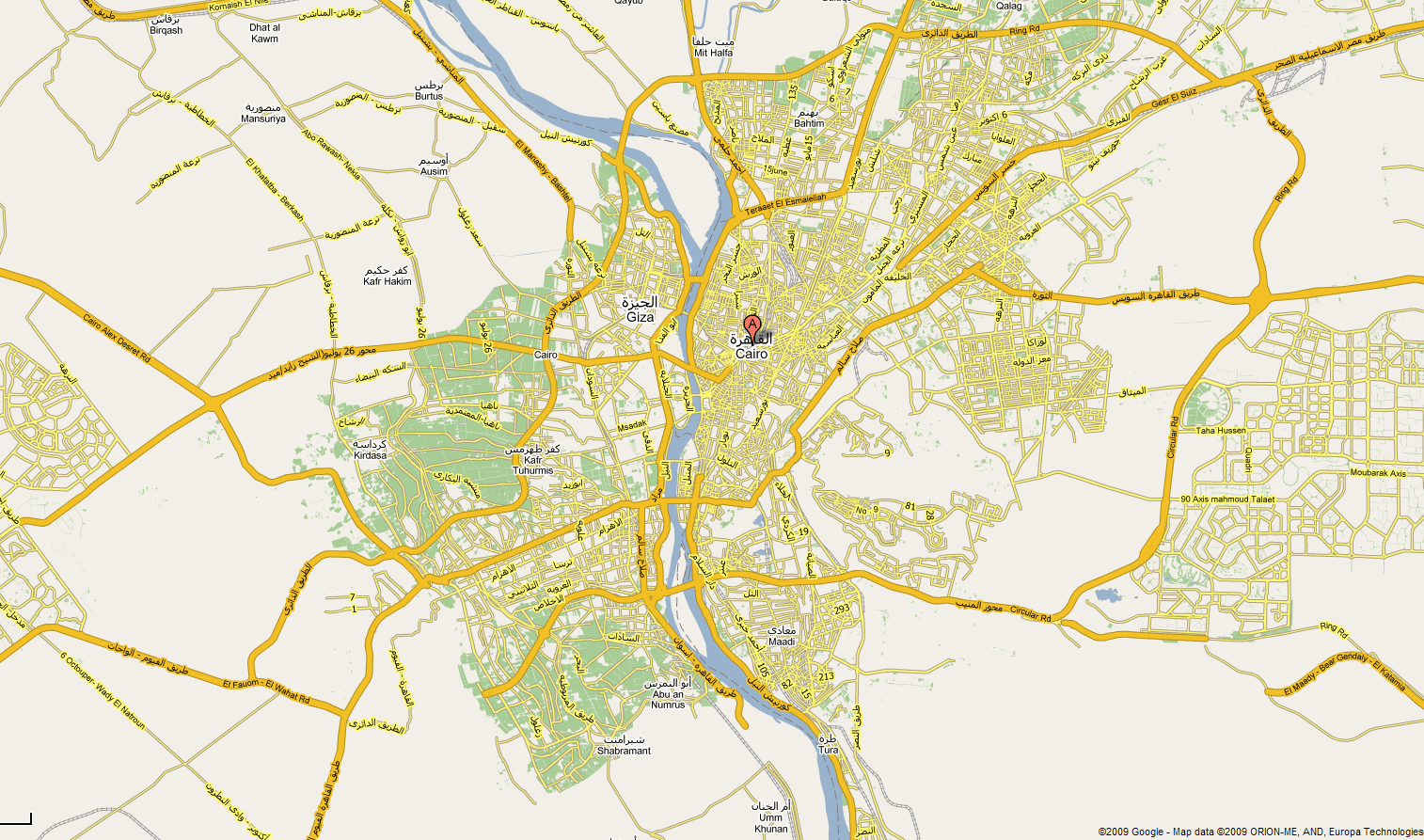 To navigate any city – foreign or familiar – requires orienting oneself spatially in some form or another. While locals are perhaps less likely to use maps as they venture out into the streets and districts known to them, or will rely on social networks and everyday routines to find their way around, tourists or individuals curious to explore lesser known territory will most probably resort to maps or tour guides as facilitators.
Maps are symbolic representations of space and are therefore one of the primary tools for figuring out our whereabouts as well as for identifying various physical features such as roads or buildings within a given area. There are meanwhile countless different types of maps available; these have developed according to existing information and technology, might have emerged in response to certain needs or are the product of creative inventions.
In a city like Cairo, many people would probably choose various forms of transportation over walking the streets, not least granted its vast size and oftentimes obstructed sidewalks. Yet in general, walking through the streets of any city continues to be one of the more experiential and dynamic ways of discovering and getting to know a place. There remains an element of spontaneity – after all, who knows who or what might cross our paths – and it allows the explorer to go at an individual pace and select destinations of personal preference.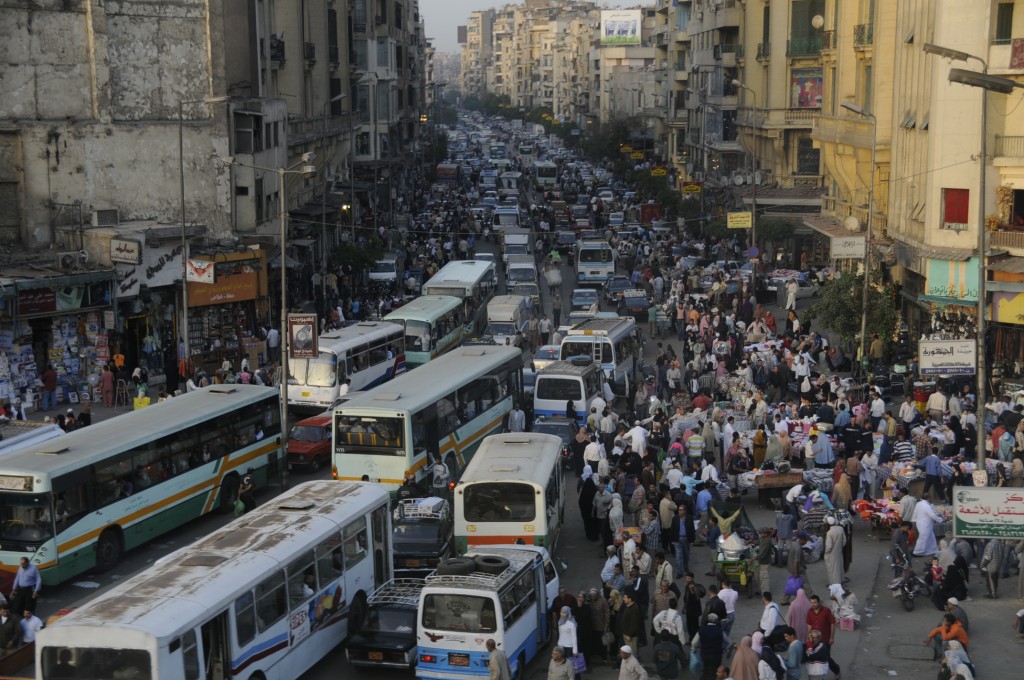 With ever so many new mapping tools emerging, so too have possibilities for walking shifted – or been 'made easier,' as the GPSmyCity mobile app suggests.
"Once installed on your smart phone, the app turns your mobile device into a personal tourguide," reads the official website of the app that is a kind of offline travel encyclopedia, meanwhile registering more than 1,000 cities worldwide and constantly expanding and upgrading to include more.
Cairo is one of eight Egyptian locations to be found on the freely downloadable app, alongside other tourist 'hotspots' such as Alexandria, Hurghada, Aswan, Luxor and Sharm El Sheikh.
The website serves to introduce its main features in detail, highlighting the fact that it works offline. Yet the downfall one will notice upon downloading the app and first trying it out, is that in order to receive access to all functions, it is necessary to subscribe for an annual fee of $18.99 or to pay $1.99 per individual travel article, one of the app's popular features.
GPSmyCity comprises a vast collection of self-guided walking tours for each of its listed cities, detailed offline city maps and, as already noted, thousands of travel articles – some cities boasting more than others – that can be browsed for a range of highlights such as landmarks, museums and other categories of interest. These articles contain 'go there' buttons that additionally take users to a GPS-powered map, allowing for navigating to the destination of interest. Examples of travel articles and thus recommended sites and activities in Cairo include 'Souvenir Shopping' or 'Look at the Beautiful Every Day Life in Cairo, Egypt.'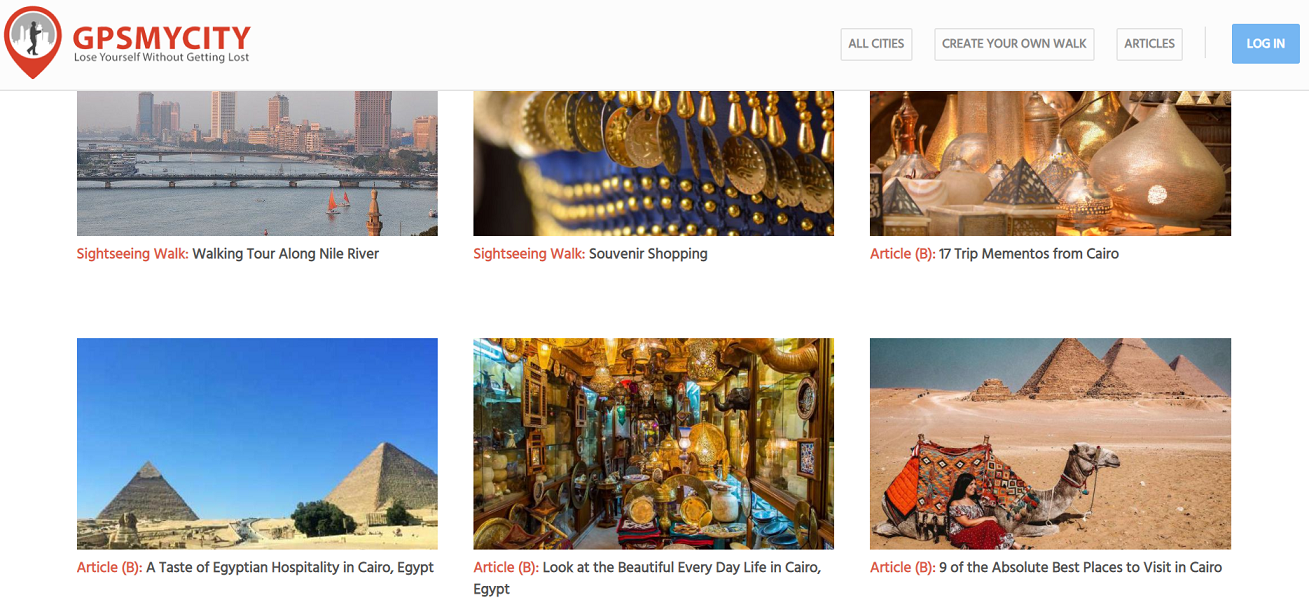 Next, the various recommended and ready-made walking tours are generally organized by geographical areas or themes of interest, which in Cairo might mean an 'Old Cairo Walking Tour' or a so-called 'Sightseeing Walk' like 'Walking Along the Nile River.'
Finally, perhaps the most intriguing and tempting function of GPSmyCity – and one will certainly wonder how that will play out in Cairo – is that of 'Create your own DIY Sightseeing Map', whereby following a few simple steps generates a customized walking tour option that can be saved to your mobile after.

With this function, users are first instructed to select a maximum of 15 attractions of various categories such as 'must-see', 'religious', 'shopping' and others. The next step involves defining a starting point, which is flexible in that it is possible to enter either a selected attraction from above or one's location of choice on the map. The route can ultimately be generated through the click of one button, with all selected attractions then appearing as pins displayed on a personalized walking map.
Who wants to try it out?
---
Subscribe to our newsletter
---