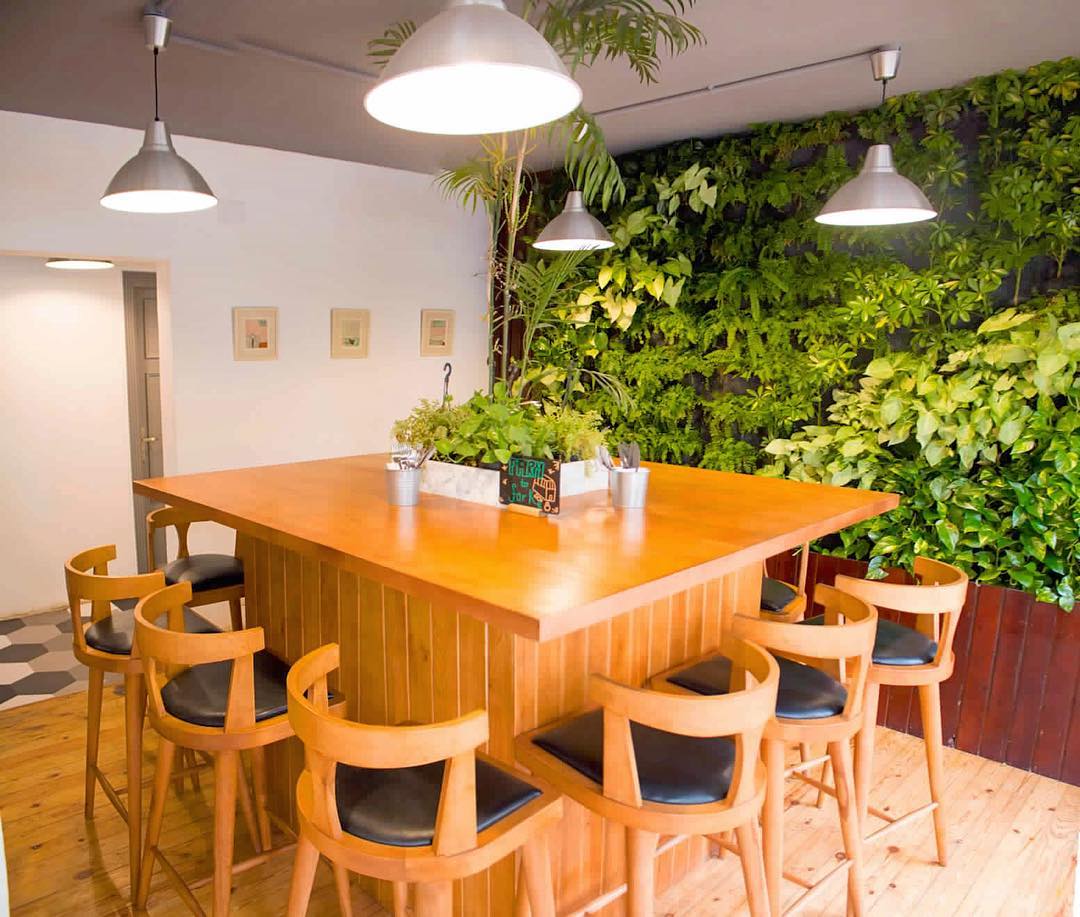 A few months ago, I was scrolling through Instagram looking for a new breakfast spot to try out in Cairo. I came across Lyfe, an eatery and juice bar that advertises itself as healthy option for vegetarians and pescatarians while offering meat and chicken based dishes.
One morning, a friend and I decided to embark on this journey together after running a marathon as a treat for our accomplishment. It is a little spot in Maadi with a beautiful "picnic-looking' outdoor seating area, as well as an indoor seating area. Their menu is so diverse with so many appealing options.
Since I was craving avocado, I decided to pick avocado on toast and added two extra sunny side eggs to come with. I was pleasantly surprised! An indicator for freshness is crispy bread. The bread was crunchy, but not dry. The avocado was a good portion. The combination of the two was great and I was glad that the bread was not soggy despite the moisture of the avocado and egg yolk.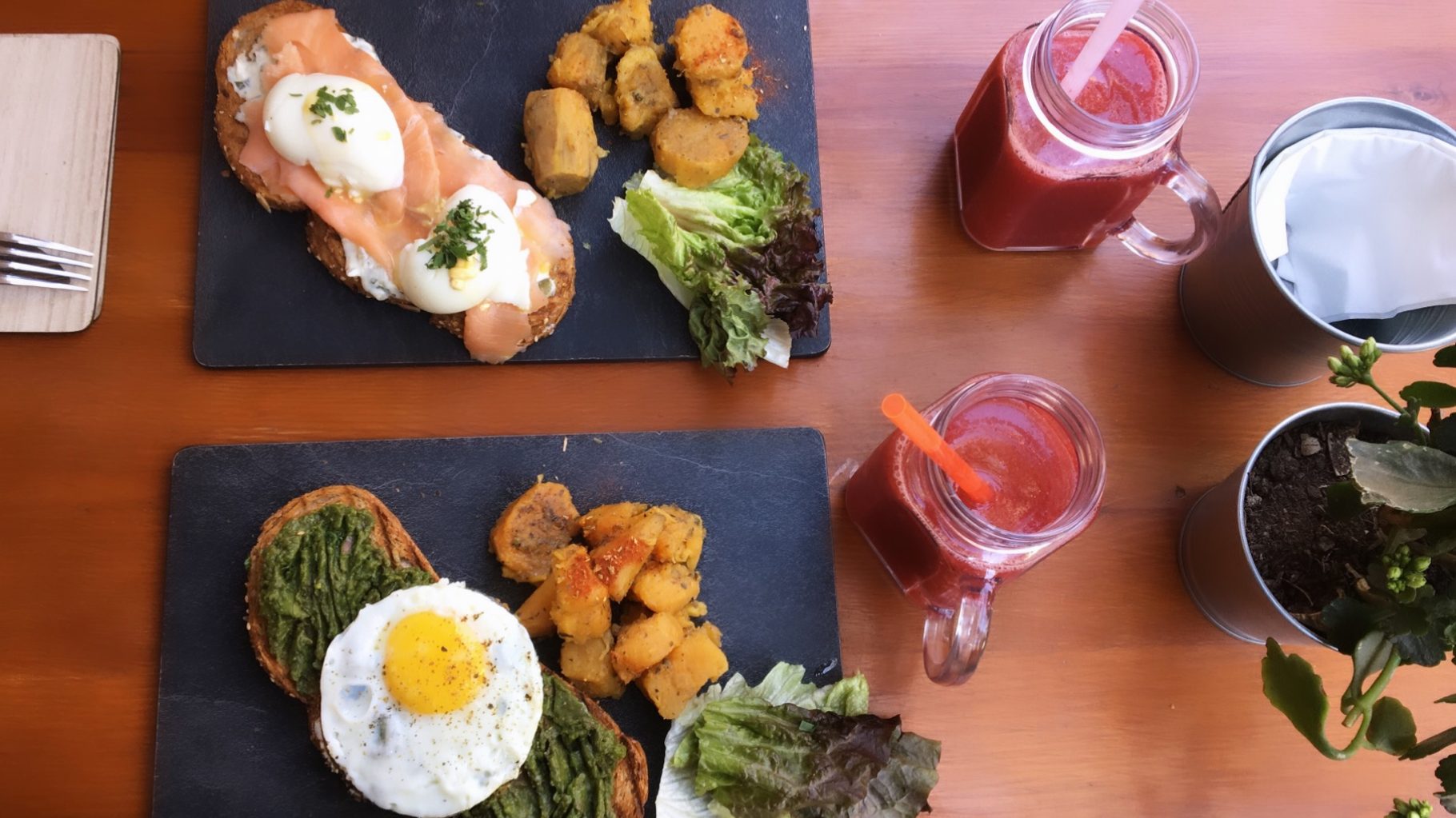 I then decided to try their dark chocolate oat pancakes. I was slightly worried about it because the only oat pancakes I tried before were home-made. I expected the pancakes to be small. I was surprised when I saw saw not only the size and potion, but also the thickness of the pancakes! I had to dig in.
As expected, they are slightly different than wheat-based pancakes, but nonetheless, just as good! They were fluffy and soft and honestly had I not been aware that they oat pancakes, I would not have known the difference. I must say though, the dark chocolate sauce was thick and a little heavy on the stomach, but that might have been because I already had the avocado toast prior.
Since it is also a juice bar, I thought I might as well order a juice and have a well-rounded experience. I am generally a fan of fresh juices. My go to option is always lemon mint with no sugar.
This time, I was feeling adventurous, so I ordered a 'ruby red smooth' which is basically strawberry, pomegranate and mint. I would say, taste wise, it was basically strawberry mint. It was definitely the burst of freshness that I needed to start my morning.
Like I mentioned, their menu is so diverse with so many options that are inviting such as poké bowls, warm bowls, smoothie bowls, tortilla wraps. They also have other options under their 'main dish' section that did not really stand out from other cafes and restaurants.
On another occasion, I went to Lyfe again with the strong motive to try their poké bowls. Their Instagram pictures were so tempting and everything looks delicious. I ordered their aloha poké with salmon and also tried their classic tuna poké. While their food design was flawless, I was disappointed by the stiffness of the rice.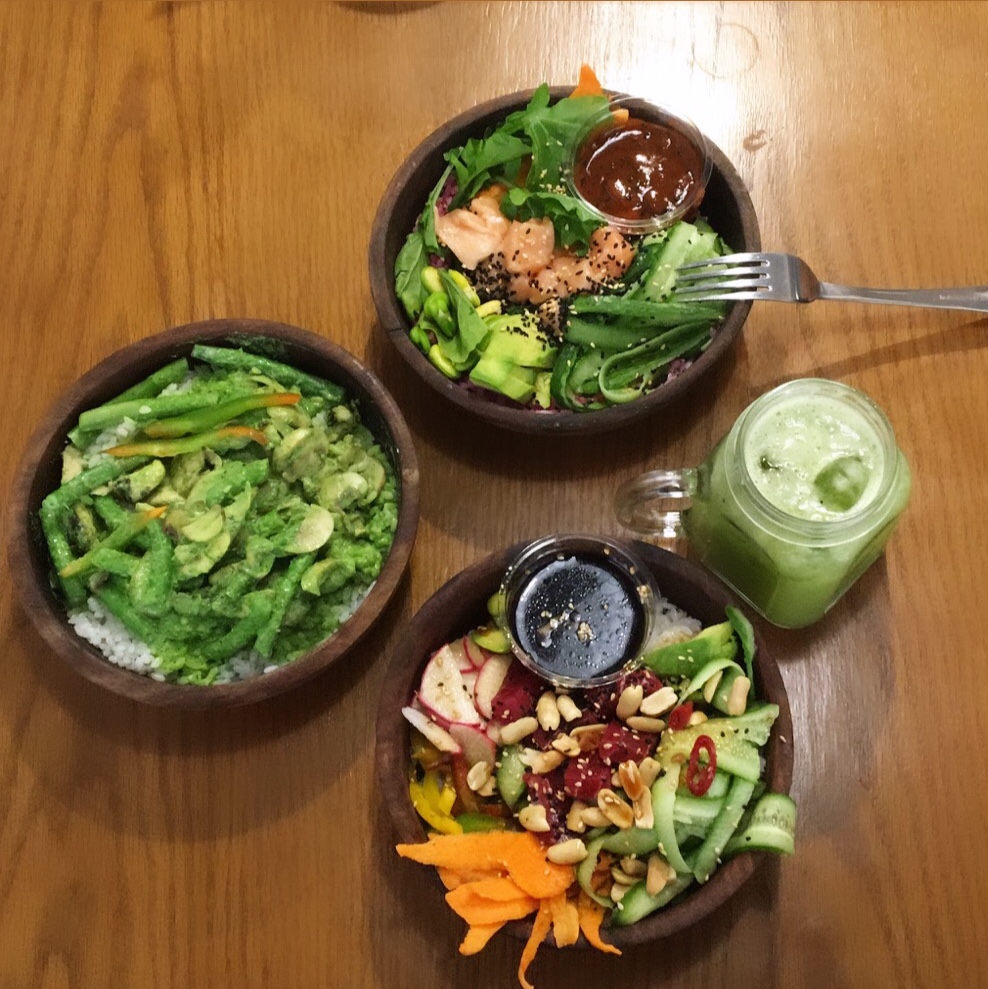 The aloha poké bowl consisted of beetroot rice, salmon sashimi, edamame, arugula, avocado, carrot, cucumber, black & white sesame seeds, samurai sauce. The portion was huge and filling and the over all the ingredients complemented each other, but I felt like their was more rice than the other ingredients and since the rice was not great, the overall experience was a slight let down.
The bowls come with side sauces that are respective to each bowl but I definitely enjoyed it the most with soy sauce as opposed to the samurai sauce. Without the sauce, the flavors were a bit bland and there is definite potential to make it more flavorsome by combining different spices to the bowls.
This time, I went with the avo-kiwi smoothie which is basically avocado, kiwi, low-fat milk and raw honey. I am not a fan of sweets, so for me, the taste of the raw honey was overpowering. The smoothie would have been so much better without the raw honey, but I guess I can always make that note for next time.
One of my favorite things about this place is that it is a healthy eatery, which means I am left debuted and guilt free. My overall experience at Lyfe was great. It is a very cosy place for a hangout with friends or a workspace. The staff and very friendly and the service is quiet fast. I will definitely still visit again to try the rest of their interesting menu.
*Cover photo credit: Lyfe's Facebook page
Disclaimer: this is not a paid review. All food reviews done by the Egyptian Streets review are authentic to the experience. 
---
Subscribe to our newsletter
---