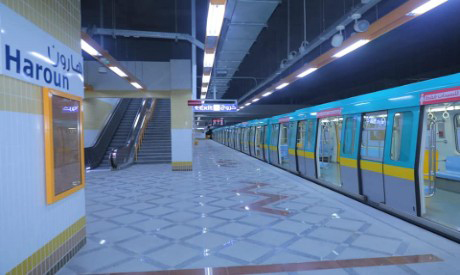 As of Saturday 15 June, tickets to Cairo's third metro line cost EGP 5 to 10 rather than EGP 3 to 7, the Ministry of Transportation announced.
The ticket for rides up to nine stops on the third metro line will now cost EGP 5, rides of 6-15 stops will be priced at EGP 7, and rides of 16 stops or more will cost EGP 10. However, the ticket prices of the other two metro lines remain unchanged.
Ticket prices for students, people with disabilities and senior citizens will remain the same as well costing EGP 33 for 25 stations for students, EGP 22 for 25 stations for people with disabilities and EGP 135 for 35 stations for senior citizens.
The third metro line was inaugurated on Saturday and is one of Cairo's main mass transit system lines, connecting central Cairo's Attaba with Heliopolis to the northeast. It aims to fully extend all the way to the northeast, eventually serving Cairo International Airport.
The new stations of Haroun El-Rashid, El-Shams Club, and Alf Maskan also began operation on Saturday.
According to the Ministry of transportations, the stations on the new metro line have display screens indicating the time of arrival of the trains. The new stations are now accessible to senior citizens because the stops are equipped with elevators and escalators. The train cars are also air-conditioned and pollution-free.
Egypt's metro system is one of the oldest in the Middle East and Africa. It stands as one of Egypt's most used and affordable means of public transportation as official taxi fares start at EGP 5 while Uber and Careem are considered pricier options.
Cairo's metro transports around 3 million people everyday. The ministry believes that the new stops will add at least 500,000 travelers to the already large commuting population.
The metro ticket prices surged last year from the flat rate of EGP 2 to EGP 3 for nine stops, EGP 5 for seven more stops and EGP 7 for a full line.
The total cost of the third line extention was EGP 6 billion (USD 357.7 million), which were drawn from Egypt's general budget. It is estimated that the extension of the phase would cover 5.15 km, as per state-owned outlet Al Ahram.
The opening of the three stations is aimed at facilitating the transportation of AFCON fans attending the matches namely to Cairo International stadium and El Salam stadium. AFCON is set to begin in 21 June and will continue until 19 July.
---
Subscribe to our newsletter
---