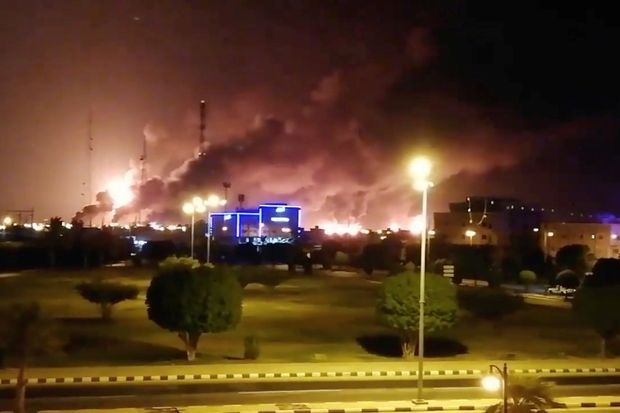 Egypt's Foreign Minister released a statement last night following the Aramco facilities drone condemning the attack while echoing Egypt's support in fighting terrorism and maintaining stability.
On Saturday night, a drone hit two major facilities administered by the state-owned Aramco located in Abqaiq and Khurais. Subsequently, Saudi Arabia cut its oil and gas production.
Saudi Oil Minister Prince Abdulaziz bin Salman said that the strikes reduced Saudi's crude oil production by 5.7 million barrels per day, amounting for about half the country's oil production. However, he clarified that the plants' oil stocks will compensate for the loss.
Yemen's Houthi movement claimed responsibility for the strikes, saying it sent 10 drones to carry out the attacks. Houthi military spokesman Brigadier General Yahya Sarih has vowed to increase attacks in the kingdom.
But, US Secretary of State Mike Pompeo accused Iran of carrying out the strikes in a tweet calling it an "unprecedented attack on the world's energy supply," saying there was no evidence that Yemen was the source of the attacks.
Tehran is behind nearly 100 attacks on Saudi Arabia while Rouhani and Zarif pretend to engage in diplomacy. Amid all the calls for de-escalation, Iran has now launched an unprecedented attack on the world's energy supply. There is no evidence the attacks came from Yemen.

— Secretary Pompeo (@SecPompeo) September 14, 2019

Various videos have been circulating on social media and Youtube of the smoke plumes rising above the Abqaiq site, the location of the world's largest oil processing plant located in eastern Saudi Arabia, and the Khurais oil field to the west.
Government media said the fires were now under control at both facilities.
"At 4 am (0100 GMT) on Saturday morning, the industrial security teams of Aramco started extinguishing two fires in two factories of the company in Abqaiq and Khurais as a result of the drone attack them," the official SPA news agency quoted the Interior Ministry saying. "Both fires were brought under control."
The officials said that an investigation into the source of the drones has been launched.
---
Subscribe to our newsletter
---