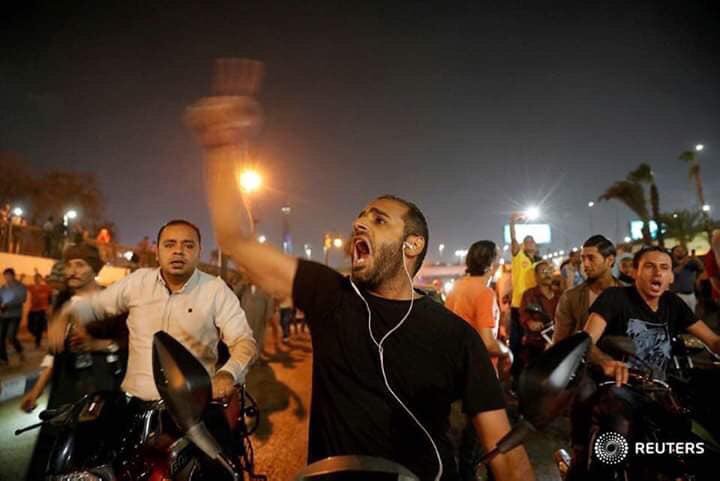 According to witnesses and a large number of videos circulating online, a rare protest was spotted near Egypt's iconic Tahrir Square where protesters chanted for the resignation of current President Abdel Fattah Al Sisi.
In tandem with the events, the hashtag #MidanAl Tahrir (The Square) is trending on Twitter, with already over 600,000 tweets about the protests.
Initially, the legitimacy of the protests has been a challenge to verify, with many critics, including popular TV host Amr Adeeb, calling the videos fake or a re-use of previous demonstrations. Local TV channels have also shown footage of Tahrir square devoid of protests.
However, Egyptian Streets received confirmation of the protests' occurrence through residents in downtown Cairo. Protesters have been reportedly shouting 'Sisi leave', 'Freedom' and 'The people want to topple the regime.'
News outlets such as MadaMasr and the BBC have also cited protests in the cities of Alexandria, Suez and Mansoura.
#ميدان_التحرير
Freedom welcome back… pic.twitter.com/17loXFJhCn

— Ha j ar (@biboua1907) September 20, 2019
Cairo's protest is said to have started around on Friday night where large groups shouted anti-government slogans.
The social media videos have also depicted Egyptian security forces and police vehicles at the site of the protests which were dispersed in a matter of hours when tear gas was directed at the crowds, according to BBC Arabic.
It is believed that the protests are a response to an online call for demonstration against government corruption, namely by Mohamed Ali.
The latter, a building contractor living in Spain, made claims in Facebook video posts accusing the Egyptian military and ruling class of corruption which have gone viral and drawn extensive criticism in the last couple of days.
In response, President Sisi has called the allegations 'slander and lies'.
Hours after the Cairo protests, Ali issued another video post in which he also called for the president to resign; he also expressed simple wishes of seeing Egypt's improvement and called the Egyptian population 'brave'.
It is believed that Ali called for the protests after a football super cup final between Egyptian football clubs Ahly and Zamalek; as such, the hashtag #NazleinBa3dElMatch (We Are Protesting After the Match) started Trending on Twitter hours prior to the protests.
Small protest, maybe 100-200 people near #Tahrir chanting against regime like 20 min ago, now scattered, still lot of unrest #Egypt pic.twitter.com/vx6H7nk76l

— Eduard Cousin (@EduardCousin) September 20, 2019
Protests are uncommon in current Egypt with riot police heavily cracking down on gatherers in Tahrir Square or calls for protests online.
While the events of 2011 are remembered nostalgically by activists and revolutionaries, a vast segment of Egyptian society follows the government narrative of considering the 2011 revolution an act of sabotage.
Its aftermath consisted of years of political instability which greatly hampered Egypt's tourism and economy.
---
Subscribe to our newsletter
---