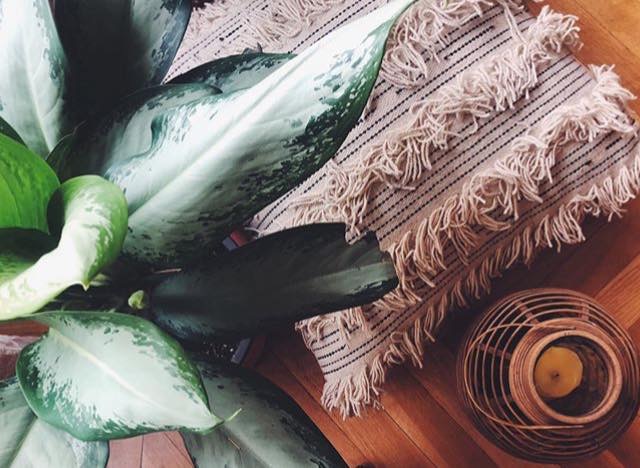 Since the January 25th uprising and the rise of startup culture across the MENA region, many Egyptian entrepreneurs and creatives have launched ethically and socially conscious businesses. One such disruptive social enterprise is local tapestry and upholstery brand Kilim, which was launched in 2016 with the aim of preserving, reviving, and modernizing the dying art of kilim, or traditional flat-woven tapestry, a craft that dates back to the Persian Empire.
"I wanted to launch a project that had a social impact. [And] my wife and co-founder, Noha El Taher, is a graphic designer and, [at the time], she was teaching design for social entrepreneurship at the German University in Cairo (GUC)," says Kiliim co-founder Ibrahim Shams.
The duo were in the midst of decorating and furnishing a new room when they first became aware of the gap in the local kilim market, after failing to find designs that matched the overall aesthetic of their house.
Soon after their fruitless thorough search, Kiliim was born. "I suggested to Noha that we launch an online store where we modernize the designs of kilim, while maintaining its over all traditional look," he recounts.
But for the local entrepreneurs, the real challenge was finding the perfect location to handcraft kilims that met their design aspirations. During their research phase, Shams came across the small town of Fowa, which is located in Northern Egypt's Delta region, in the Kafr El-Sheikh governorate. Fowa, known for its handmade kilim industry, has seen its main job-creating sector stagnate in recent years due to the decrease in demand.
The lack of demand, which sprung from the rapid decline in tourism and the prevalence of cheaper, machine-made rugs, caused the town's main industry to fade. Many have abandoned kilim-making, and even stopped training their children in the arts of the craft, once one of the town's most cherished traditions. It is there that Kiliim found its home and its mission to both revive and sustain local kilim-making, adding their modern twist on the ancient art.
Kiliim manufactures its products in Fowa, using the finest quality wool yarn and dyes. Purchasers of Kiliim's product thus contribute to putting Fowa back on the local and international map for authentic craftsmanship.
"This became the social aspect behind out business. We wanted to save the remnants of this dying tradition, while trying to revive and sustain it," Shams says, "We also wanted to create a source of income for the town."
But it was not easy to find artisans, not just due to their dwindling numbers, but also because many were not used to following ready-made designs. For many years, kilim designs were standardized, with limited room for variation. Artisans would freehand patterns and designs as they made the kilims. With Noha designing the kilims for the artisans, many craftsmen refused to deviate from what they have always known about the traditional art.
Eventually, Kiliim was able to contract four artisans who agreed to weave the brand's designs as a way to preserve the art and skill, while maintaining good quality and work ethic.
Initially, Kilim launched as an online store, selling their handmade kilims. Recently, however, the couple has opened a showroom as an extension to their Maadi office, and plans to open up a store and expand their line to include products from other local handcrafts. "The store will be like an experience, where they learn about the handcraft and the people behind the craft, as well as the villages that rely on these crafts for income."
For centuries, Egypt has had a rich handicraft industry, with masterful artisans in every craft, many of which represent different aspects of Egyptian cultural identity and heritage.
We are now seeing this storied industry atrophy as a result of technological advancements and changing aesthetic trends. All this heritage, along with the professionals who have kept it alive this long, are unfortunately being swept away by the winds of time and are almost disappearing from the Egyptian market.
Since its launch, Kiliim has contracted 17 artisans, some of whom only returned to the craft after retiring from it at the entrepreneurial couple's invitation. Social entrepreneurs like the duo behind Kiliim shed light on the different handicrafts in the country by participating in international exhibitions and showrooms where they display masterpieces by local artisans. Most importantly, however, they are creating job opportunities for craftsmen and women whose work would otherwise go unnoticed.
---
Subscribe to our newsletter
---