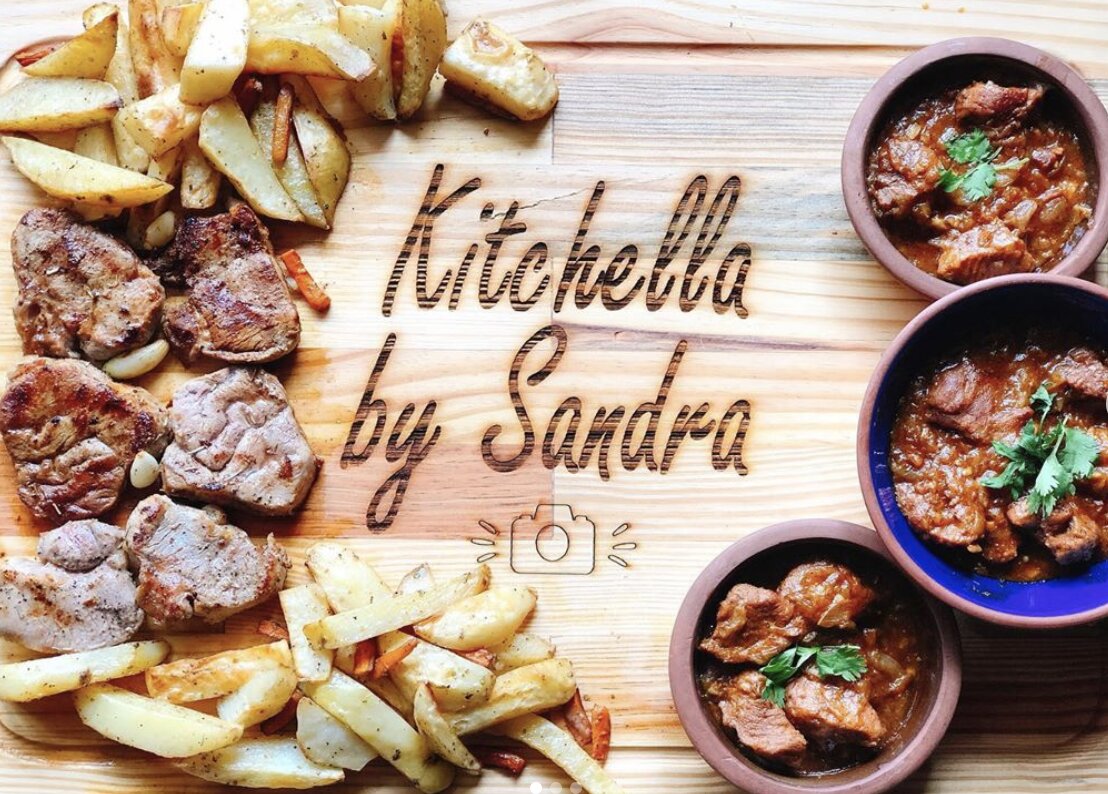 While the winter season may bring a few grim nights and morning blues, it also brings some of the best recipes. From mouthwatering Nutella rollers to warm and comfy dishes such as butter chicken, these recipes are perfect for a cozy night on the couch while binge watching one's favourite shows on the internet without having to move an inch.
Sandra Hani Hannah is a young food blogger that reviews restaurants, street food carts, local dining spots and also shares her own recipes on 'Kitchella' . She likes to infuse essential spices and vegetables  from the Egyptian cuisine with international dishes.
Here are a few hand picked recipes that combine French, Italian, Indian and American cuisine, but with an Egyptian touch.
1. Nutella Rollers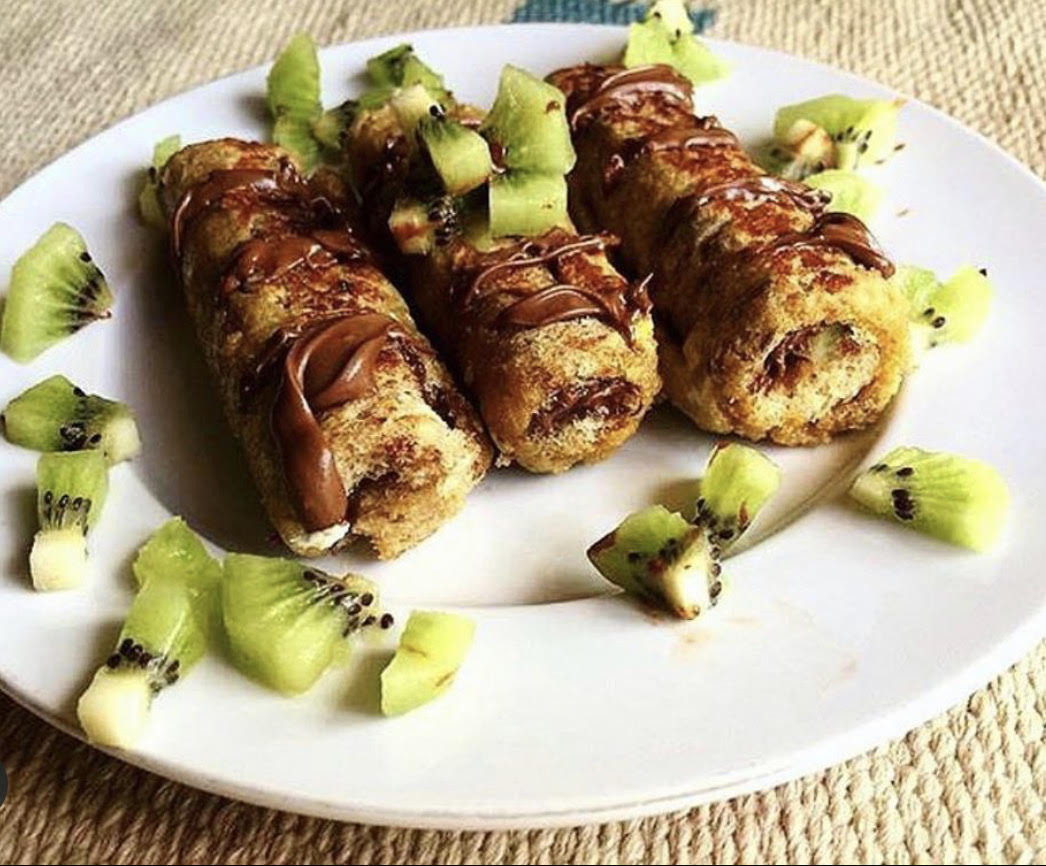 Directions:
Step 1: Get 3 loaves of toast
Step 2: Remove crust on each side, using a knife
Step 3: Press each loaf using a roller pin until thin and pressed
Step 4: Spread with Nutella / chocolate on to the pressed bread
Step 5: Add any chopped up fruits (kiwi, strawberry or bananas)
Step 6: Roll over the stuffed bread over in the form of rolls
Step 7: Dip the rolls in 2 whipped eggs
Step 8: Add the rolls on to a pan with 1 and 1/2 teaspoons of butter, on medium heat, until brown and cripsy
Step 9: Serve with a fresh glass of orange juice
Ingredients (serves 1 person):
-3 loaves of brown / white toast
-Nutella
-Chopped fruits (of your choice)
-2 eggs
-1 and 1/2 teaspoons of butter
2. Butter Chicken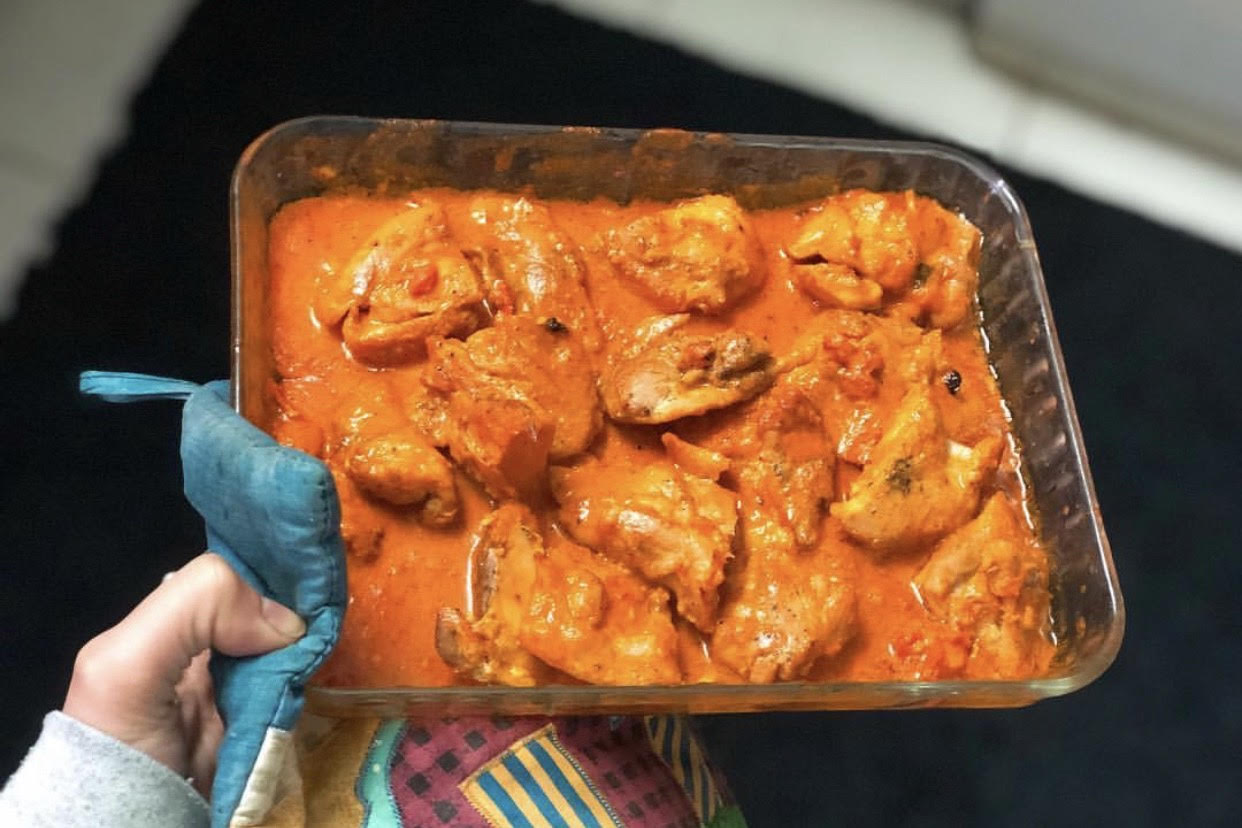 Directions:
Step 1: Marinate chicken in lemon juice, salt, pepper and leave for 20 minutes in the fridge
Step 2: Bring out the marinated chicken and cut it up into smaller pieces and marinate again in coconut milk, curry, ginger, turmeric, cinnamon. Leave for 4 – 8 hours refrigerated, the longer you leave in to marinate, the better!
Step 3: Add 2 spoons of tomato paste, 2 garlic cloves and 2 chopped tomatoes in a blender, cashews make a smooth puree.
Step 4: Add 1/2 table spoon butter to a medium hot pan, add 2 chopped garlic cloves and add the marinated chopped chicken pieces, stir fry until golden brown.
Step 5: In a separate pan add 1/2 table spoon of butter
Step 6: Pour the remaining sauce from the marination on to the pan
Step 7: Add the tomato puree blend
Step 8: Add the Cardamom pods
Step 9: If you like your food spicy, you can add 1/2 teaspoon of red chili powder
Step 10: Add 1/2 cup Chicken stock (if available), if not just add 1/2 cup of water
Step 11: Stir and leave to simmer for 10 minutes
Step 12: Add 1/4 cup of heavy whipping cream
Step 13: Stir and leave it to simmer for 10 minutes
Step 14: Once the sauce starts to show bubbles , move it to low heat and simmer for 10 minutes
Step 15: Serve and top off with some coriander and enjoy.
Ingredients (serves 4 people):
-800 g Roasted chicken breast cut into pieces
-1/2 cup of coconut milk
-2 table spoons of Tomato paste
-2 tomatoes
-1/4 cup lemon juice
-Chopped onions
-4 garlic cloves
-1/2 teaspoon Curry
-1/2 teaspoon Ginger
-1/2 teaspoon Garlic
-1/2 teaspoon Turmeric
-6 Cardamom pods
-1/2 teaspoon Cinnamon
-1/2 cup Chicken stock
-1 table spoons Butter
-1/4 cup heavy whipping cream
-Coriander
3. Egg Benedict with Smoked Salmon, Cream Cheese and Mushrooms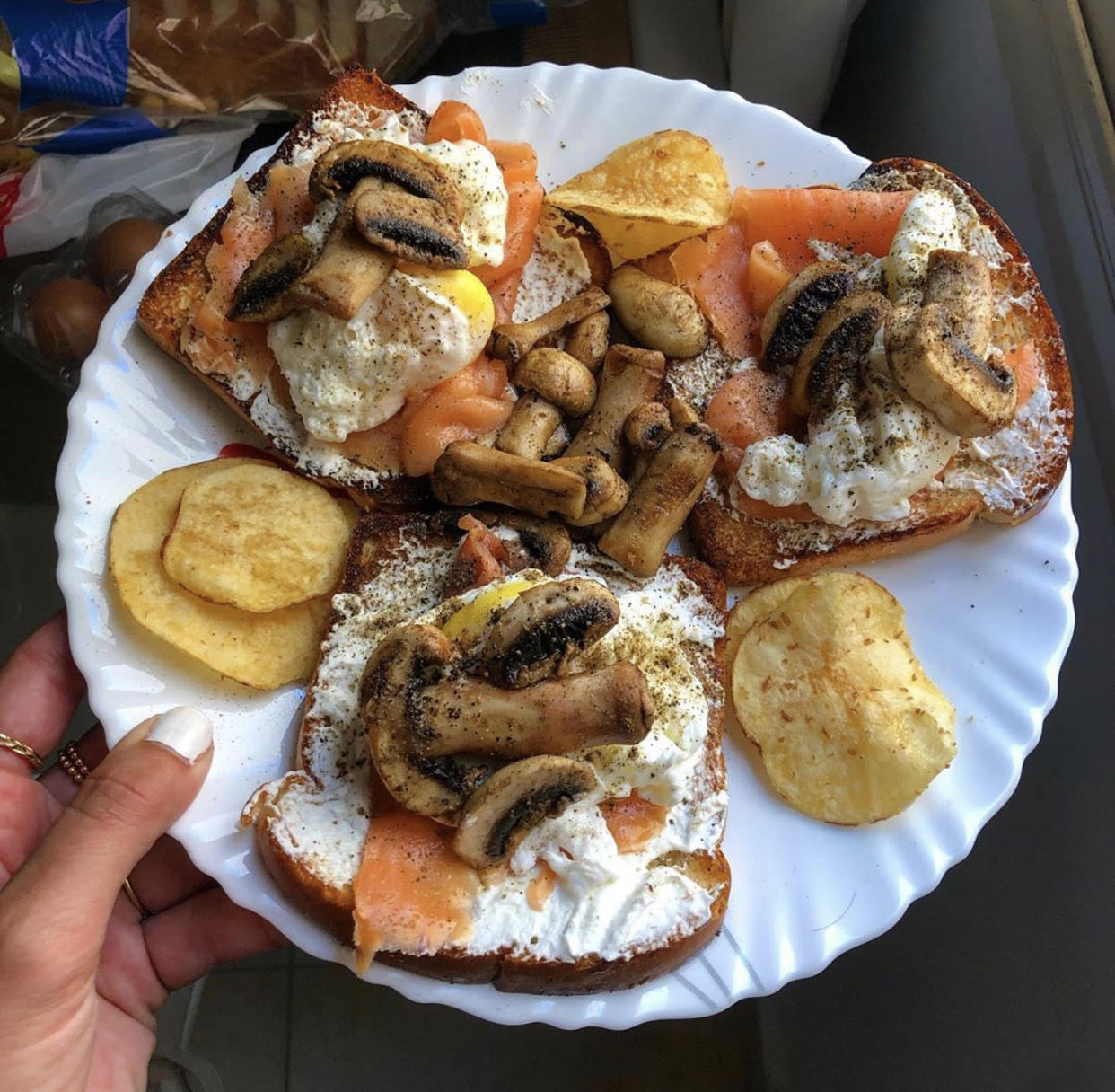 Directions:
Toast:
Step 1: Bring 4 loaves of Toast
Step 2: Equally spread cream cheese on each
Step 3: Add 2 to 3 slices of Smoked salmon on each loaf of toast
Mushrooms:
Step 1: Clean mushrooms using a damp towel
Step 2: Chop mushrooms up into small pieces
Step 3: Add 1/2 teaspoon of butter to pan
Step 4: Stir fry the mushroom in the butter with 2 chopped garlic cloves
Step 5: Add salt and pepper
Step 6: Remove from pan and add on top of the loaves of bread topped with cream cheese spread
Egg Benedict:
Step 1: In a separate pan add 3 to 4 cups of water (make sure two -thirds of the pain is filled with water) (until it exceeds half the pan)
Step 2: Heat the water to boil
Step 3: Add salt
Step 4: Crack the eggs in the boiling water until it becomes one whole piece, do not move it around much, leave to simmer for 8 – 10 minutes (depending on how running you would like the egg to be).
Step 5: Remove the eggs from water using a large spoon or serving tool, try not to split the eggs in half while doing so
Step 6: Add the eggs benedict on top of the loaves of bread that are already topped with cream cheese and mushroom.
Step 7: Serve with a side of chips
Ingredients (serves 2 people) :
-4 loaves of brown / white toast
-Cream cheese
-100 g Smoked salmon slices
-Mushrooms
-1/2 table spoon Butter
-2 garlic cloves
-Salt and pepper
-4 Eggs
-3 to 4 cups Water
-1 table spoon vinegar
4. T-Bone Steak with Cheese-Stuffed Tortelloni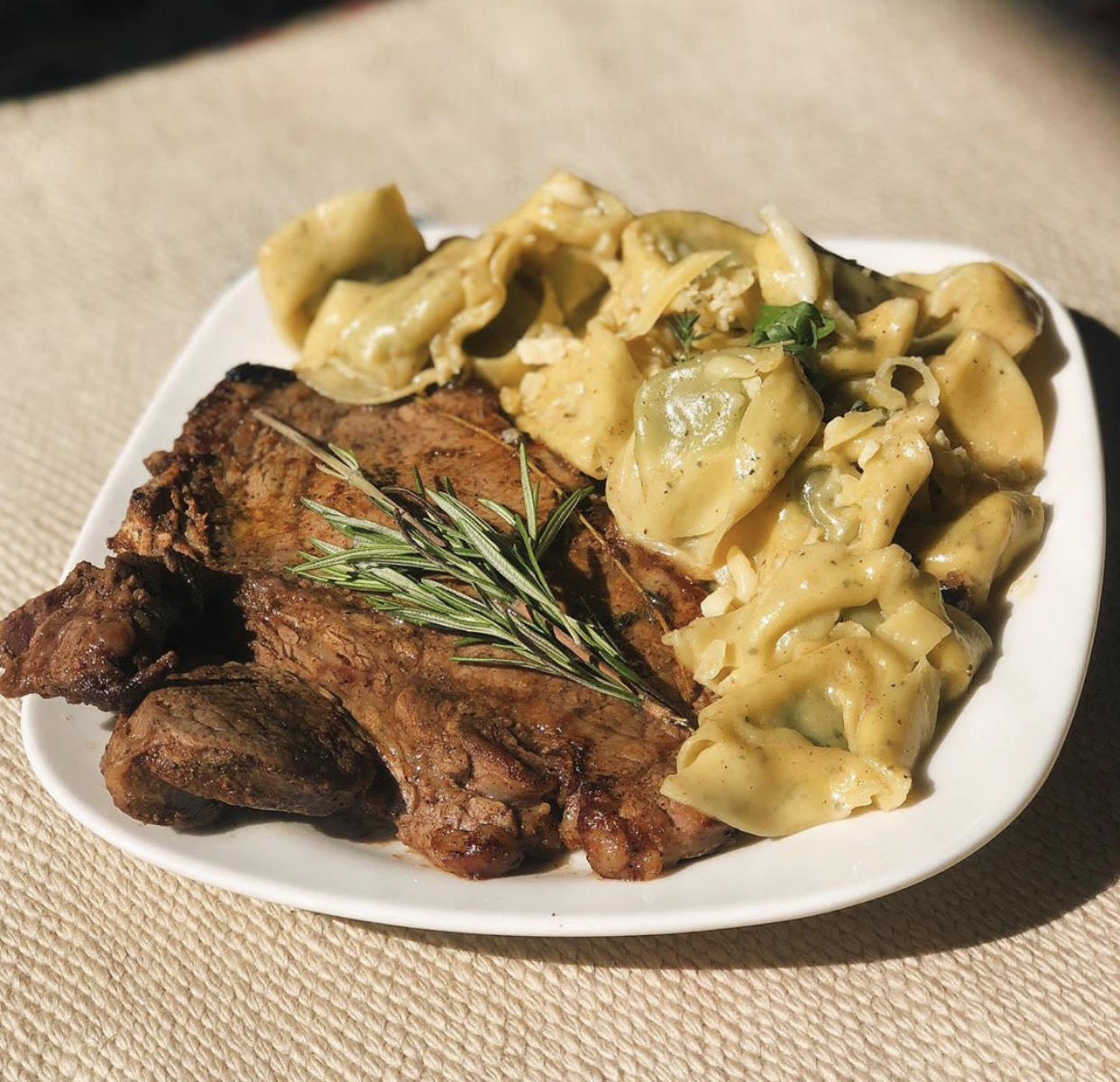 Directions:
T – Bone:
Step 1: Heat a skillet over high heat
Step 2: Pat the T- bone meat dry then season with salt and pepper
Step 3: add 1/2 table spoon butter, rosemary pieces, 2 chopped garlic cloves to the skillet
Step 4: Add the meat once smoke begins to rise, then reduce the heat slightly, cook it for 4 minutes on each side
Tortelloni
Step 1: In a separate pan Add 1/2 table spoon butter , 2 chopped garlic cloves
Step 2: Add 1 cup of cooking cream, leave to simmer for 2 minutes
Step 3: Add 1/2 cup of water and leave it to simmer for another 2 minutes
Step 4: Add the uncooked tortellini and leave to simmer for another 5 to 10 minutes (depending on how soft you would like it to be)
Step 5: Add 2 tablespoons of parmesan cheese and stir
Step 6: Serve
Ingredients (serves 1 – 2 People):
-T – Bone Steak
-1 table spoon butter
-4 garlic cloves
-1 cup cooking cream
-1/2 cup of water
-255g pack of cheese stuffed tortellini pasta
-2 table spoons parmesan cheese
---
Subscribe to our newsletter
---