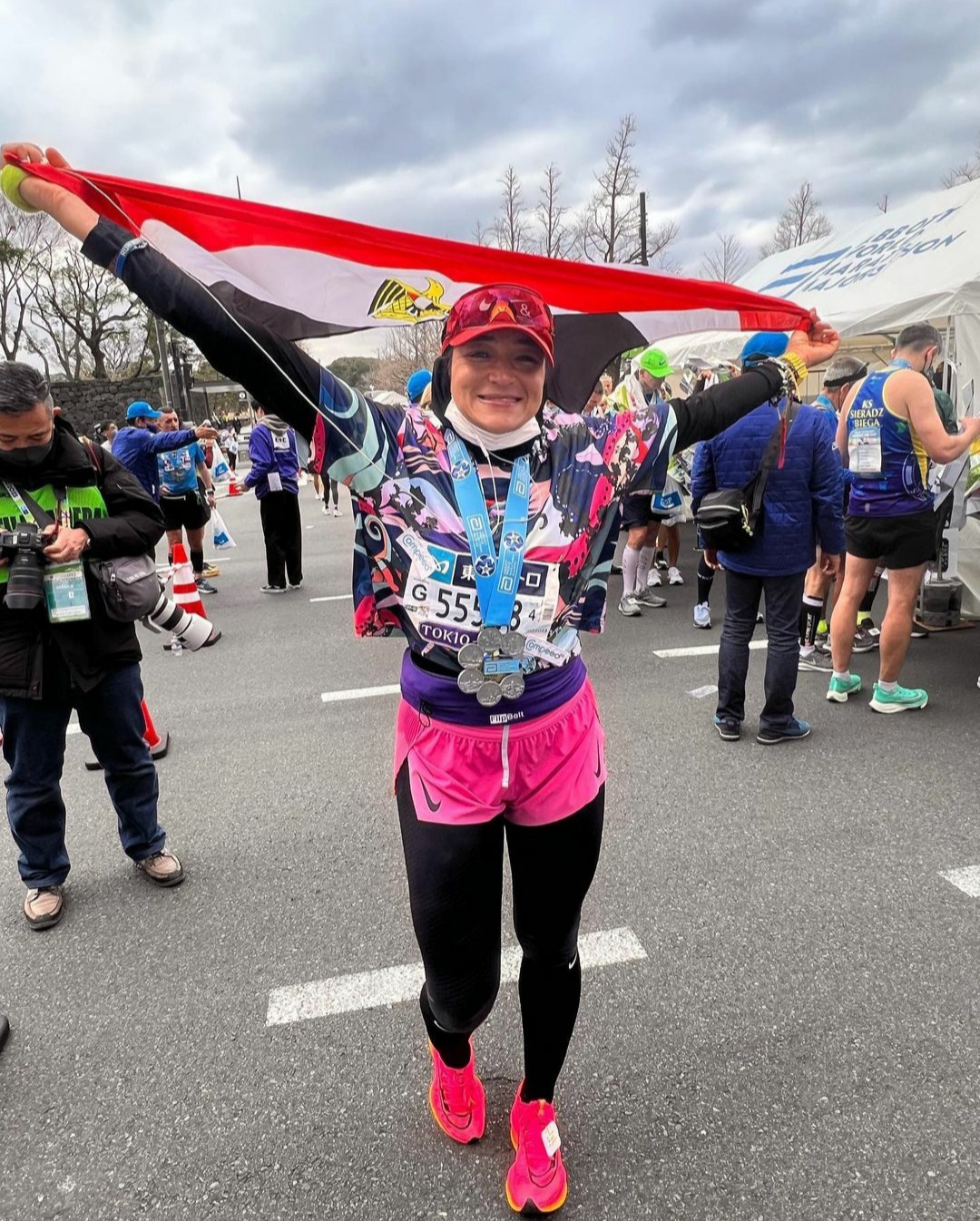 Egyptian marathoner and mountaineer Manal Rostom completed the Tokyo Marathon on 5 March 2023, making her the first Egyptian woman to complete the six World Marathon Majors.
Launched in 2006, the World Marathon Majors (WMM), also known as the Abbott World Marathon Majors, is a global competition for marathon runners. The competition comprises six major marathon races held annually in the cities of Tokyo, Boston, London, Berlin, Chicago and New York.
The six races are considered to be among the most prestigious in the world of marathon running, as admission to the WMM club is granted on the basis of strict criteria. Speaking to Runner's World, former executive director Tim Hadzima explained that the global circuit prides itself on being a meeting point for the world's elite athletes, as well as the most renowned race directors.
This is not the first of Rostom's historic athletic feats.
A pharmacist by training, Rostom began her exceptional journey in 2009 by climbing South Sinai's highest peak, Mount St. Catherine. She went on to complete several major marathons across Egypt and the world before climbing Mount Kenya, the second highest peak in Africa, in 2013.
In May 2022, she became the first Egyptian woman to climb to the top of Mount Everest – the world's tallest mountain above sea level, an achievement she hoped would "make Egyptian women proud."
Rostom, who had previously completed all other five of the WMM races, initially planned to run the Tokyo Marathon in March 2020 – plans which were placed on hold by the COVID-19 pandemic. At the outcome of her three-year wait, the athlete dedicated her run to all girls, and particularly Arab girls like herself who wear the hijab, according to a post shared to her Instagram account.
The heartfelt dedication is well in line with Rostom's advocacy against the athletic world's discrimination towards Muslim women athletes who wear the veil, of which she spoke at length in an interview with television network Euronews.
In 2015, she became the first Hijabi woman to model in a Nike Running Campaign. Following the campaign's success, Rostom went on to found Surviving Hijab, an online community dedicated to spreading awareness about the discrimination faced by wearers of the veil.
Rostom's latest achievement further cements her status as one of the Arab World's foremost women athletes, marking yet another historic milestone for the Egyptian runner.
---
Subscribe to our newsletter
---