Construction of the artificial river
Photo credit: Aswaq Al Malomat
An artificial river in the middle of the desert may sound unrealistic, but the project is becoming a modern reality in Egypt's Western Desert.
To ensure the availability of sustainable water resources, the Egyptian Ministry of Water Resources and Irrigation is building what is set to be the world's largest man-made river. With a length of 114 kilometers, the river will be used to deliver water to sustain agricultural areas in the New Delta project.
Set to cultivate over 2.2 million feddans (9,240 square kilometers), New Delta is the largest scheme of its kind in the history of agricultural projects in Egypt.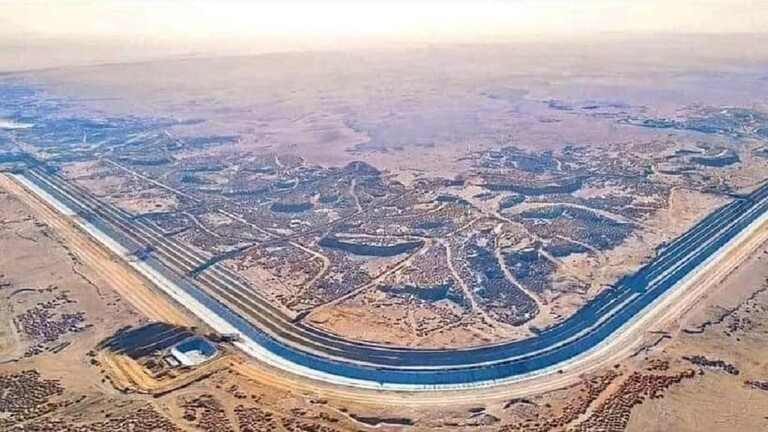 Through this man-made river, groundwater, agricultural, and drainage water will be treated at Al-Hammam Agricultural Wastewater Treatment Plant, to produce nearly 10 million cubic meters of water. The river consists of 22 kilometers of underground water pipelines as well as a 92-kilometer open path.
Upon completion, the project should significantly contribute to food and water security in Egypt.
According to UNICEF, Egypt is currently struggling with an annual water deficit of around seven billion cubic meters, and the country could run out of water by 2025.
However, the Egyptian government has been rationing water use, desalinating seawater, purifying local lakes, and establishing mega national projects aimed at lining water channels and transitioning to modern irrigation systems. Egypt is also establishing the National Water Resources Plan 2037, which aims to maximize the country's water resources.
In recent years, the Egyptian government has also been exerting efforts to promote food security by reclaiming agricultural lands and establishing wheat silos to locally produce wheat.