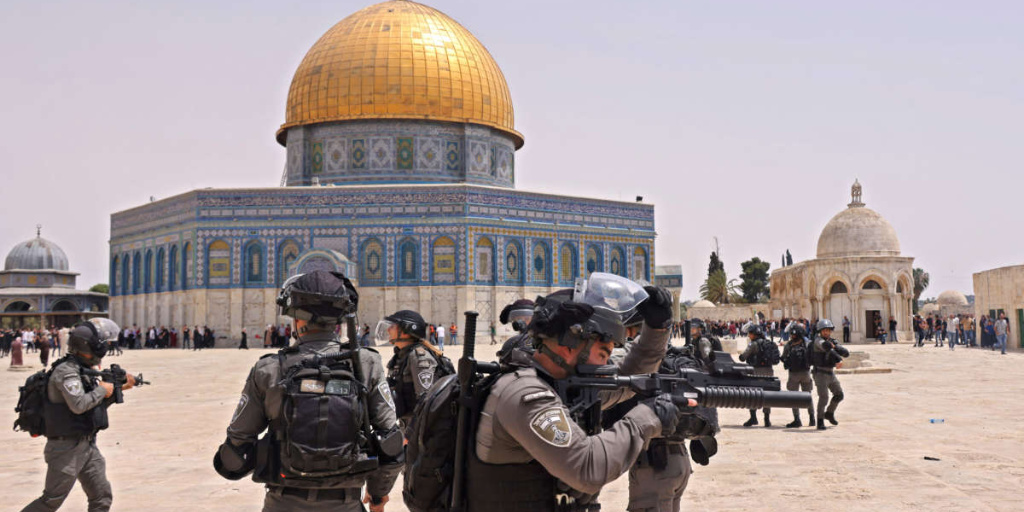 Israeli Forces violently assaulted worshipers at Al-Aqsa mosque in East Jerusalem during the early hours of Wednesday, 5 April. During the raid, 350 Palestinians were arrested and 14 injured according to the Palestinian Red Crescent.
Israeli forces reportedly used rubber-tipped bullets, stun grenades and tear gas during the attack, and restricted Red Crescent medical aids from entering the assault site.
Social media began flooding with videos of the attack, where the Israeli Defence Forces (IDF) can be seen assaulting Palestinians with what appear to be their rifles, to the sound of screams in the background.
View this post on Instagram
The assault came at an intersection between the holy month of Ramadan and the eve of Jewish holiday, Passover, spreading worry over a potential escalation of violence in the coming days.
The Egyptian Ministry of Foreign Affairs condemned the move, demanding an immediate stop to the violence. In a statement released earlier today, the ministry declared the strike a violation of international law.
Israeli police released a statement, justifying its actions by saying that "masked agitators" had locked themselves within the structure, and as such, were in violation of an agreement prohibiting anyone from being in the mosque overnight. Meanwhile, protesters in Beit Ummar — a territory in the occupied West Bank — voiced their dissent over the Al-Aqsa attack by burning tires, and throwing rocks and explosive devices, according to the Israeli army. Israeli forces retaliated by shooting live fire, after a soldier was injured.
Following the attack, rockets were reportedly fired from Gaza at Israel with the Iron Dome intercepting them. Responsibility for the rockets was not claimed by Hamas. Israeli fighter jets then retaliated by firing on weapon-manufacturing locations in the Gaza strip, suspected to belong to Hamas.
The recent attack on Al-aqsa mosque mirrors raids undertaken in the previous years by the IDF during the holy month. In 2022, on the last Friday of Ramadan, 42 Palestinians were injured by Israeli police at the Al-Aqsa compound. The Israeli forces had entered the compound claiming to be dispersing "riots." Similarly, in 2021, as Ramadan neared its end, IDF stormed Al-Aqsa wounding more than 200 Palestinians.
The Days Leading Up
The attack on Al-Aqsa – one of Islam's holiest sites – comes days after the murder of a Palestinian man at a location nearby. Early on Saturday, 1 April, Israeli police shot and killed 26-year-old Palestinian, Mohammed Khaled Al-Osaibi near Al-Aqsa, claiming that the young doctor had reached for an officer's weapon. However, eyewitnesses shared a different account stating that Osaibi was shot for attempting to prevent the harassment of a woman heading to the mosque by Israeli police.
That same day, less than 24 hours later, another Palestinian man was shot by the Israeli army for allegedly ramming his car into a checkpoint, with reports saying that he wounded three soldiers.
A Violent Start to 2023
According to the Institute for Middle East Understanding (IMEU), the month of January saw a higher number of Palestinians killed in comparison to that same period last year.
Israel has already killed five times as many Palestinians in 2023 as it had by this time last year.

In 2022, Israel killed 222 Palestinians, 55 of them children.

With Israel's new, far-right government in power, Palestinians can only expect those numbers to skyrocket this year.

— IMEU (@theIMEU) January 26, 2023
While 2022 has been identified by the United Nations (UN) as the deadliest year for Palestinians in the West bank, with 152 killed, 2023 began with renewed violence.
On Thursday, 26 January, Israeli forces killed nine Palestinians in the city of Jenin, located in the West bank. A day later, seven people were killed and three injured as a result of an attack by a Palestinian shooter.
Daily tensions in the West Bank have resumed since January between Palestinians, Israeli settlers and Israeli Defence Forces, with the fatal casualties including 16 Palestinians, of which three were kids, and three Israelis; while 1,089 Palestinians and five Israelis were wounded. In total, between January and February, 63 Palestinians, and thirteen Israeli soldiers were killed, according to a report released by the United Nations Office for the Coordination of Humanitarian Affairs.
The continuing violence comes against the backdrop of tension within Israel. Labelled as extreme-right wing, Israel's new government, with Benjamin Netanyahu as Prime Minister, incited mass protests from Israeli citizens that began in early March, over plans for judicial reforms.
---
Subscribe to our newsletter
---