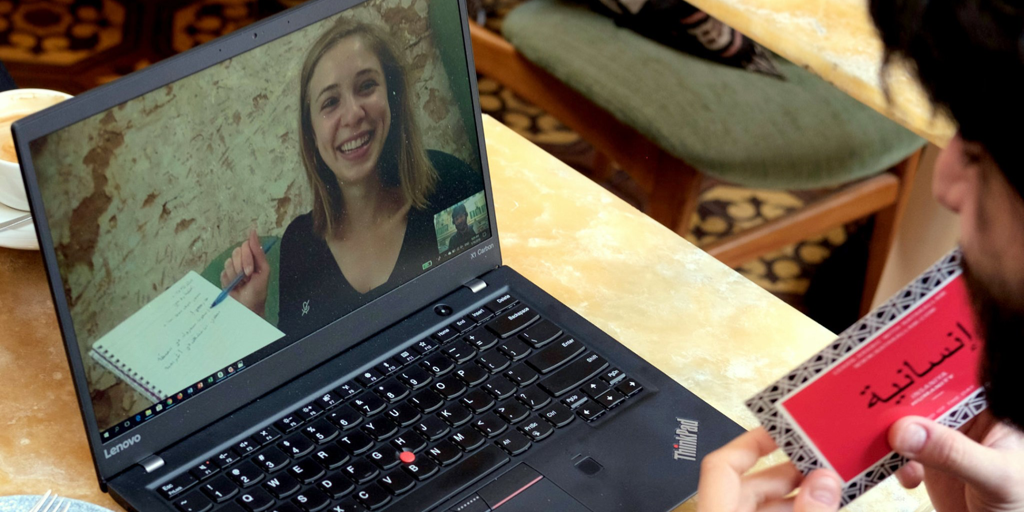 South-African comedian, author, and television host Trevor Noah said recently: "anyone could become a refugee. It's a thing that happens to you; it's not who you are."
A social enterprise that is actively reshaping the refugee narrative and dispelling the negative connotations surrounding the term is NaTakallam. The award-winning digital platform hires refugees of different nationalities (and their host community members) to work as teachers and translators.
Harnessing the digital economy as a tool to provide a sustainable income for these refugees, NaTakallam — which loosely translates to "we speak" in Arabic — is a purpose-driven online platform with a human-centric approach to its services. It fosters human connection and cultural exchange in that it links displaced individuals with students virtually, granting them a space to pass on their language expertise as well as their heritage thus centering the voices that are rarely heard in the media when covering the refugee crisis.
Since its establishment, Natakallam has connected over 12,000 learners with teachers through one-on-one online sessions, resulting in upwards of USD 2.5 million (EGP 76.4 million) in self-earned income for displaced persons and their host communities.
Founded in 2015, at the pinnacle of the Syrian refugee crisis – which began in 2011 following government crackdowns set off by public protests – the online platform was born from the need to provide those displaced with a chance to survive and thrive, in a political climate pervaded by stereotypes and political power plays.
Since 2011, 14 million Syrian refugees have been forced out of their homes with the crisis estimated to be one of the largest globally.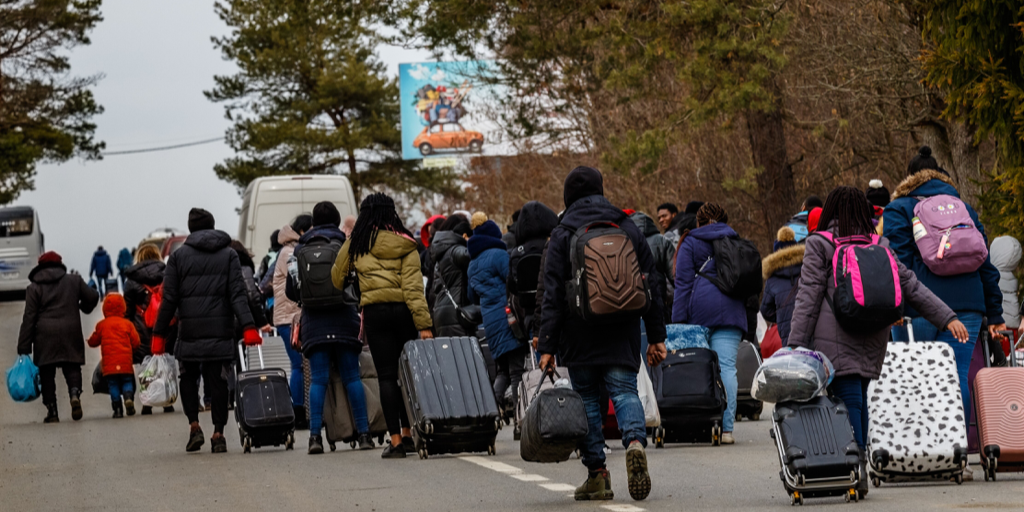 "I was heartbroken by the plight of Syrians in general," says Lebanese-American co-founder Aline Sara who has a background in human rights and conflict resolution.
She continues: "For me, it was the culmination of this awareness around how we're leaving so many people in such a limbo status and our leaders, whether it's the Western leaders or the local leaders, abandoning an entire population that's been forced to flee."
Having spent time in Lebanon, Sara was galvanised into creating NaTakallam after witnessing the living conditions of Syrian refugees in the country. Similarly to other countries neighbouring conflict zones, obtaining the right to work is a gruelling process for displaced individuals.
Coupled with the already strained political and economic situation of many of these countries that are rife with tension, and where poverty is rampant, the situation of the refugee becomes increasingly precarious.
NaTakallam was initially born as a means to support Syrians by creating work opportunities; it began as a platform allowing users to learn the Arabic language. Since then, it has expanded to include Spanish, Armenian, Kurdish, French and Persian, working with refugees of different nationalities, across borders. It has recently added Ukrainian and Russian to its selection of languages as an attempt to support those fleeing the Russia-Ukraine conflict, which started in February 2022.
More than a year into that conflict, over 13 million individuals have now become displaced as a result of its dangers, according to the United Nations High Commissioner for Refugees (UNHCR).
As of 2022, there are 103 million displaced people in the world: 32.5 million refugees, 4.9 million asylum-seekers, and 53.2 million internally displaced.
"It's a source of community and friendship; it's a source of virtual networking," explains Sara. "Refugees have been able to get resettled thanks to connections made through some of the students they've worked with. They've been able to get other jobs; they've been able to rekindle this social network they lost back home."
The majority of refugees working with the platform hail from a middle socio-economic class — usually former teachers, doctors, architects and journalists forced to flee conflict within their own countries.
Since its inception, NaTakallam has partnered with several universities including Yale University and Columbia University, in an effort to optimise the quality of education offered.
Changing the Narrative
The representation of refugees and migrants has long been skewed by the Western press. In 2015, when Europe witnessed a significant peak in the arrival of refugees — a notable portion of whom were fleeing the unrest in Syria — to its borders, the migrant wave was framed as "a crisis for Europe" by many of the publications and journalists reporting on it at the time.
The rhetoric being used in the media shifted from empathy to suspicion, giving little coverage to the voices of those at the centre of the crisis itself.
The consistent depiction of refugees and migrants — especially over the past decade — as unskilled outsiders permeates several aspects of the displaced persons' lives abroad by cementing stereotypes that go on to have long-term repercussions on their integration within society. What is said in the media has real consequences on the ground.
"Very often, some people get confused [about who's teaching who], and think that I've created a platform where Westerners are teaching refugees something," says Sara. "But no, it's the other way around. We have refugees who do cultural exchange sessions and entire classroom sessions where they talk about their story, their country, their heritage, and their lives as refugees."
View this post on Instagram
Through these virtual lessons, students and their teachers build a relationship over time."It's flipping the narrative," Sara adds. "The world is more focused on training refugees to learn how to do this [or that], on helping refugees, but the refugees are the ones helping the non-refugees in our case because they're teaching them something."
In giving these displaced communities a platform, NaTakallam is not only providing the means for a sustainable income, but igniting a conversation and remoulding the discussion surrounding refugees.
"It changes the narrative around global displacement because people get to meet refugees beyond the headlines," adds Sara. "Refugees are used as scapegoats by both the media and by politicians in our world today. And it's only getting worse."
The media misrepresentation is still ongoing today. Earlier in 2022, as Russia invaded Ukraine, some reporters and journalists covering the conflict used discriminatory language when comparing non-European refugees to Ukrainian ones.
Criticism was drawn over the rhetoric used when it came to comparing Middle Easterners and Eastern European refugees with one prominent CBS News correspondent stating that Ukraine "isn't a place, with all due respect like Iraq or Afghanistan, that has seen conflict raging for decades. This is a relatively civilised, relatively European — I have to choose those words carefully, too – city, one where you wouldn't expect that, or that it's going to happen."
The terms often used in reporting to describe non-European migrants has been found to seep into the stereotypes that associate the Middle East and Africa with suffering and oppression. Under that light, when a crisis strikes in those regions, it becomes tolerable to many observers in the West, an expected sight not out of the ordinary.
In fostering a space for intercultural exchange, NaTakallam raises awareness on the challenges faced by those displaced, while simultaneously allowing room for those affected to celebrate their heritage and identity outside of the crisis they've been associated with in the media. It is breaking the restricted stereotypical representation of the refugee by introducing them through a nuanced lens, focusing on their skill rather than strictly on their plight.
To learn a new language, visit the NaTakallam website.
---
Subscribe to our newsletter
---