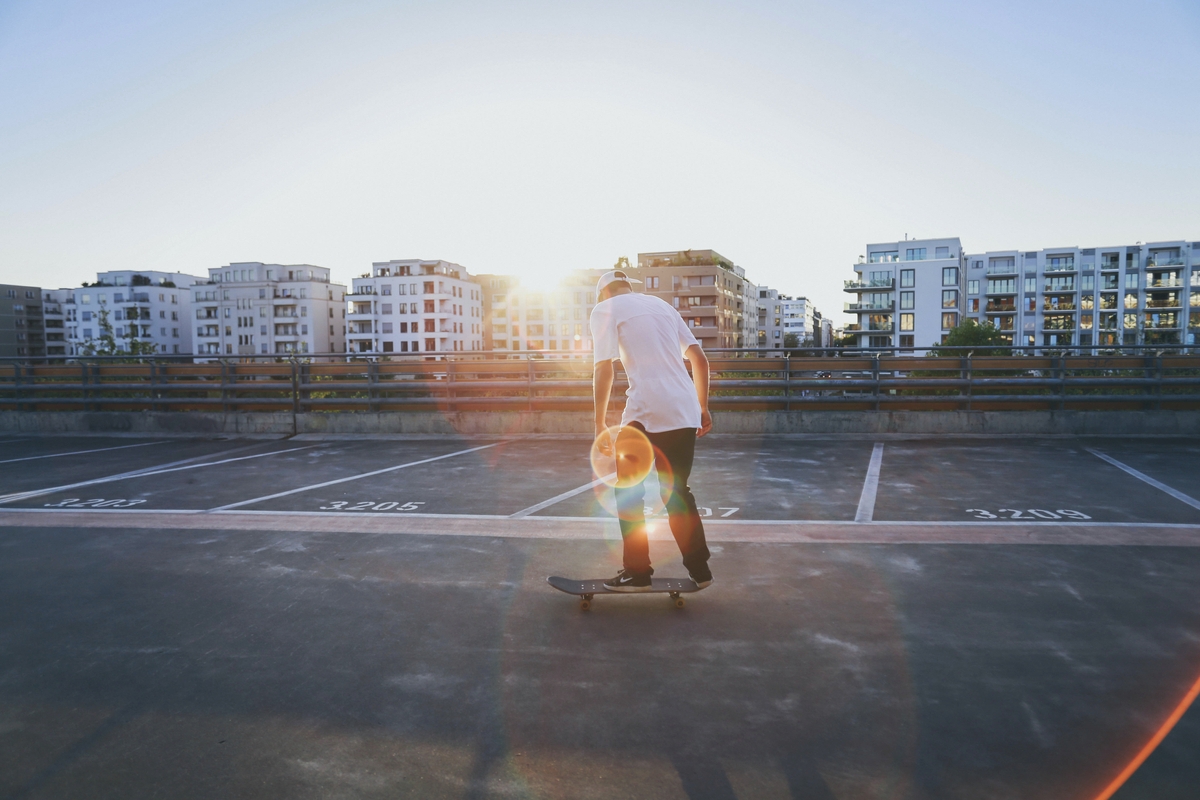 Skating has never been big in Egypt, but organizing a pioneering event such as 'Arka Fil Istad (brawl at the stadium)—the first skateboarding competition with a street course in Egypt—for the second time is testament to the consistent growth of the skate scene in recent years—and the hard work of those pushing it forward.
The event, organized by community page Egypt Skateboarding Hub and held earlier this month on 13 May, started out with an open session for everyone to skate. Then, competitors were split into three groups, with each participant getting two separate minute-and-a-half runs. Judges scored skaters based on the tricks pulled off, taking into account style and trick difficulty. The ten with the highest combined scores qualified for the best trick contest. Scores from both runs and the best trick were then added up to determine the champions of the 'Arka—the first skate event to be organized in collaboration with the Egyptian Skate Federation.
View this post on Instagram
Fares Rashwan, in some ways a teenaged star in the scene, won first place with a combination of impeccable style and relatively difficult tricks, including a nosegrind—grinding with the front trucks only—on the ledge and an ollie—regular jump with the board—over the barrier delineating the course. Second place Yassin Attar impressed with more than one frontside lipslide, a trick where the skater rotates 90 degrees in the air over the obstacle before grinding. Ismailia-based skater Abdullah Shehta earned third place with a perfect hardflip off the kicker during the best trick section.
Many sponsors attended the event, including mainstream brands such as Red Bull, Decathlon, and In Your Shoe, in addition to others such as Octopus and Egyskatepark. The presence of several emerging or well-known companies demonstrates just how much the scene has progressed; five years back, having any sponsor in an event, let alone multiple ones, would have been a great achievement by the organizers.
This year's 'Arka also had its first female competitor, another milestone for skateboarding in Egypt, which remains a male-dominated activity, but has seen a significant increase in the number of female skaters in recent years. The opening of a new skatepark in Sheikh Zayed City has helped girl and women skaters find a dedicated place to skate.
View this post on Instagram
The skatepark hosts an academy which offers lessons, further encouraging young newcomers to try skating out in a guided environment. The park in Zayed is family-friendly, which makes a difference in terms of parental opposition to skating; seeing the difficulty of the sport and the joy of learning new tricks or maneuvers first-hand, as well as the sense of community it builds, humanizes an activity seen from afar as loud, disruptive, a bit extreme, and rather delinquent. Of course, the spirit of skateboarding is all those and much more, and that should never be discounted—in a good way. Skating breaks boundaries, both personal and communal, and is a tool for self-development, ingraining a certain determination and understanding of how to learn in its adopters. It has faced challenges along the way, but skateboarding in Egypt is now quickly growing.
Humble Beginnings
Skateboarding has been present in Egypt longer than one would think; since the mid-1980s, Mohammed Kamel, who is known by skaters as Mo and served as a judge in this year's 'Arka, has been skating the streets and spots of Cairo—particularly Maadi—even sharing sessions with professional skateboarder Cairo Foster.
View this post on Instagram
However, skateboarding has never been popular in Egypt. Since I started in 2013, a session with a strong showing would consist of a handful of people. Almost everyone knew everyone else. Today, on the other hand, many people still know a lot of others, but it is impossible to find someone that knows—or is known by—everyone else. Sessions at popular spots, especially on Friday evenings, are also significantly more crowded.
The recent proliferation of skateshops is another illustration of how skateboarding in Egypt has grown. For the longest time, there was only one skateshop in Egypt: Alexandria-based Skateimpact. An attempt was made to open a skateshop in Cairo, SKC Skateshop, in the early 2010s, but the operation ended after, among other things, Skateimpact bought the domain they were using.
Instagram facilitated the process of setting up a skateshop and Temple Skateshop arrived in 2020 to break the monopoly, and was followed by Suez-based Skate Alligent. More recently, Amulet Skateshop was also established by co-founders Hani Talaat and Yehia Ossama, established skaters in the scene since the late 1990s. They are part of what may be considered the 'second generation' of Egyptian skaters, those that skated in the early 2000s and helped maintain the skate scene so that years later it can become what it is today. Talaat is a video producer and Ossama is a dentist, painter, and paint instructor.
View this post on Instagram
"Alhamdulillah (Thank God) the skate scene is growing annually in big numbers. We believe Egypt Skateboarding Hub, and the growing number of skatesops helping the scene, had a huge contribution exposing the skate scene in Egypt and internationally," said Mostafa Karama, one of the organizers of 'Arka and one of the founders of Egypt Skateboarding Hub.
"We are also starting to see international corporate brands such as Redbull, Decathlon, and Vans support the skateboarding scene whether with products or events. We only wish that public skateparks were present to be open to all skaters for them to have a safe environment to skate in," Karama added.
Skateboarding in Egypt has gone a long way. The scene has grown in ways unexpected for those that started skating in decades passed. With swelling numbers, increasingly formalized events, wider partnerships, and a proliferation of skateshops and Instagram community pages, the future of skateboarding in Egypt is exciting.
---
Subscribe to our newsletter
---