Ancient Egypt has been a source of inspiration for many creatives across industries, be that film, literature, fashion, or others.
In the field of fashion, designers have used ancient Egyptian civilisation as their muse as far back as the 1990s. Drawing from the patterns, colours, and symbols prominently featured in the culture, these creatives designed collections that paid tribute to one of humanity's oldest and richest civilisations.
And they continue to do so to this day.
Fashion in ancient Egypt itself played an important role. The elite at the time are believed to have dressed lavishly with designs that featured sequins, embroidery, and feathers. Moreover, their outfits included a kaleidoscope of colours with intricate designs – providing ample food for thought and stimulating reference for modern designers.
Here are four international designers that found inspiration in ancient Egypt for their collections.
Zuhair Murad
For his Spring 2020 collection, Lebanese designer Zuhair Murad sought to emulate the power of women in ancient Egypt. The designer created a line using symbolism from that time period.
The designs — many of which were made with sequins — featured gowns illustrating deities, and a number of depictions paying homage to the ancient civilisation.
The ancient Egyptian woman, for Murad, is echoed in his vision of the modern woman — independent, seductive, and far from subtle.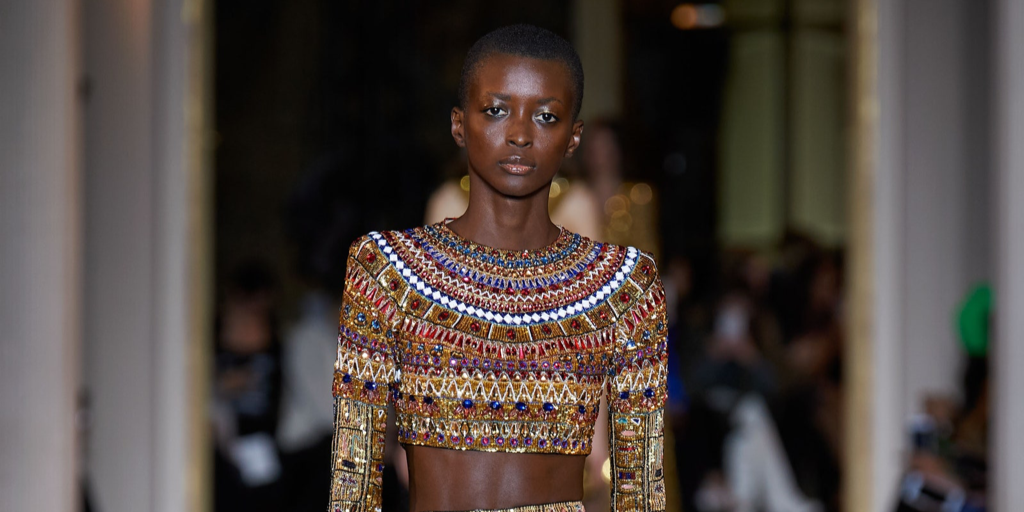 Hailed by critics as one of Murad's memorable couture lines, the Lebanese designer brought his enthrallment with ancient Egypt to life through a reimagination of the civilisation through his eyes.
"I decided to go back in history, especially in this place and time because pharaohs were so mysterious," Murad tells Vogue in an interview published in 2020.
Murad's designs are worn by international celebrities such asJennifer Lopez, Beyonce, and Kerry Washington, among others. Many of his designs were worn at red carpet events as he has been dubbed one of the 21st century's most talented creatives.
Chanel
Chanel's 2018/2019 Métiers D'art Collection that took place at the New York Metropolitan Museum was unveiled against the backdrop of a reconstructed ancient Egyptian temple set up just for the collection.
Pharell Williams modelled one of the looks with an embellished usekh — a piece of jewellery, usually a collar or a necklace, worn by ancient Egyptians — around the neckline of a golden sweater bringing together the all-gold outfit.
Using features symbolic of the civilisation with Chanel looks emblematic of the brand, the collection was made up of intricate designs that saw a whole set of professionals including embroiderers, feather-workers, fabric weavers and show-makers, among others work together to bring it to life.
Chanel is a luxury brand founded by French designer Coco Chanel. Today, the label is synonymous with class and timeless elegance. It is considered one of the top brands worldwide.
Alexander McQueen
While not a full collection inspired by ancient Egypt, British designer Alexander McQueen's Fall 2007 Ready-to-Wear line drew inspiration from different, seemingly unrelated, periods and events in time. One of these was ancient Egypt.
Having discovered a connection between folk culture found in communities of the early British immigrants to the Americas and ancient Egypt, McQueen used the elements reminiscent of the ancient civilisation in a few items featured in the line. These were pieces that mirrored hints of the colours used in sarcophagi, that is gold and lapis lazuli.
Alexander McQueen's work is one that has reverberated internationally because of its originality. His fashion shows are known for their drama and their flair, both of which are part of his brand identity.
Christian Dior
Christian Dior's Spring 2004 Couture show drew its inspiration from creative director John Galliano's trip to Egypt.
Having done an aerial tour of Luxor, Aswan, and Cairo, reinterpretations of the trip found their way into the collection with a medley of gold leaf, lapis lazuli and coral beadings that were featured in the pieces. Many of the pieces paid homage to Nefertiti, King Tut, hieroglyphics and everything in between.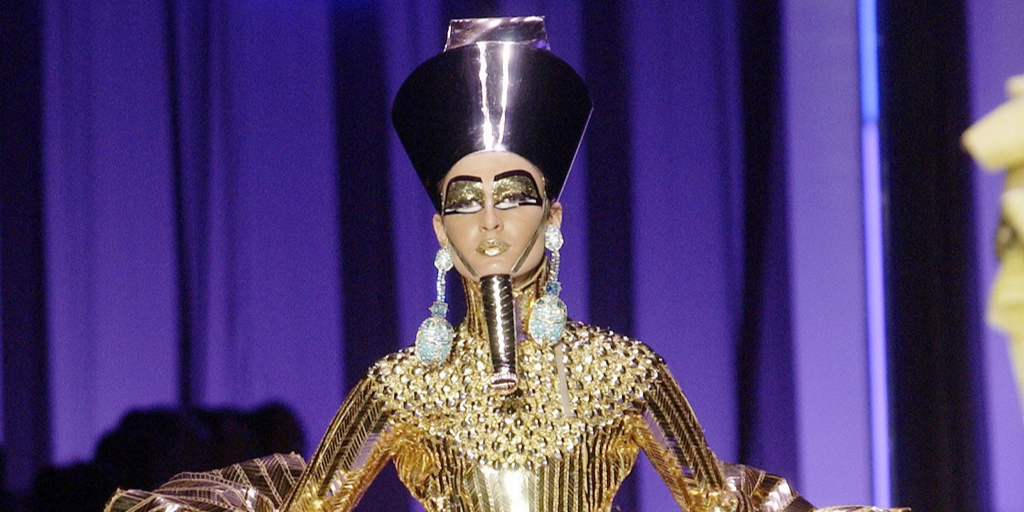 Part of the collection included jewellery moulded into shapes representative of ancient Egypt, such as scarabs. In ancient Egypt, the scarab is an emblem for rebirth. That is because Egyptians would replace the heart of the departed with an amulet representing a kheper (beetle).
The eponymous fashion label was founded by French couturier, Christian Dior. Today the brand drums up visions of flair, and timeless elegance.
---
Subscribe to our newsletter
---