Enthusiasts of indie or alternative music have most likely come across the eclectic compilations curated by Habibi Funk.
Last year, the musical sensation paid homage to Cairo's beloved pop legend, Hamid El Shaeri, releasing a compilation that delves into his 80s musical legacy. Entitled "Habibi Funk 018: The SLAM!", the careful selection of eleven tracks from Shaeri's extensive catalog – including gems such as "Oyoun Houriyat," "Dari Demou'ek," and "Ayonha" – is a tribute to a bygone era, with its danceable rhythms as well as its dreamy atmospheres.
2022 was not Habibi Funk's first time to dedicate a whole mix to revitalized Egyptian music; the label presented yet another remarkable Egyptian experience in 2017 by releasing an album dedicated to Al Massrieen and other Egyptian Jazz Artists, and even publishing an interview with Egyptian legend Hany Shenouda on its YouTube channel.
Anticipated by many Twitter users, Habibi Funk's mixes hold the potential to become this year's ultimate summer soundtrack. With its familiar but forgotten sounds, it strikes a balance between nostalgia and originality — not to mention the range of rhythms and moods covered in the mixes. From upbeat and energetic tunes to relaxed and ambient melodies, Habibi Funk can cater to almost any atmosphere or occasion.
What adds an intriguing layer to this music is its exploration of cultural fusion. While many may have initially discovered the label through its remastered Egyptian albums, its musical journey extends far beyond Egypt's borders.
Starting with revitalizing and re-releasing 1970s Moroccan funk in 2012, it then delved into the musical legacy of Sudan and Lebanon, and only recently reached Egypt. In various interviews, Habibi Funk consistently identifies itself as a bridge between different musical cultures. Its featured songs always combine elements of Arab local heritage with external influences like funk, jazz, or psychedelic rock.
Who is Behind Habibi Funk?
Contrary to popular assumption, Habibi Funk is not merely a genre. It is, in fact, a dedicated music record label, with one individual at its core: Jannis Stürtz, a German DJ based in Berlin.
Stürtz sheds light on what draws him to the project and makes him immerse himself in the realm of nostalgic and niche Arabic music in an interview with The Independent, explaining that while numerous record labels have ventured into releasing non-Western music for Western audiences, the Arab world had been overlooked until recently.
Stürtz was in Morocco for a DJ gig back in 2012, when he stumbled upon a local record shop, a fateful encounter with forgotten sounds prompting him to launch Habibi Funk.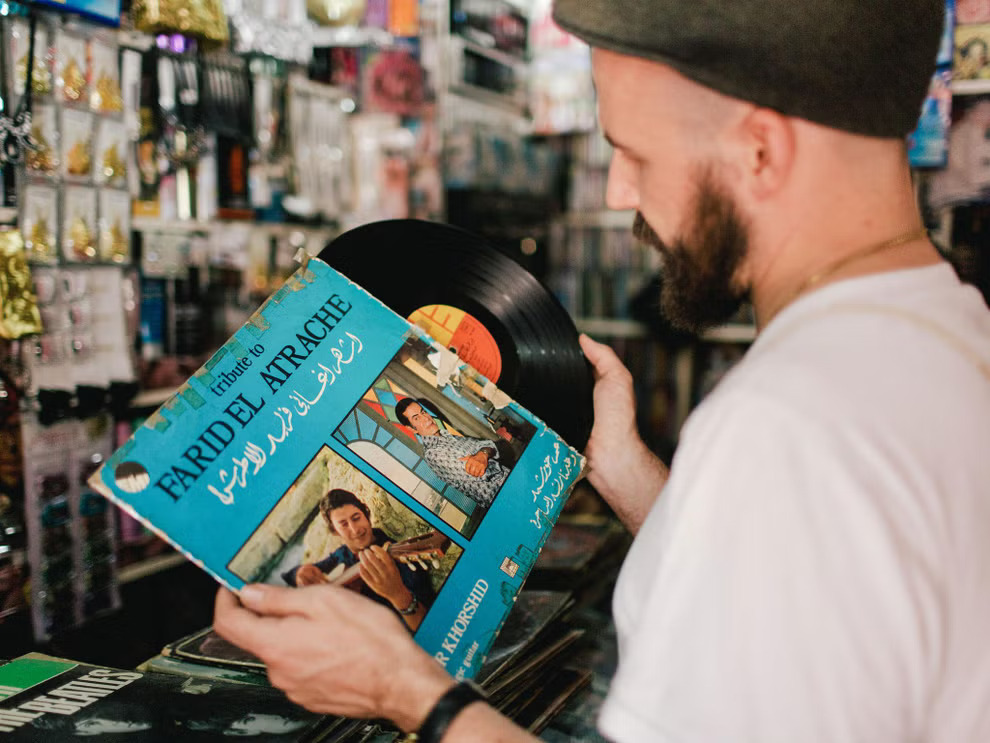 In an interview with afikra, Stürtz clarified that his main intention was not to exclusively cater to an Arab audience, but rather to remaster music that personally fascinated him, which is why he does not necessarily work on songs by renowned artists like Umm Kulthum or other immensely popular figures in the region.
With his focus lying primarily on songs that align with his own musical taste, he acknowledges that his collections may not provide an accurate portrayal of the music cultures within the Arab region, but rather its forgotten sounds, which he finds in "record shops or whatever works as the closest substitute [..] like an antique shop or an old secondhand bookshop".
For discovering music, Egypt holds a special place in Stürtz's heart, describing it in an interview with The Vinyl Factory as "a pop cultural mecca for the Arab world in the '70s", and his favorite country to find records.
Habibi Funk has garnered external praise for being stereotype-busting and enabling Western audiences to attain a more nuanced comprehension of the Arab region. In an interview with PrimaveraSound, Stürtz clarifies that he did not initially intend to make a political statement with his project and states that the politicization of his music was a byproduct of the sensitive context he is operating within.
Attempting to Navigate a Sensitive Business with Cultural Responsibility
As a European artist specializing in remastering non-European music, Stürtz is aware of the sensitivity surrounding his work. Perhaps it stems from his background in political science or the fact that he comes from Berlin, a city where discussions on cultural appropriation are very prevalent — traveling and engaging with local communities is likely also a contributing factor, as it is an integral part of what he does. Regardless, his label possesses an exceptional understanding of how to navigate the fine line between cultural appreciation and cultural appropriation.
To avoid perpetuating orientalist stereotypes and post-colonial terminology, he actively refrains from visually fetishizing representations such as pyramids, belly dancing, or camels on their album covers. Additionally, the record label avoids using terms that imply a sense of "discovering" the music.
According to Stürtz, "discovering" implies that the music was completely unknown to the people in that country prior to his encounter. However, this is rarely the case. In several interviews, the DJ compares this terminology to Christopher Columbus claiming to have discovered the New World, suggesting that it reflects a similar mindset of cultural superiority and ignorance.
When it comes to legal rights and contractual aspects, the label made the conscious decision to go about the clearing processes without any workarounds and with full transparency, making licensing an utmost priority, as well as splitting the proceeds evenly between the label and the artists or their families. Unlike major labels that often own the music outright, Habibi Funk only holds a limited license that expires after a certain period.
To shift the focus towards the artist behind its pieces, the label prefers letting the artists or their families speak about the music. Habibi Funk's team invests immense effort in creating booklets, conducting interviews, organizing exhibitions and uploading photos serving that purpose.
In his afikra interview, Stürtz elaborates on his creative process, explaining that his goal is not simply to take small themes from the original pieces and transform them into trendy club music, but rather to complete albums in a way that the artist would have finished if they were still present.
With this approach, Habibi Funk continues its musical journey as a driver of cultural fusion, revitalization, and responsibility. The anticipation grows as fans eagerly await the musical treasures that Habibi Funk has in store, setting the stage for a summer filled with its captivating tunes.
Subscribe to the Egyptian Streets' weekly newsletter! Catch up on the latest news, arts & culture headlines, exclusive features and more stories that matter, delivered straight to your inbox by clicking here.