Photo credit: Ali Abdo
As the Conference of the Parties (COP) to the United Nations Climate Change Conference (UNFCCC) is being hosted again in the Middle East, more and more focus is directed towards the effects of climate change and the importance of sustainable development.
As COP27 was held in Sharm El Sheikh last year, and COP28 is set to be held in Dubai this year, Egyptian and Arab climate activists and environmentalists are pushing towards adopting eco-friendly practices in Middle Eastern countries, and striving for a more sustainable future.
One of these activists is Ali Abdo, an Egyptian adventurer and Guinness World Records holder. Abdo entered the Guinness World Record for the longest motocross bike trip in Egypt in seven days, and became the first Arab to hold a world record in the greatest distance on a motocross bike in 24 hours: traveling 613.59 km (381.27 miles).
Egyptian Streets spoke to Abdo about his achievements in climate action, his aspirations for the region, and his plans for COP28.
How and when did you start your journey?
I started my journey 10 years ago, in 2013, as a hobby. I was looking for a way to explore different cultures and meet different people. So I decided to travel around Egyptian governorates on my motorbike. Traveling opened my eyes to change my mindset. I started thinking of ways to share my experience of traveling with people.
I created a page called Around Egypt on a Motorcycle, to introduce the beauty of Egypt to the public, encourage adventure traveling, and increase the awareness of the motorcycle riding culture in Egypt.
A few years later, I decided to prioritize climate change and sustainability as more important topics to be discussed.
Why did you choose to ride an e-bike?
In 2020, I decided to ride an e-bike. This was during the COVID 19 pandemic, when I launched another initiative called '100 Egypt'. It was scheduled to start on the 22nd of February 2020, from Abu Simbel Temple, because this is the day when the sun shines on the face of Ramses II. For 100 days, the initiative aimed to show different faces of Egypt, between culture, heritage, history, and more. However, the pandemic happened, and the entire planet closed down. When this happened, we saw how the climate improved and carbon emissions were reduced.
This motivated me to start using an environmentally-friendly mode of transport, the e-bike, to promote eco-friendly transportation methods to the public.
From there, I embarked on multiple journeys to promote sustainability and environmental preservation. I rode to COP27 last year, and I'm currently preparing to ride to COP28.
Tell us about your trip to COP28.
To talk about COP28, we must first talk about COP27.
Last year, Egypt hosted COP27 in Sharm El Sheikh. This prompted me to start 'The Ride to COP27'. It was a 30-day journey that started from the town of Abu Simbel in the southernmost governorate of Aswan, and ended in the Red Sea resort city of Sharm El Sheikh, making it the longest journey on a motorbike in the world. Aiming to document the effects of climate change and promote Egypt's hosting of the international conference, the trip was celebrated locally and internationally. [My team and I] achieved two Guinness World Records, and we were welcomed by Egyptian President Abdelfattah Al-Sisi upon our arrival in Sharm El Sheikh.
This year, we decided to build on its success, and launch 'The Ride to COP28'. So far, 'The Ride to COP28' is sponsored by COP27's Presidency, the Arab League, the Egyptian Ministry of Youth and Sports, and the Egyptian Ministry of Environment.
The three-month ride will begin from Egypt, to Jordan, Saudi Arabia, Qatar, Kuwait, Bahrain, Oman, and then to the UAE, to attend COP28. In each country we visit, we will be organizing several activities, such as awareness programs, training programs for youth, competitions on sustainability and climate change, success stories on going green, and the challenges of climate change. We aim to have these important conversations because the Middle East is, unfortunately, one of the most affected regions by climate change.
Are you a team or do you work alone?
There is a huge team responsible for the preparations of these trips and organizing them. But, on the ground, it's only me and my e-bike, and a technical support team that communicates with me throughout the trip.
What do you aim to achieve out of 'The Ride to COP28'?
I want people to know how climate change is affecting everything in our lives. I want them to know how they, as individuals, can contribute to creating solutions for this problem. I also want the world to know how we as a region are strongly affected by the carbon emissions produced by other countries and from other countries' economic growth.
I want to teach people ways to adapt with climate change and I want the affected communities to get the support they need.
What do you plan on doing once you reach COP28?
We will take part in both COP and [the Conference of Youth (COY)]. And since we will arrive in the UAE a few days before the launch of COP28, we will have enough time to tell people about our trip and the stories we gathered from it.
We aim to be present in as many discussion panels as possible. We will present all the success stories that we've gathered. We will include a voice from each country that we visited on our trip to tell us the challenges facing the society he or she is living in. We will also present startups from these countries to get them the support they need.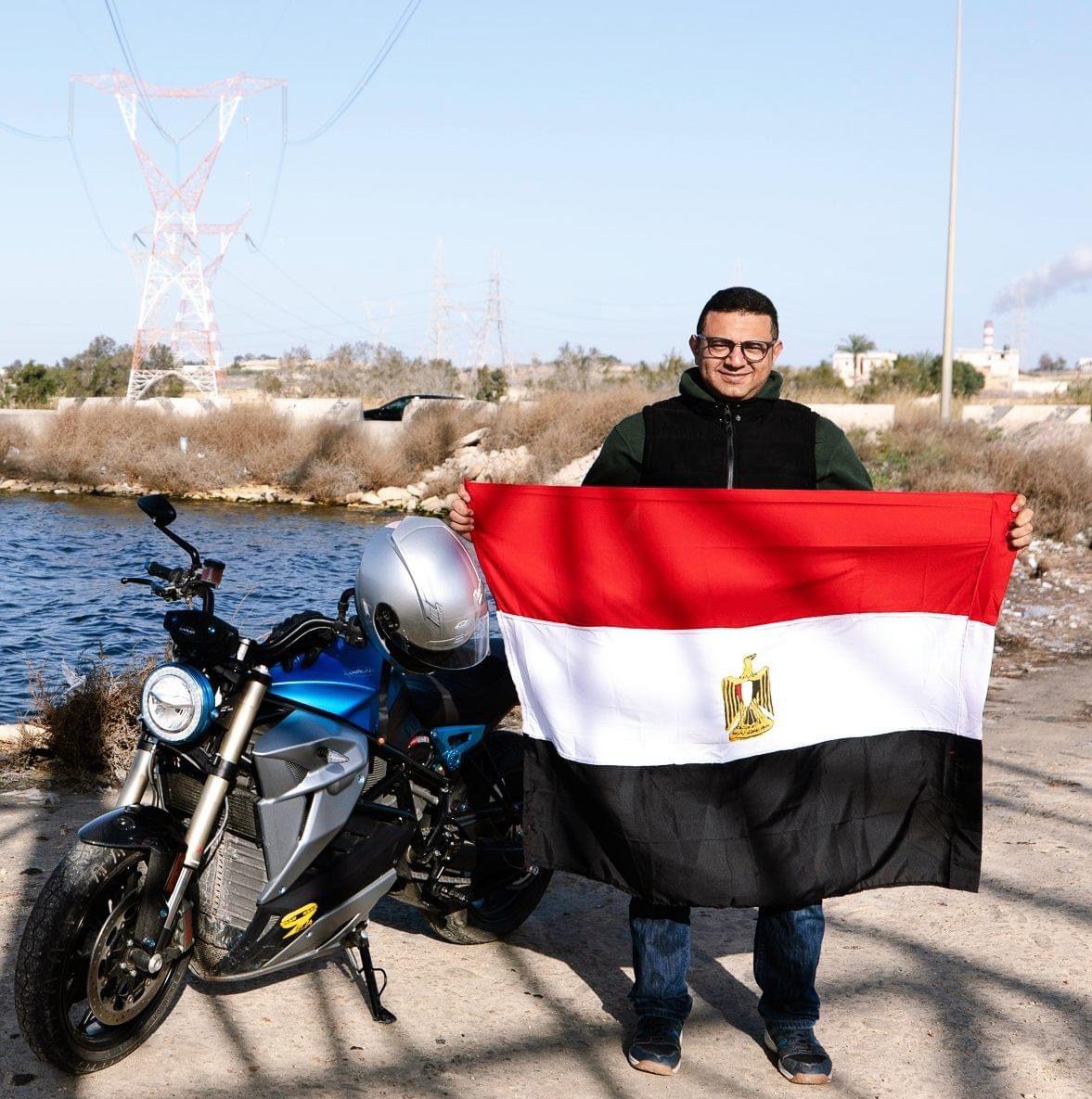 Traveling on a three-month motorbike ride in the summer and in the Gulf. Doesn't any of this intimidate you?
It is extremely challenging actually, but when you see how people are supporting you and waiting for you to arrive at every destination, this gives us the motivation to continue.
There are plenty of technical complications, especially since we're using an e-bike and not a motorbike, and so there's more pressure to find charging stations, but we succeeded last year, and we did the world's longest journey on an e-bike, so we will hopefully succeed this year. [We hope to] share the stories we discover on our journey with those attending COP28, and promote sustainability and environmental conservation to the youth.
It will pass and hopefully be a success!
Subscribe to the Egyptian Streets' weekly newsletter! Catch up on the latest news, arts & culture headlines, exclusive features and more stories that matter, delivered straight to your inbox by clicking here.