When one thinks of Alexandria, Sufism might not immediately come to mind. Yet within its history lies the birthplace of the renowned Burda poem, a work whose fame surpassed that of its author, thirteenth-century Sufi scholar Imam Al-Busiri.
Regarded as the most treasured eulogy and expression of love and reverence for Prophet Muhammad throughout the Islamic sphere, the poem's verses, particularly the famous lines "Mawlāya şalli wa sallim dā-iman abadan/ 'Alā Ĥabībika Khayril khalqi kullihimi" (O my Master, send your salutations and blessings forever upon Your Beloved, the best of all creations), resonate deeply in the hearts of countless Muslims from around the world, some of whom know these words by heart even if unaware of the poem's history and origin.
In the heart of Alexandria, the Al-Busiri mosque stands as a testament to the profound influence of the Burda poem, acting as a revered destination for Sufi followers on their spiritual journey.
Situated in Medan El-Masaged (Square of the Mosques) in Anfushi, Alexandria, the mosque stands facing the renowned Al-Mursi Abu Al-Abbas mosque. The latter mosque forms an essential part of the core tour for visitors to Alexandria, along with the Qaitbay Citadel and Bibliotheca Alexandrina. Yet while the Al-Mursi Abu Al-Abbas mosque holds greater fame among Egyptians, the Al-Busiri mosque enjoys tremendous international recognition, specifically because of the iconic Burda poem.
The Egyptian Streets team interviewed Sheikh Mohamed Youssef, the Imam of Al-Busiri Mosque, to explore its importance as a Sufi sanctuary in the heart of Alexandria.
A Bridge Between Nations and Backgrounds
As underscored by Youssef, Al-Busiri has an enduring global significance in Sufism and Islamic mysticism. He shared that the mosque welcomes daily visitors from various nations, including Tunisia, Malaysia, India, Turkey, Indonesia, Morocco and occasionally from Levantine countries and Europe.
Elaborating on the reason for the influx of visitors, Youssef shared the story of Al-Busiri writing the poem as a form of self-purification and healing from physical afflictions. In Arabic, the word burda translates to "cape," and it refers to the cape that is believed to have been used in Al-Busiri's dream by Prophet Muhammad to cure him from his illness. To this day, people from all corners of the globe attribute mental and physical healing attributes to the eulogy.
As per the Sheikh's explanation, the mosque is a gathering place for people from different societal backgrounds, spanning from "rich to poor" and from "diplomats to low-income laborers." Nevertheless, he highlighted that in recent times, the impoverished have become more regular attendees due to their stronger affinity with the mosque and its storied walls.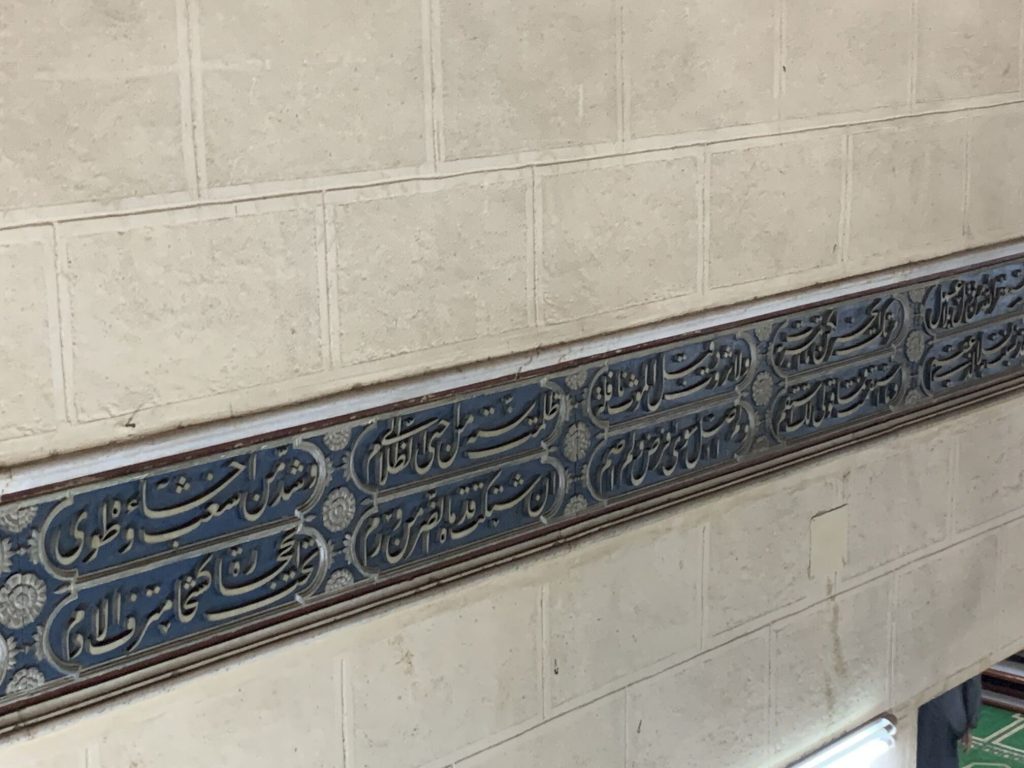 Sufism is a Spectrum
Youssef also explained that the mosque's visitors come from various religious backgrounds. They are not necessarily self-proclaimed Sufis, as Sufism is not a clear-cut label but rather a spectrum, with many Muslims incorporating various elements from it.
"Sufism is not a distinct school of thought (Madhhab) but more of a way or approach (Manhag)," explains Youssef. "Sufism should not be viewed in isolation; it represents a way of thinking, embracing spirituality, and nurturing a healthy and connected heart, rather than isolating oneself from original Islam. That's why the mosque is frequented by all types of Muslims," he adds.
For years, the Burda was faithfully recited every Friday by followers of the Qadiriyya-Qasimiah Sufi order in the weekly halaqet zikr (remembrance gathering). However, these gatherings have been prohibited for the past three years due to a ban on assemblies imposed for reasons of national security.
Subscribe to the Egyptian Streets' weekly newsletter! Catch up on the latest news, arts & culture headlines, exclusive features and more stories that matter, delivered straight to your inbox by clicking here.