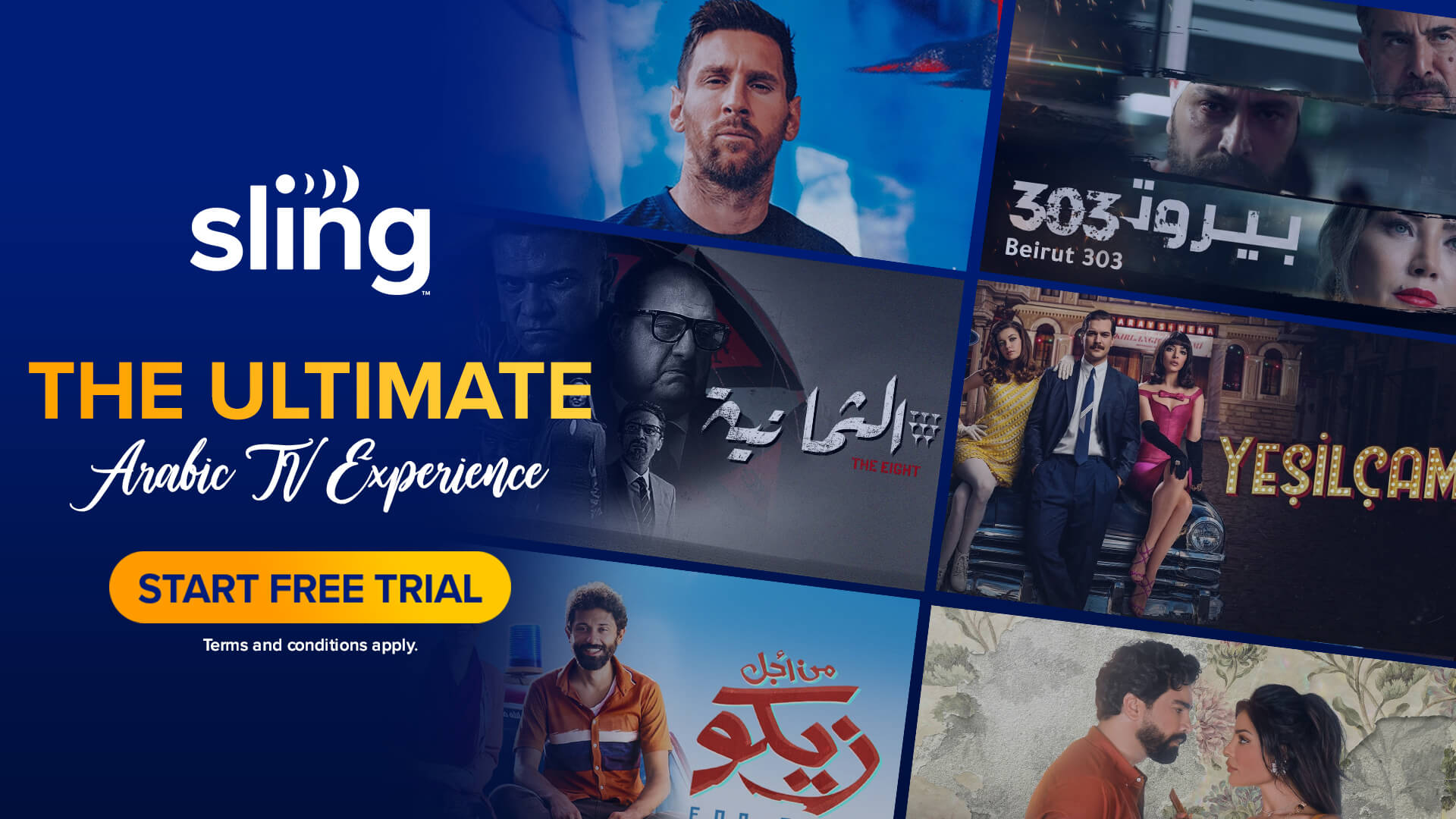 Being an Arab overseas comes with many perks, but also some unexpected challenges — not least of which is the feeling of missing out on what is happening back home. Many are only too familiar with the feeling of being the only who doesn't get a joke or a pop culture reference made in a social setting.
Luckily, Sling Arabic TV is here to remedy this issue for US audiences once and for all. Stocked with the latest shows and movies from across the Arab World as well as a sweeping variety of classics, this streaming service offers a one-stop shop for those who want to enjoy Arab and Arabic-dubbed television.
Sling is offering Al Ostoura, at only USD 5 for the first month, instead of the usual monthly cost of USD 25. Not only that, but for those who want a taste of the offerings before they decide, Sling also offers a three-day free trial.
Sling's Al Ostoura is the ideal place for users to browse for Arabic movies, shows, and live channels to their heart's content. The pack will give users access to Shahid VIP, the largest available Arabic on-demand library featuring popular shows such as Leih Laa' 3, El Le'ba, and Crystal, the hit film Kira Wal Genn, as well as over 130 live Arabic channels, including Premium Arabic Channels & Sling Free Channels.
For those looking for nostalgia or movies and shows off the beaten track, the Al Ostoura pack also offers Istikana, an on-demand library that brings together the best old-school and independent Arabic movies and shows.
Subscribers to the pack, who can get the offer by clicking here, will also have access to MySatGo, which offers the best Arabic and Lebanese movies and shows on demand, as well as over a hundred channels of live television, including beIN Sports, which broadcasts live soccer including the French Ligue 1, Turkish Süper Lig, and the Copa Libertadores, the pinnacle of South American club soccer.
What is Sling?
Sling Arabic TV opens the door for US-based audiences to indulge in Arab content, courtesy of its premium live TV channels and the largest Arabic on-demand libraries globally, which include Shahid VIP, MySatGo, and Istikana. Presenting an all-in-one entertainment solution, Sling allows subscribers to include live American TV channels and on-demand content into their libraries. A three-day free trial lets you try Sling Arabic TV and enjoy the best movies, series and shows.
Subscribe to the Egyptian Streets' weekly newsletter! Catch up on the latest news, arts & culture headlines, exclusive features and more stories that matter, delivered straight to your inbox by clicking here.
---
Subscribe to our newsletter
---