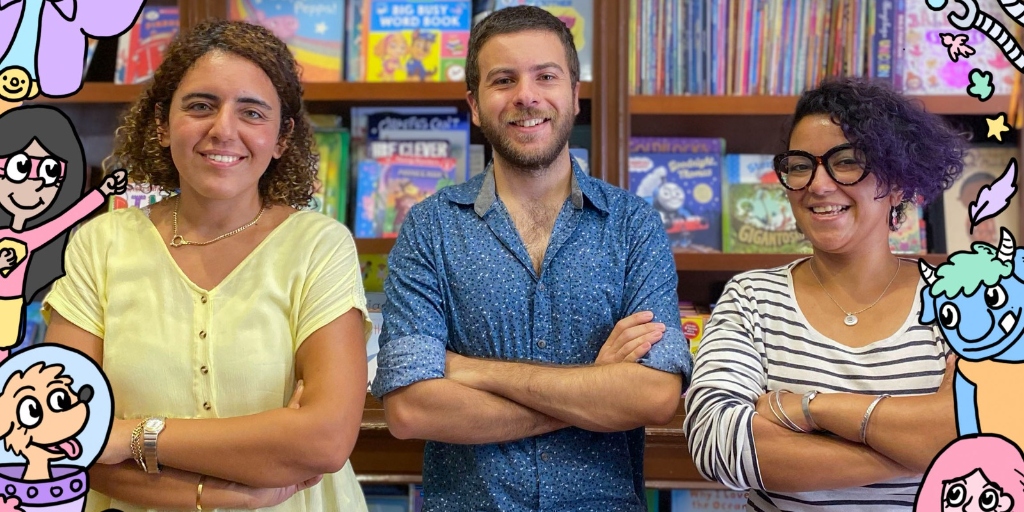 In the last few years, many Egyptian parents began voicing their frustration with the lack of children's content made solely in Egyptian Arabic. As more and more families in Egypt started boycotting Disney, options for children's content that is culturally appropriate and accepted by Egyptian families became scarce.
Last week, three young Egyptians, Danny Arafa, children's author and illustrator, Nadine Genedy, founder of BooklyEverAfterStorytelling, and Esraa Saleh, founder of SuperAbla launched a podcast called 'Kesas Le Atfal Elnaharda' (Stories for the children of today). With a target audience of Egyptian children aged five to nine, stories in the podcast are told in the Egyptian Arabic dialect.
"The three of us have experience with children's literature in Egypt, so we meet a lot of parents, librarians, and teachers, who complain that their students always hate Arabic books because they're in [Modern Standard Arabic, which] they aren't familiar with, and that they don't speak in their day to day lives," Arafa tells Egyptian Streets.
"They go for English books because they're easier to read and consume. So we thought, why not create a podcast that speaks in Egyptian Arabic since it's the language that they're familiar with."
To create a modern podcast that would be attractive for today's Egyptian children, the team decided to avoid the traditional style of an old grandma telling stories, and the formal Arabic language that most children find difficult to relate to.
Between self-care, positive leadership, dealing with rejection, importance of cooperation, and having fun without technology, the podcast covers a diverse range of topics.
"We choose topics that might be a bit more mature, but we present them in a way that is lighthearted and easy for people to understand," Arafa says.
In weekly episodes, the podcast focuses on teaching kids more modern, useful lessons that they can benefit from and relate to in their daily lives.
"We do our best to make the stories interesting for parents to listen to as well. Just like how Pixar movies are for kids but at the same time have lessons that are useful and enjoyable for adults. We try to do the same."
To solve the problem of parents' frustration with too much screen time, and feed children's appetite for stories, the team behind this innovative project decided that a podcast would be the ideal platform for it.
"The special thing about audio formatting is that it gives you the words, but you have to imagine the situation yourself. If you're seeing everything happen, your brain isn't necessarily active or engaged in it. You're just watching what's happening. But if you're listening only, you're actively imagining it in your head and forming images. So it actually engages different parts of your brain than if you were just watching a cartoon," explains Arafa.
In the future, Arafa hopes they can add influential figures, such as entrepreneurs, athletes, and travelers, to the podcast, as some of them would have useful stories and lessons to share with children.
The podcast is available on several audio platforms. Listen to it through this link.
Subscribe to the Egyptian Streets' weekly newsletter! Catch up on the latest news, arts & culture headlines, exclusive features and more stories that matter, delivered straight to your inbox by clicking here.
---
Subscribe to our newsletter
---