A study recently released by the World Bank reveals that Cairo's infamous traffic costs Egypt EGP 47 billion (USD 6.5 billion) annually and is expected to reach EGP 105 billion (USD 14.6 billion) by 2030.
The study takes place in the Greater Cairo Metropolitan Area (GCMA), which is home to 19.6 million people making it the largest share of population, economy, industry and human resources in Egypt.
According to the study, almost four percent of Egypt's GDP is lost due to traffic congestion which takes into account the cost of time wasted (50 percent), delay expenses (31 percent), and health costs (19 percent).
The percentage of Egypt's GDP loss due to Cairo's traffic is relatively high compared to that of New York, which makes up 0.7 percent of the US' GDP, and Jakarta, which represents 0.6 percent loss of Indonesia's GDP.
The country's crippling traffic problem is not only a result of poor urban and traffic planning, but also due to a lack of order in the country. The study concluded that poor traffic management was the main cause of congestion.
The study mentions "limited parking capacity, few traffic signals, random stops by cars and minivans, no proper pedestrian crossings and U-turns," as the main reasons to Cairo's chaotic traffic.
The lack of appropriate infrastructure and implementation of laws are also to blame. "There are no on-street parking charges, no tolls on most major corridors, and gasoline and diesel are heavily subsidized in Egypt (up to 50%)," mentions the report.
The study also mentions the ease of owning and operating a private car burdens the traffic system. Cairo's passenger cars make up 55 percent of vehicles in Cairo.
Furthermore, the study states that there are "no incentives for people to rationalize their travel or carpool."
However, excessive ownership of private cars is not the only reason Cairo's traffic congestions could last for most of the day. The Greater Cairo Metropolitan Area is under-supplied with public transport.
Cairo has 4km of metro line per million inhabitants, while London has 166km and Mexico City has 12km, and only 231 buses per million inhabitant, while London has 753 and Mexico City has 362.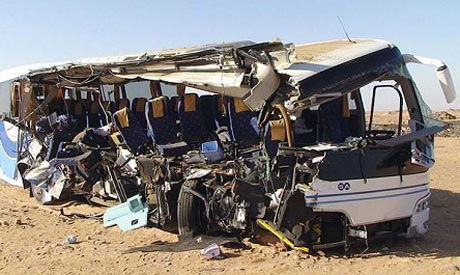 Cairo's traffic not only poses dangers to the economy, but also poses dangers to pedestrians and inhabitants of the GCMA. Egypt's roads lead to almost 10,000 deaths per year; while, almost 1,000 deaths in Cairo occur due to traffic related accidents, of which more than half are pedestrians. An average of EGP 8.5 billion is spent every year on health issues related to traffic.
There have been efforts from the Egyptian government to attend to this issue; however, the government has not kept pace with the growth of the city.
The study suggests that authorities start with "corridor management schemes," which entails traffic lights and regulated on-street parking, as well as, the adoption of traffic related charges.
In addition to corridor management schemes, authorities should remove fuel subsidies and re-invest funds into the public transport system. This also includes, ensuring maintenance and efficiency of public transportation.

Check out the mystery behind Cairo's abandoned cars, here.