183 Muslim Brotherhood supporters, including the Supreme Guide of the Muslim Brotherhood, have been sentenced to death in Minya.
The paperwork to finalize the death sentences, the largest ever in one case,had been sent to the Grand Mufti for approval several weeks ago.
At least five other defendants have received life sentences, reported local media. Meanwhile, 496 defendants were acquitted.
Up to 683 defendants, including Supreme Guide Mohammed Badie, had been standing trial over violence in Minya in 2013. This is the second death sentence Mohammed Badie has received in just one week.
The Minya Criminal Court had set Saturday June 21 as the date to review the Grand Mufti's decision to confirm whether or not all 683 will receive the death penalty.
It is unclear how many of the 683 have been tried in absentia.
The sentences can be appealed at the Court of Cassation, the final court for criminal appeals.
Top Muslim Brotherhood leaders sentenced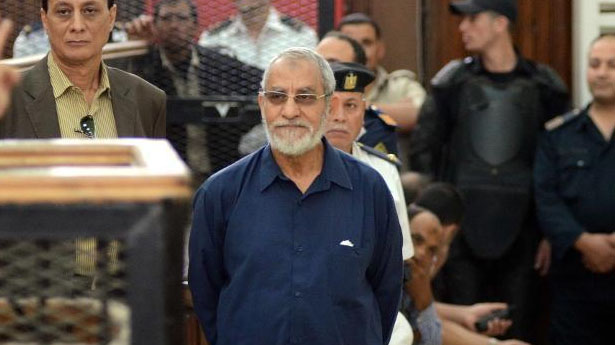 Earlier this week, an Egyptian court referred the files of the Muslim Brotherhood's top leaders to the Grand Mufti, signalling a potential death sentences.
The court court will decide the final verdict on August 3. The defendants included Supreme Guide Mohammed Badie, Essam El-Erian, Assem Abdel Maged, Safwat Hijazi, Ezzat Gouda, Anwar Shaltoo, Mohamed Al-Beltagy and Bassem Auda.
Upon hearing the verdict, Badie chanted "Cheer up, those who died in Rabaa and Nahda – the sit-ins that were set in support of Islamist President Mohammed Morsi which were violently dispersed by the police last year -are not less than us."