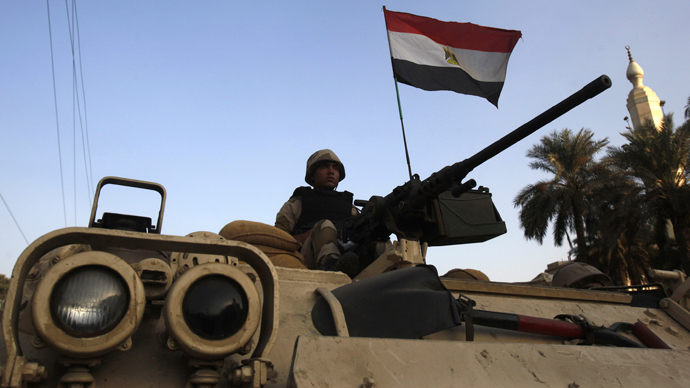 At least 11 'terrorists' were killed in several areas in North Sinai after security forces exchange fire with them on Monday, said an army spokesperson in a statement.
"The security forces had a fire exchange with terrorists in their hideouts," explained Mohamed Samir in a statement published on the Armed Forces' official Facebook page.
This is not the first incident of its kind; security crackdown in North Sinai has left over 60 extremists killed and dozens arrested in the past month.
More recently, a boy was killed and four people were severely injured on Sunday when a mortar shell fell on a house in North Sinai.
The mortar shell fell in the village of Sheikh Zuwied's Shalak after clashes between the armed forces and 'terrorists', a security source told Aswat Masriya.
The source also reported that another shell fell in the residential area of Arish, however, no causalities were reported.
Since the ouster of President Mohamed Morsi last July, Egypt's armed forces have launched a thorough crackdown on militants in North Sinai.
Islamist militants in North Sinai have been targeting police and military personnel since the ouster of President Morsi and have claimed responsibility of bombings in Cairo along with other cities.
---
Subscribe to our newsletter
---