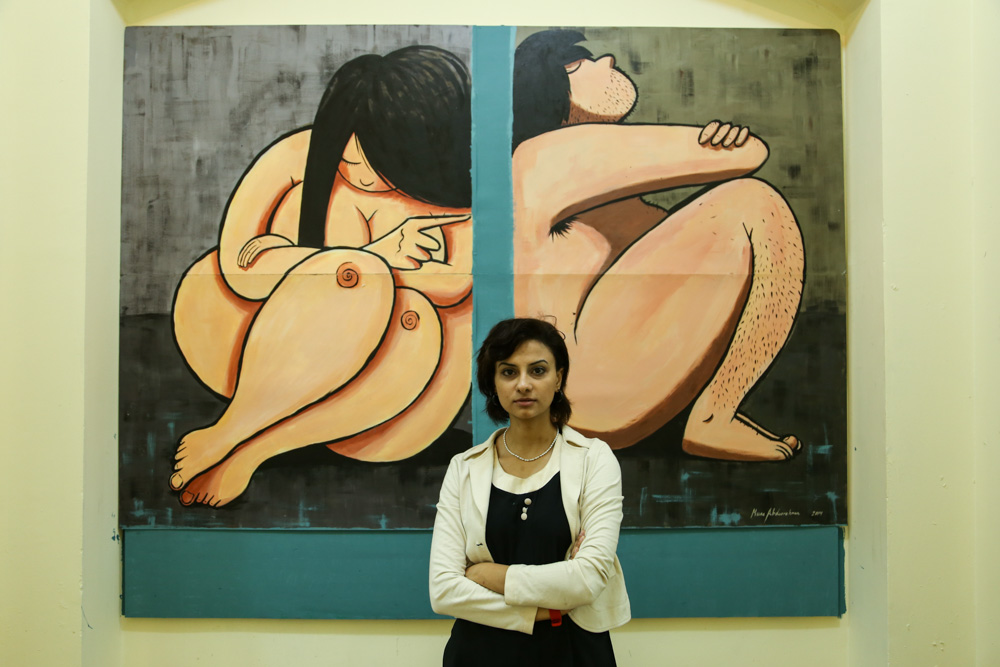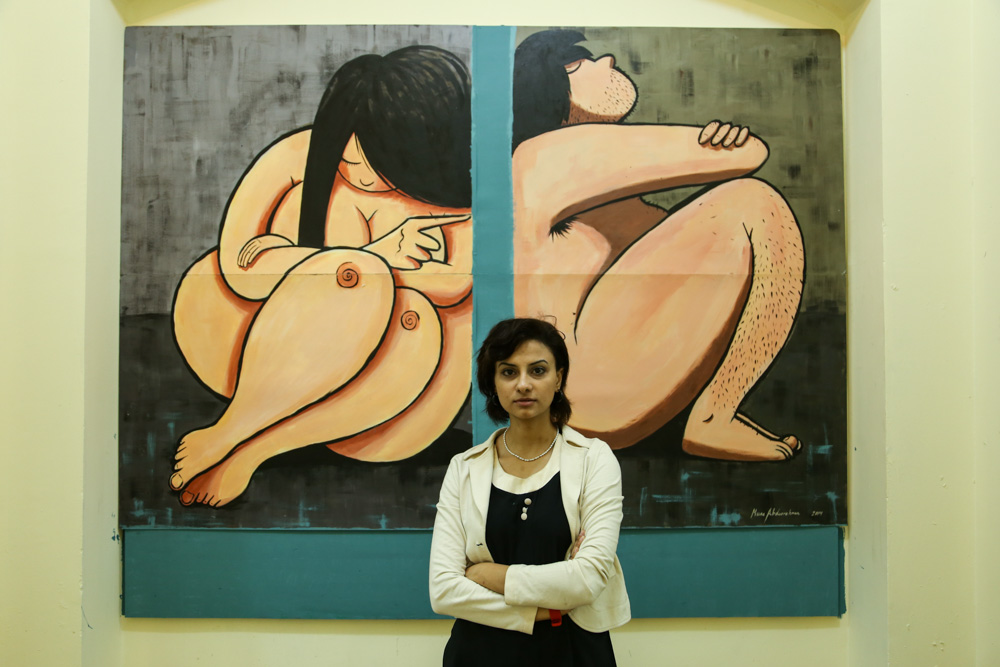 It is a central theme in plenty of Egyptian movies. Egyptian singers have been ranting on about it for decades. Yet in general, speaking about the topic comes less naturally: love and, more specifically, intimacy. Therefore the informative website 'Love Matters Arabic' ('الحب ثقافة') was launched in March 2014. From 23 October to 3 November 2014, the project is also visible offline with an exhibition in Cairo featuring pieces of Egyptian graffiti artists, dubbed 'Without Barriers' ('بلا حواجز').
With more than 3.700.000 views on YouTube, the Egyptian branch of 'Love Matters' is doing extremely well. The Arabic website is part of an award winning global project that is also represented in Kenya, Venezuela, China, Mexico, and India. It provides comprehensive, appropriate information on sex and sexuality, as well as personal stories and research articles targeting young adults in areas where this information is censored or unavailable. Ruth Vandewalle, 'Love Matters' representative in Egypt, explains: "It talks about love, relationships, and sex in all honesty and respect, and without barriers. Nobody accessing the website has to feel the need to be ashamed."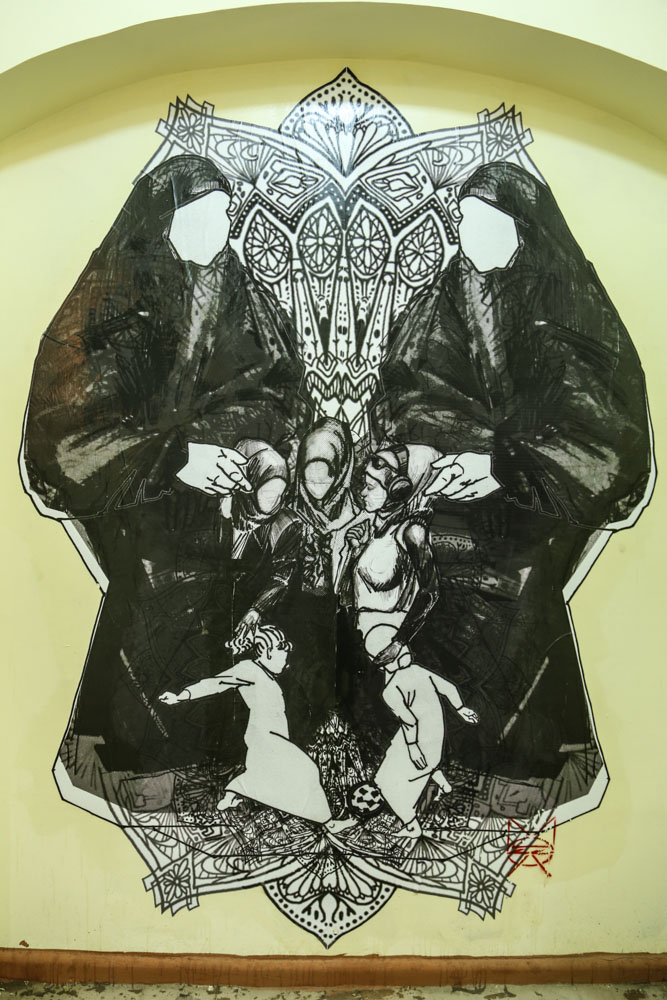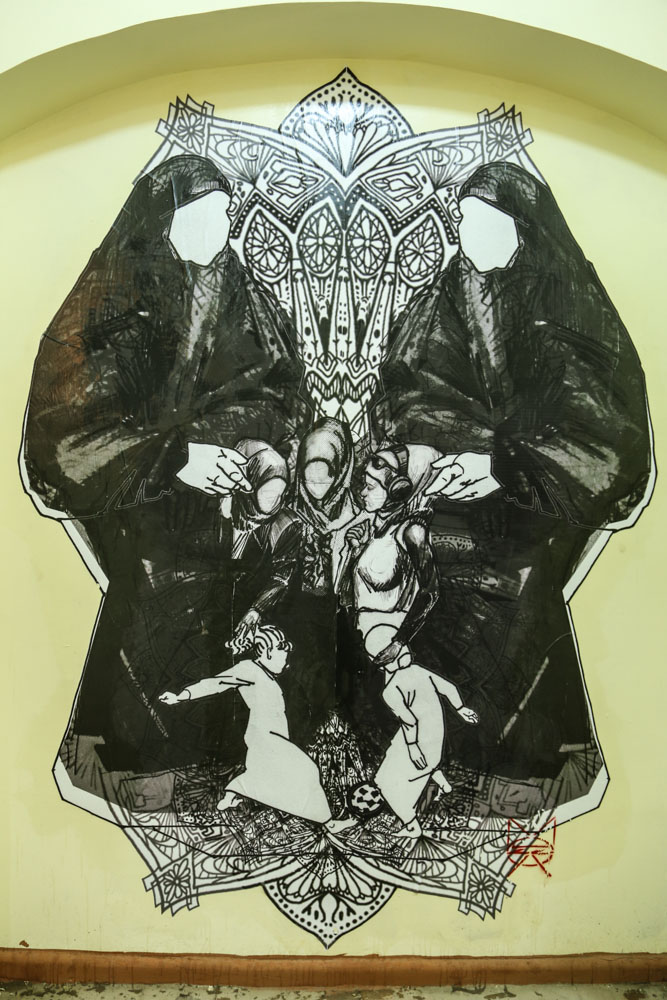 'Love Matters Arabic' is the first website of its kind in the Middle East. Although initially launched in Egypt, the online platform also reaches Arabic reading internet users beyond Egyptian borders. On 23 October, the Egyptian team stepped away from their computer screens to open the doors of the Contemporary Art and Culture Center Darb 1718 for the graffiti exhibition 'Without Barriers' ('بلا حواجز').
It is their first offline event. "With this exhibition, we want to bring out the discussion into the open and talk with one another about the barriers that are prevalent," Ruth Vandewalle describes its goal. A group of thirteen Egyptian graffiti artists explores the sensitive topics addressed on the website through their art pieces. It is their visual response to themes such as intimacy and relationships.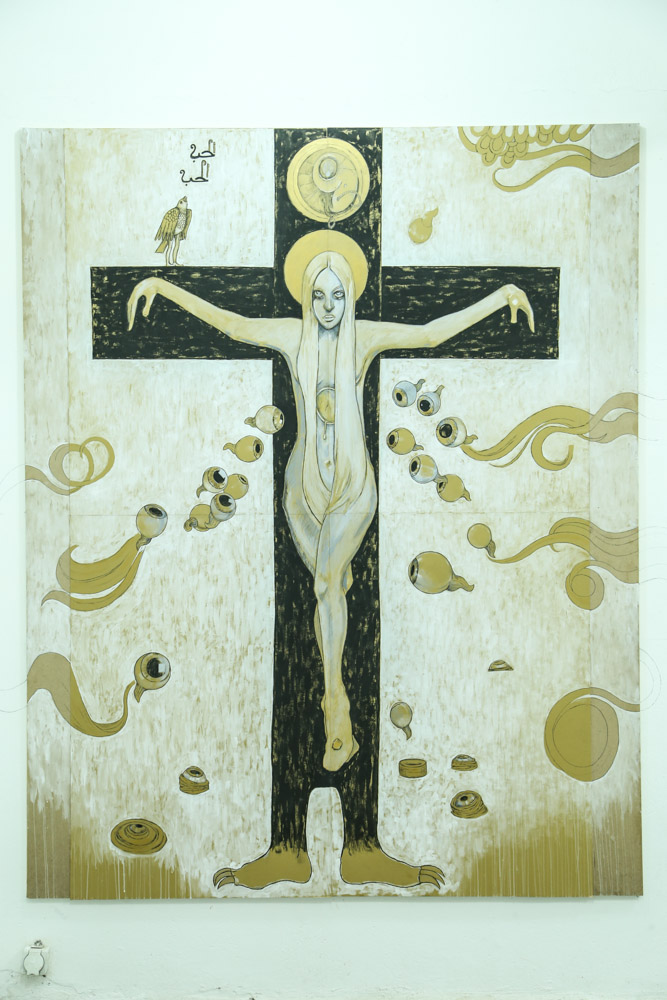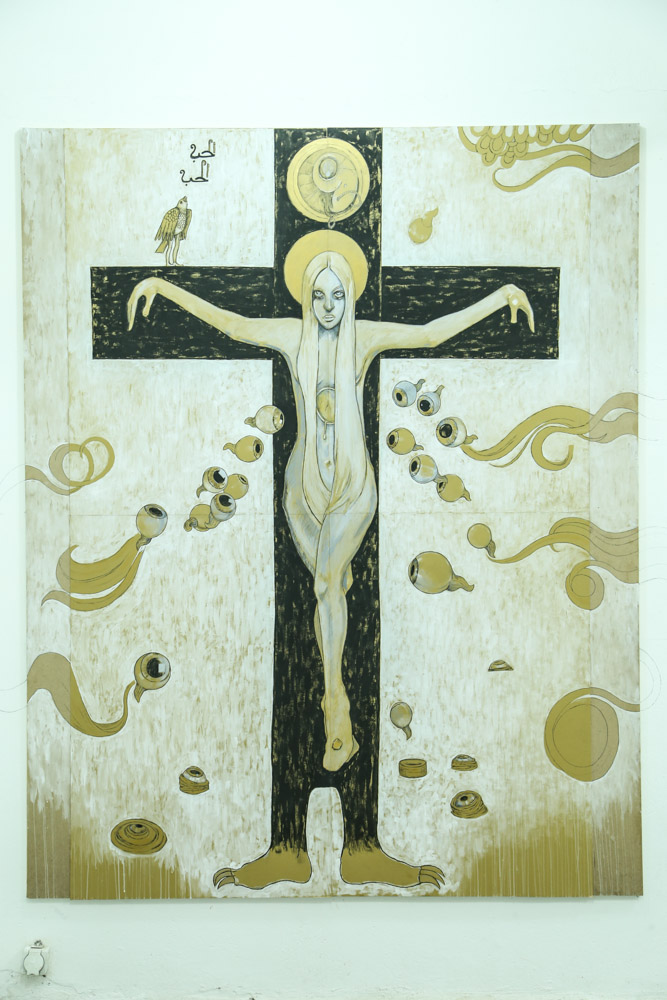 Stating that almost every single piece showcased is well executed wouldn't be an exaggeration. The material used ranges from ink and cardboard to acrylic and wood, and paper. The central role throughout most of the art works is taken by women, either alone or with a man. Strikingly, a man by himself is the subject in none of the paintings presented. Religious symbols such as the fruit of good and evil are recurrent in some of the works.
Present at the opening whilst live painting are Mohammed Khaled and his brother. They have been working together as graffitists since the 2011 revolution began. Ever recurrent in their showcased pieces are pyramid shapes: "The shapes we use have a certain meaning. The pyramid shapes you can see in our work stand for the split minds of people. We also used fig leaves to talk about the way our society looks at women. The woman in the painting has one on her face, symbolizing the way society tries to control her."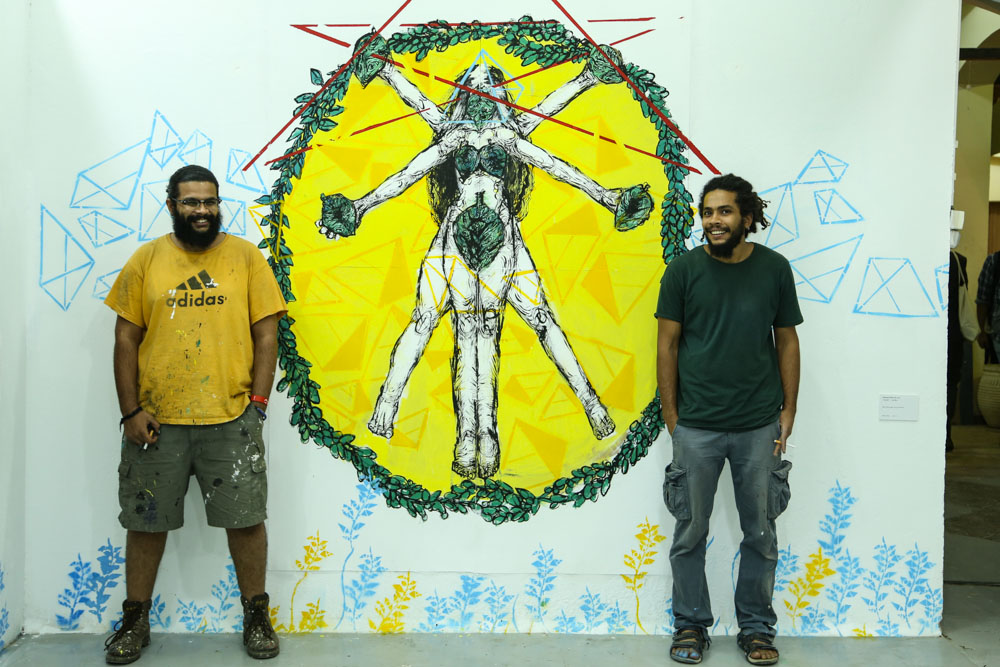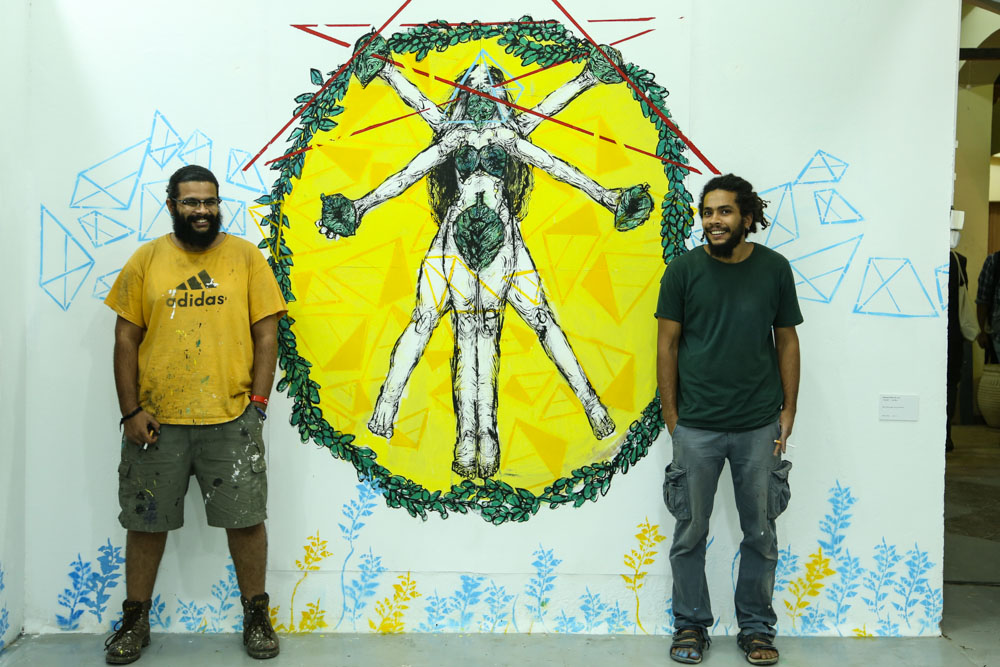 The two brothers were already contemplating making a piece about this sensitive topic before they were asked for the exhibition: "These are things we see in our society. Women in Egypt face a lot of problems and get no support from society, which stands against her freedom in the first place." According to Mohammed Khaled, there is something missing in the education children get in Egypt: "There is no sexual education whatsoever for young boys and girls. They have some ideas about it, but there's no dialog. Because of this some people grow up not even knowing what sex encompasses, especially in the provinces and small villages."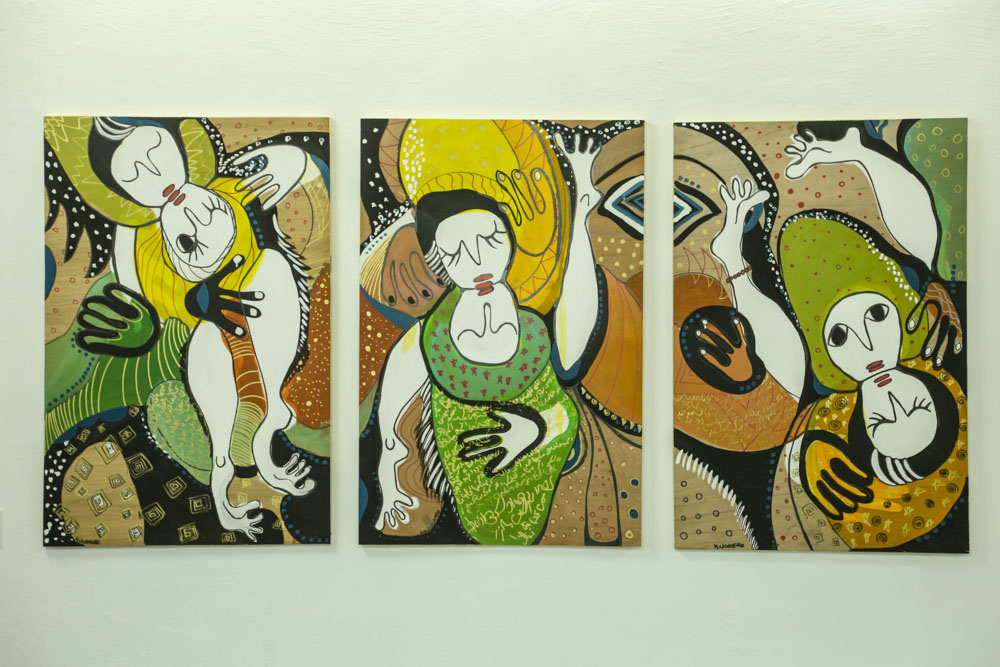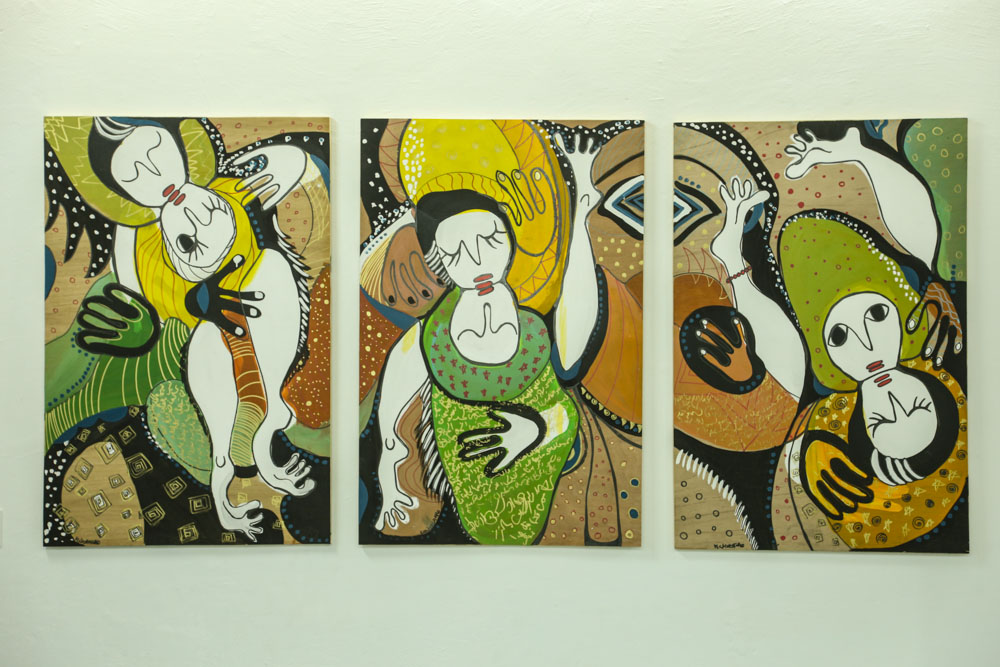 "Because we can't make pieces like this on the streets, I saw this exhibition as an opportunity. It addresses exactly what we were thinking about," he continues. Mohammed Khaled is not afraid their message will not shine through because Darb 1718 is a rather rarely visited spot with a very specific audience: "I am sure the message will be perceived due to social media. The message wouldn't arrive if we would add a piece like this on a street wall anyhow. People would, stuck in their own point of view, think that we are ill-mannered people who paint things like these to get attention in a bad way."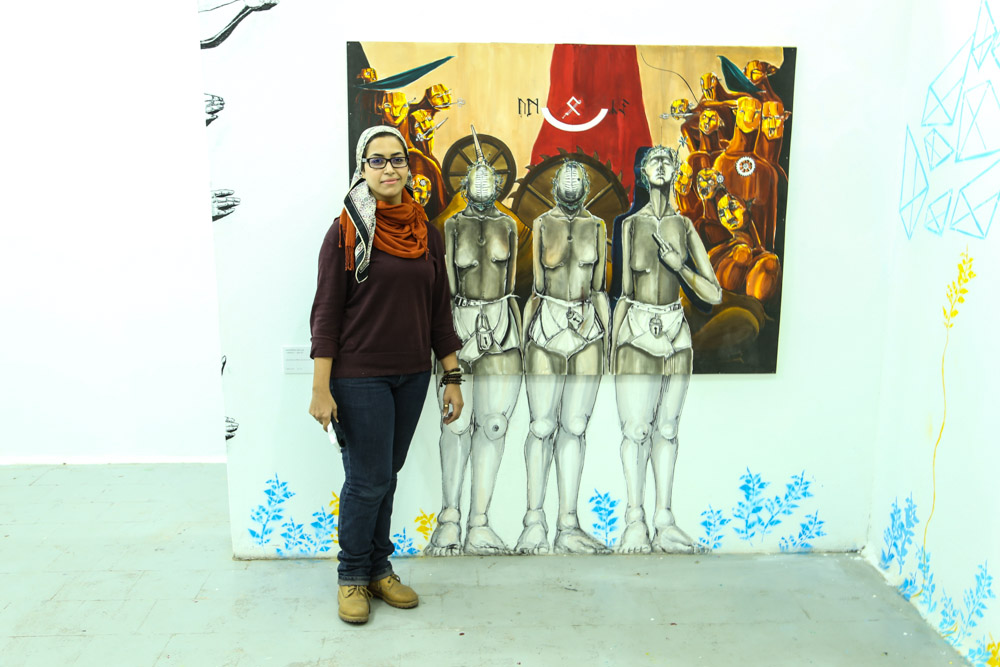 Lamis Solyman, a female graffiti artist also known from Women On Walls, attaches several symbolic meanings to her art piece: "With my painting, I decided to focus on love instead of boundaries. People think that love is merely sex, but love is more than that. Love is in your heart. My painting tells that love won't come to me through the way you are treating me sexually."
"Love to us was about a rose in the mouth of a man, who found a key to a woman's heart. All of that is gone now", she describes the evolution she sees. "There are several categories of love, but we don't talk about it in general. So when we actually talk about love, we say that love is wrong. But love is there, and it is never wrong."
Lamis Solyman uses the wall as a mirror that forces us to face taboos. "When someone speaks about love, people call him ill-mannered. But we all are the result of a sexual relationship between a man and a woman. So why do we always hush up these matters?"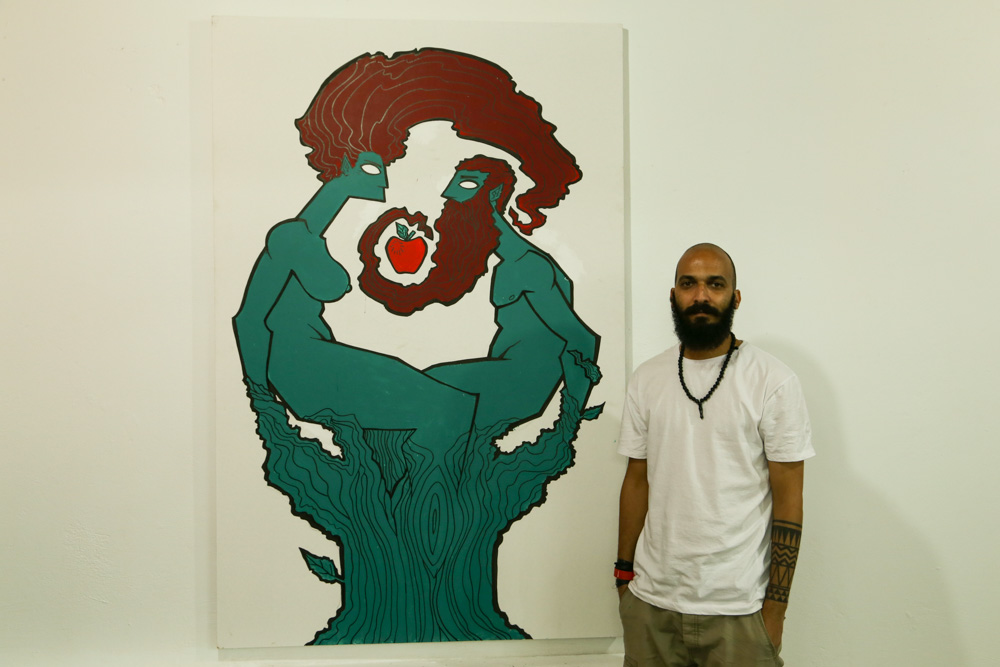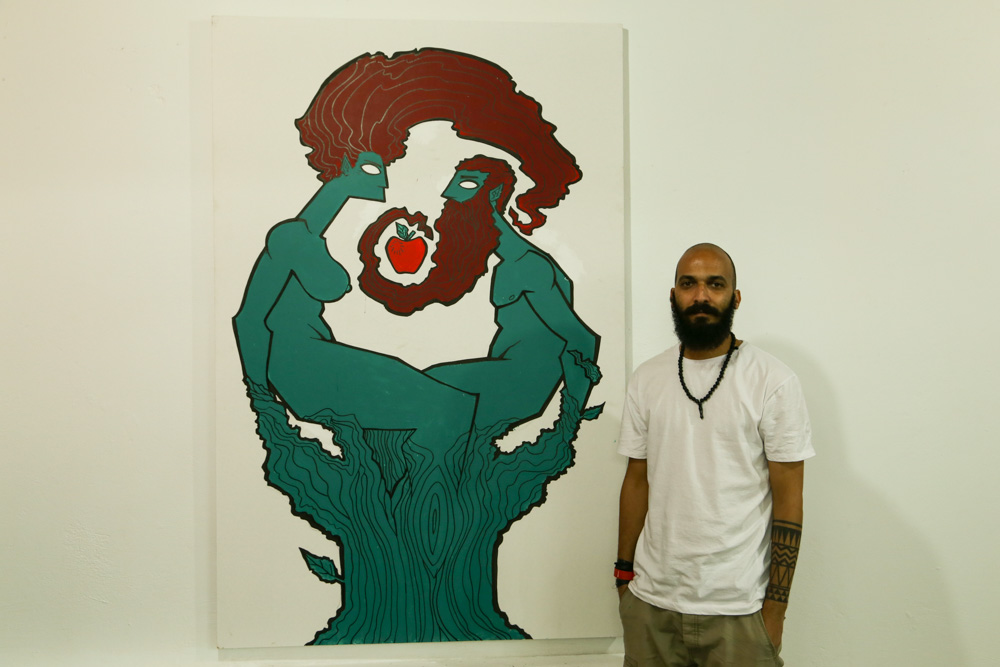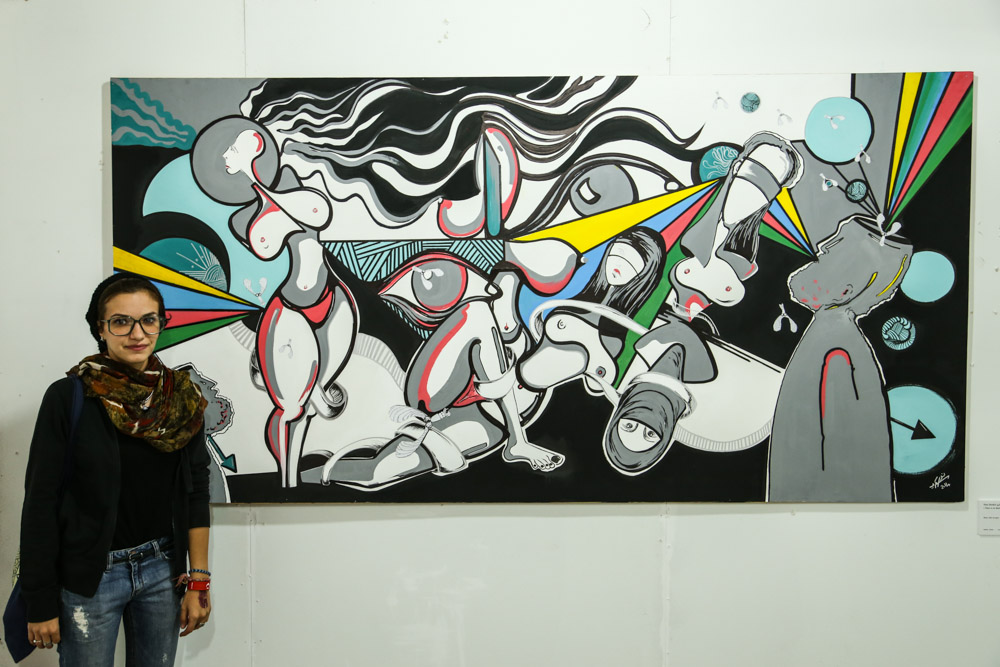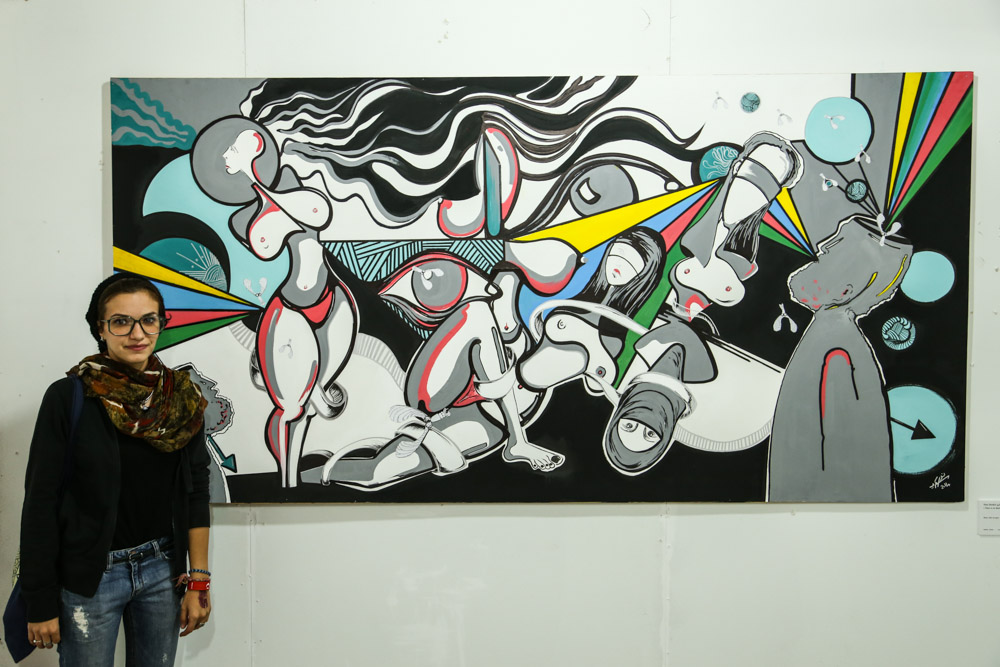 The exhibition is open daily from 10 am to 10 pm (except on Fridays). Entrance is free of charge.
For more information about the project ,visit the the 'Love Matters Arabic' website or Twitter @LoveMattersAR. Let people know what you think on Twitter by using the hashtag #بلا_حواجز #No_Barriers and for more information visit their website: http://lmarabic.com/
The graffitists who worked on the exhibition are Muna Abdurrahman, Basant Elbayoumy, Amr Hamid, Mohammed Abdel Monem, The Mozza, Hala El Sharouny, Azza Ezzat, Maghraffiti, Nour Shoukry, Mohammed Khaled, Eman Salah Eldin, Lamis Solyman, and Adham Saqr.
---
Subscribe to our newsletter
---