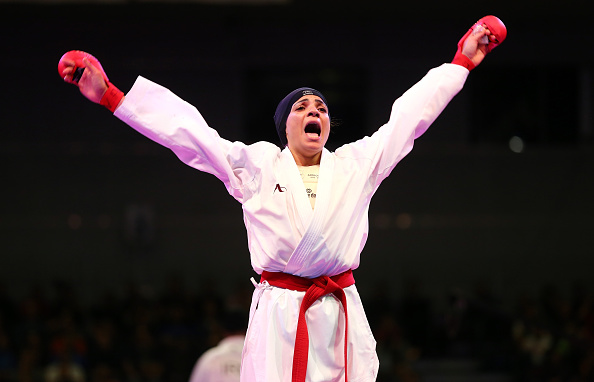 Egypt has been crowned as the new World Championship team** after winning three gold medals, two silver medals and one bronze at the 22nd Karate World Championships in Bremen.
Held in Germany, 887 athletes from 116 nations competed in the Karate World Championships.
The prestigious victory came after Egypt's women's team in kumite secured the country's third gold medal. The team consisting of Shymaa Abouel Yazed, Yassmin Hamdy, Giana Lotfy and Fatma Al-Zahraa defeated the French team to clench the victory, after both Egypt and France were tied on two gold medals each.
Egypt's other gold medals came in the women's kumite under 61 kilograms and over 68 kilograms competitions, with Giana Lotfy securing the country's first gold medal and Shymaa Abouel Yazed securing the second.
Lotfy defeated Malaysian Syakilla Salni Jefry Krishnan to secure her victory, while Abouel Yazed outpaced Iran's Hamideh Abbasali to win the gold medal.
"This has been a dream for a long time…and to hear the national anthem…is something I am extremely proud of," said Abouel Yazed following her victory.
Egypt's men's kata team consisting of Ibrahim Magdy, Ahmed Ashraf and Mohamed Hamdy secured a silver medal, while Magdy Mamdouh came second in the kumite (under 67 kilograms). Meanwhile, Mohamed El-Kotby managed to secure a bronze medal in the under 84 kilograms kumite.
**NOTE: This article relied on a statement released by the Karate World Championships in Bremen. However, it appears the statement had not taken into account the 'individual kata' competition, in which Japan won a gold medal. This meant Japan and Egypt both ended up with three gold medals each, but Japan had four more bronze medals than Egypt, resulting in a total medal count of 10 compared to Egypt's six.
---
Subscribe to our newsletter
---