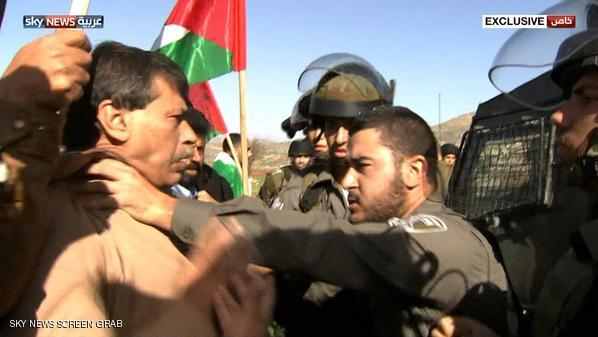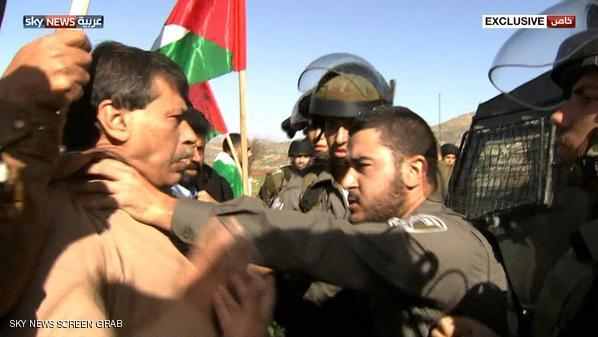 Palestinian minister Ziad Abu Ein has been killed shortly after being choked and hit by Israeli soldiers during a protest in the West Bank.
Abu Ein, a minister in his early 50s without portfolio, died en route to a hospital after collapsing in the village of Turmusiya.
Photographs prior to his death showed Abu Ein being choked by an Israeli border police officer.
Initial reports indicate that Abu Ein was either beaten to death, suffocated on tear gas, or was hit by a tear gas canister in the chest. Israeli authorities announced after the death that they would immediately investigate the cause of the death.
Both a Reuters and an AFP journalist said they witnessed the Minister being struck by Israeli soldiers.
Abu Ein and dozens of foreign and Palestinian activists had held a protest against land confiscations by the Israeli government. The protesters planned to plant olive tree saplings on land they believed had been marked for annexation.
However, Palestinian government sources said that while protesting, 15 Israeli soldiers confronted them, beating some protesters and firing tear gas.
Following the death, Palestinian President Mahmoud Abbas announced three days of national mourning and called the death an assassination and "a barbaric act which we cannot be silent about or accept."
Meanwhile, Hamas denounced the death and said it was "time to rally the forces against the Zionist occupation."
Tensions between the Israelis and Palestinians had reached a boiling point lately following the killing of 11 Israelis by suspected Palestinian assailants. Thirteen Palestinians, including some assailants, were also killed in the same period.
---
Subscribe to our newsletter
---