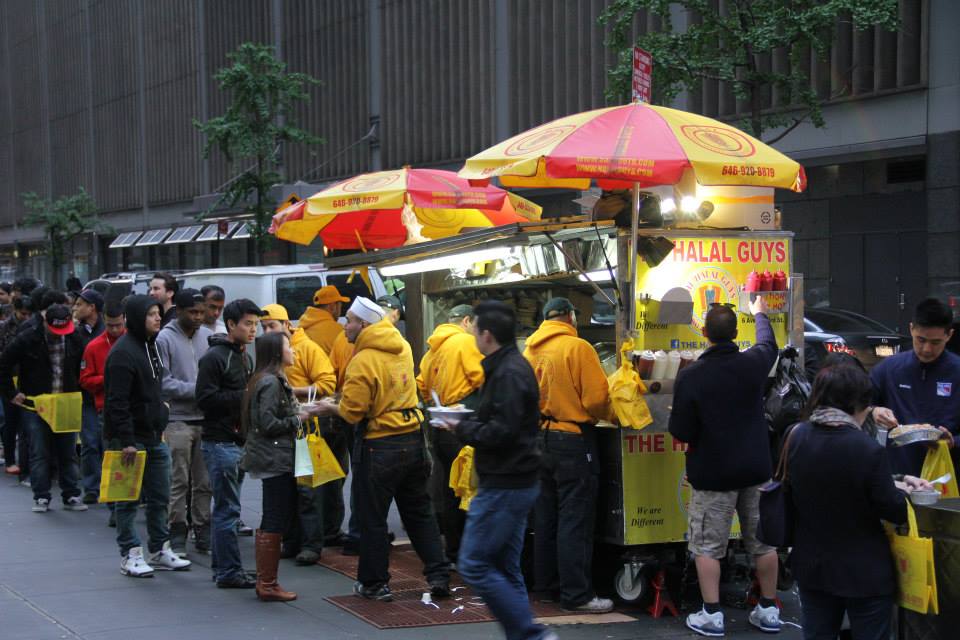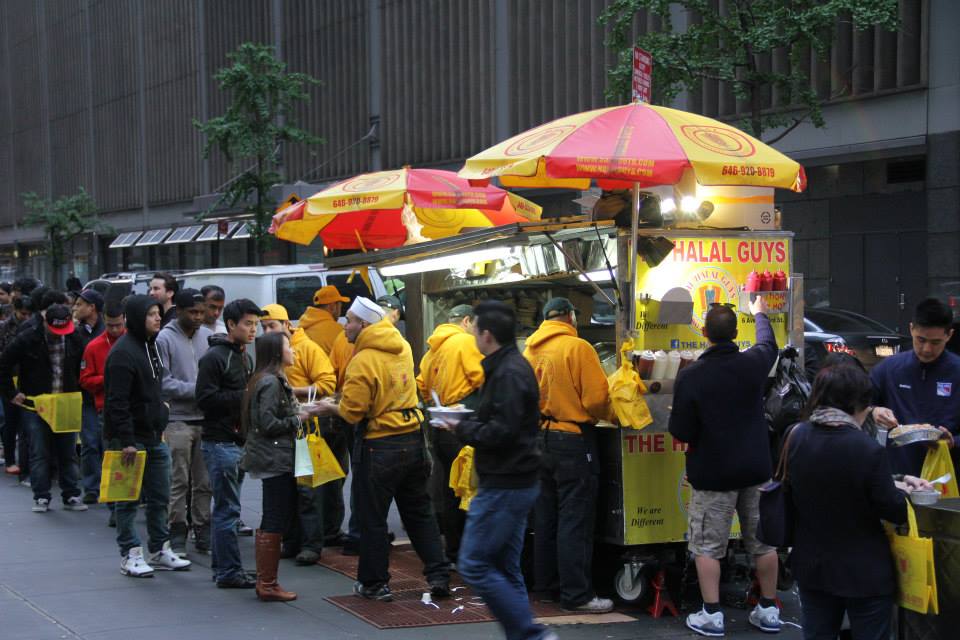 By Sharif Paget, Daily News Egypt
If you're ever in New York City and happen to be in midtown, you should head over to 53rd  Street and 6th Avenue. You will be absolutely astonished at the sight of a massive queue – a mass congregation of some sort – but for what? Some famous person signing autographs, or free stuff being given out? What could possibly be responsible for making people wait in line for up to 2 hours? Enter "The Halal Guys".
"The Halal Guys" is an Egyptian-owned food cart that specialises in making platters that consist of halal chicken and/or lamb over yellow rice. The menu is simple; the sauces though, perhaps the biggest draw for the cart, are complex – most notably, the white sauce.
The chicken is soaked in plastic bags full of seasoning before being placed on the grill – sending tasty Middle-Eastern flavours sizzling through the air. The lamb, much like a shawarma, rotates on a spit, and is then sliced into bite-sized bits and grilled to a perfect amount of crispiness. The yellow basmati rice, that's oh-so-fluffy, and a side salad, which is basically just another thing to put the famous "white sauce" on, accompanies the meats.
What exactly goes into the white sauce is a secret, and officer workers, taxi drivers, club-goers, tourists, construction workers, and police officers can't seem to get enough. It is not tahini sauce, and many contend that the base is mayonnaise, but other than that, no one really knows.
The food-cart opens up at noon to start feeding hungry office workers, and keeps at it until four in the morning to satisfy hungry club-goers.
For club-goers, "The Halal Guys" food cart is akin to an after-hours party – with delicious affordable food.
For $6 a plate, in a city as expensive as New York, it doesn't get much better.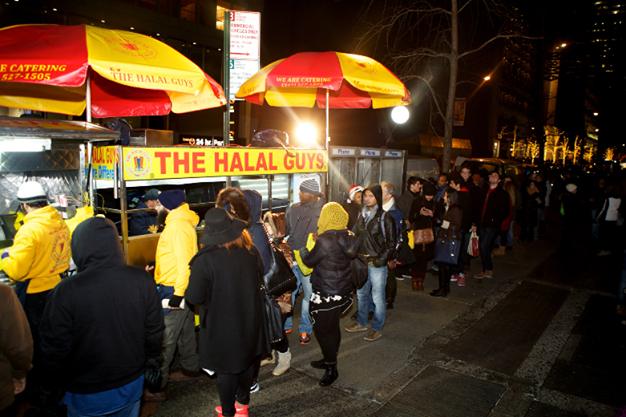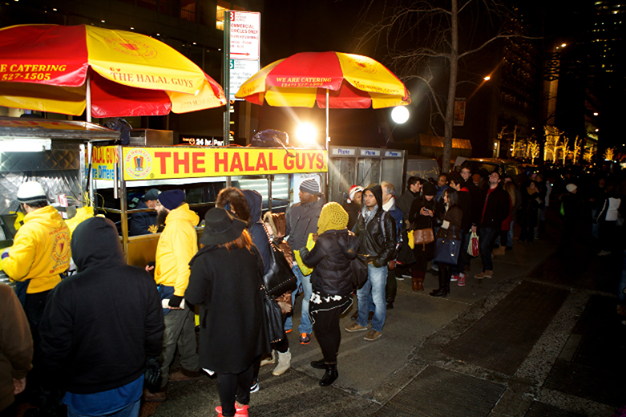 Why is this street meat, along with that legendary "white sauce", so successful? Like any good success story, one must look to the beginning, and start with its characters.
Meet Ahmed Elsaka and Abdelbaset Elsayed, both from Alexandria, and Mohamed Abouelenein, a native of Cairo. These three gentlemen are the owners of "The Halal Guys".
In 1990, they immigrated to New York, and went on to own and operate a hot dog cart. At the time, the hot-dog and pretzel business was dominated by the Greeks. Today, it is almost entirely Egyptian—the carts got bigger and started selling more food, and though it's up for debate, many argue that it was these three Egyptians that changed the game.
However, the mini "Greek" style hot-dog cart that Elsaka, Elsayed and Abouelenein owned did not transform over night. It took almost two years before they took the plunge to renovate the cart, and it all started with taxi drivers.
Many of the taxi drivers in New York are Muslim, and they found it hard to find a cheap, filling meal that was prepared according to Islamic law at two in the morning. Knowing that Elsaka, Elsayed and Abouelenein are also Muslim, the taxi drivers asked them to create a menu that would cater to their appetites. The cart, along with the food portions, got bigger, and "The Halal Guys" was born.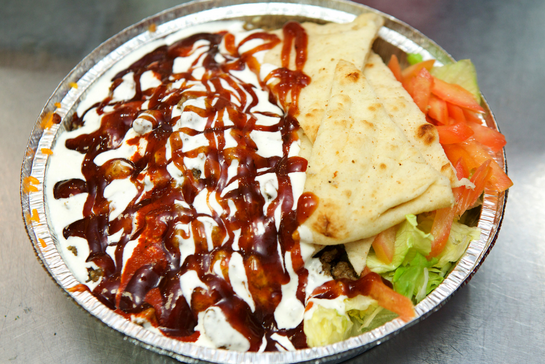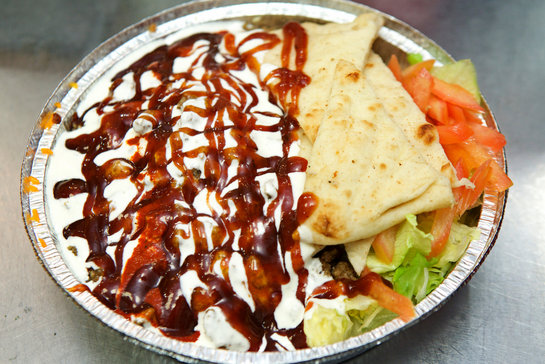 Soon after, the cart was a success, not just with taxi drivers, but with New Yorkers from all walks of life. Many imitation carts started popping up around the city, and today they easily outnumber the older, smaller "Greek" versions.
None are as successful as "The Halal Guys". Some attribute it to the "white sauce", others the location (the cart is located close to the Museum of Arts and Design), but ultimately it's a mystery.
Now, after about 25 years of serving food in the street, "The Halal Guys" are looking to franchise. The owners incorporated the cart and signed a deal with Fransmart, a restaurant franchise consulting firm. This is the same firm that took "Five Guys Burgers and Fries" from four locations in Northern Virginia and turned it into a fast food chain with over 1,200 stores and over $1bn in sales last year, according to The New York Times.
Fransmart has a 5-year-plan for "The Halal Guys", which includes over 100 locations in the States, as well as a presence in Europe and Southeast Asia. This will be the first time that Middle-Eastern Halal food will be in the same conversation as McDonald's and Kentucky Fried Chicken.
The first location was opened up last June in the East Village; a hip young neighbourhood located in New York. Another is scheduled to be opened near Columbia University. The menu resembles the one from the cart, with a few extra items – kofta, and deserts such as basbousa.
The thing about "The Halal Guys" is that they are so inherently tied up with the street. How the food translates from side-walks to dining tables will be an experiment worth watching out for.
As legend goes, Colonel Sanders, the man behind KFC, started his franchise by selling chicken out of his car. So perhaps "The Halal Guys" have a shot to go world-wide. After all, just as KFC has its secret 11 herbs and spices "The Halal Guys" have their white sauce.
---
Subscribe to our newsletter
---