Leading Spanish journalist Ricard Gonzalez has fled Egypt after arrest threats
Ricard Gonzalez – the Egypt-based correspondent for Spain's leading daily newspaper El Pais – has been "forced to leave the country against his will" after being advised that local authorities were looking to arrest him.
In an interview with Daily News Egypt (DNE), Ricard Gonzalez expressed surprise at being personally targeted by the Egyptian state, but put it down to the largely critical editorial line El Pais has taken with regards to the government's crackdown on human rights.
"Two weeks ago I had to leave Egypt in a rush, the country that I have called home for almost four years" Gonzalez told DNE. "The Spanish authorities warned me that I was under imminent risk of being arrested and indicted, and they advised me not to go back to Cairo.
"I have had contacts with the opposition, as have many of my colleagues. My newspaper, El Pais, has been very critical of the current regime in its editorials, and I have written several articles on the violations of human rights in the country, however so have other outlets."
Gonzalez has worked in Cairo since September 2011 for a number of outlets, but primarily for El Pais. A press spokesperson at the Spanish embassy in Cairo has, as of yet, offered no comment on the situation.
As well as his journalistic endeavours, Gonzalez wrote a book entitled "The Rise and Fall of the Muslim Brotherhood", which he maintains "did not offer a positive view of the Brotherhood
"We should not forget that Emad Shahin, a distinguished professor at Columbia University specialised in Islamist movements, was recently condemned to the death penality," Gonzalez added.
According to DNE, Gonzalez was not given any details over the nature of the arrest threat, but nonetheless decided to go public in order to raise pressure for more transparency regarding the case.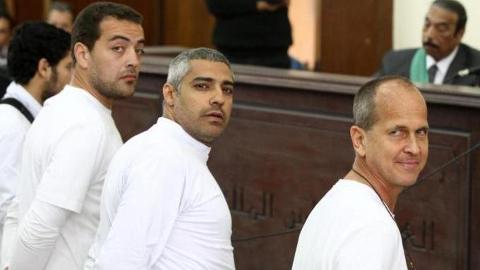 "They have not disclosed much about what information they have or don't have….As far as I know, it is the first time this has happened since the Al Jazeera case
"I was very surprised, since President Abdel Fattah al-Sisi has said several times that in case of troubles, foreign journalists should be deported, not judged" continued Gonzalez.
According to a recent report by the Committee to Protect Journalists, eighteen journalists are currently imprisoned in Egypt – the highest number since records began in 1990.
Life for foreign journalists in Egypt has become notoriously difficult in recent years, with many reporting particularly strained relations with average Egyptians as well as the state. Foreign journalists have also come under public scrutiny in a number of high profile cases, such as that of Dutch journalist Rena Netjes who, in 2014, also fled after she – along with twenty other journalists – were accused of "fabricating news."
In one of the most renowned cases, three Al-Jazeera journalists – Baher Mohamed, Peter Greste and Mohamed Fahmy – spent over a year in prison, accused of defaming Egypt and also spreading false news. The Australian national Peter Greste has left the country, but the retrial for Egyptian Baher Mohamed and Canadian-Egyptian Mohamed Fahmy is still ongoing, with the retrial date set for 30 July.
Whilst not a foreign journalist, the recent detaining of Al Jazeera reporter Ahmed Mansour in Germany, allegedly upon orders from the Egyptian government, has worsened the country's reputation for limiting press freedom.