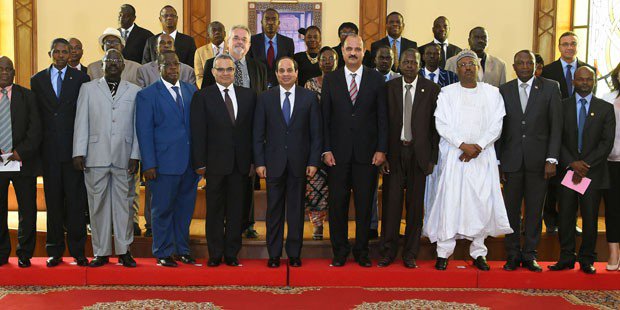 In extended efforts to weave unity and peace across the Nile Basin countries through mutual benefits and shared knowledge, 600 African physicians have been promised to receive medical training at the Egyptian Children's Cancer Hospital (CCHE)57357 throughout the upcoming three years. The news was announced by President Abdel Fattah al-Sisi on Monday in a meeting with the chief editors of several African newspapers, reported the Cairo Post.
In his statement, President Sisi added that children battling with cancer from across the 10 Nile Basin countries will be welcomed to receive free treatment at CCHE.
Since its establishment in 2009, the CCHE 57357 Research Department has been a leading force of medical research in Egypt, with a focus on pediatric care, epidemiology, molecular biology, pathology and pharmaco-kinetics.
In light of the frightening outbreak of Ebola which has taken more than 11,000 lives since 2014, according to the World Health Organization, Sisi added that Egypt will aid the African countries in their combat against Ebola by creating a database covering disease development and vaccines.
The initiative can be considered an extension to Sisi's previous achievements in restoring relief to the Nile Basin countries after years of congested tension which increased as a result to Ethiopia's plans for building its US$ 4.2 billion Grand Renaissance Dam.
The 6,000 MW grand project was speculated to jeopardize the amount of Nile water reaching Egypt and Sudan, leading to alleged plans of military intervention during the presidency of Mohamed Morsi. However, an agreement of principles on Ethiopia's Grand Renaissance Dam project was signed in March by al-Sisi, Sudan's Omar al-Bashir and Ethiopian Prime Minister Hailemariam Desalegn.
Further economic cooperation between Egypt and its neighboring African countries was agreed upon during the Tripartite Summit held in the coastal city Sharm el-Sheikh on June 7. Attended by members of the Southern African Development Community (SADC), the Common Market for Eastern and Southern Africa (COMESA) and the East African Community (EAC), the summit concluded the establishment of a free trade zone among their 26 member states.
---
Subscribe to our newsletter
---