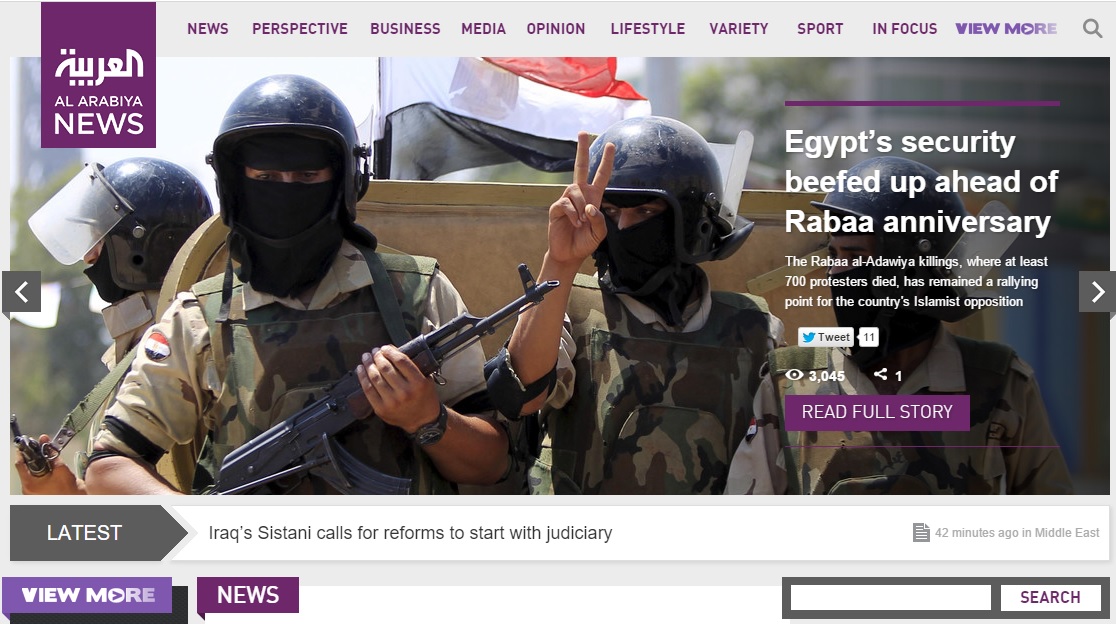 Update: Al-Arabiya has continued to ignore our emails. Its 'addendum' did not correct the plagiarism and instead appeared to justify their copying and pasting. Egyptian Streets has emailed Al-Arabiya and continues to wait for any response
Al-Arabiya News' ubiquitous 'staff writer' has continued to unabashedly plagiarize content from Egyptian Streets (ES), despite ES' attempts to inform Al-Arabiya's editorial staff of such violation of basic journalistic ethics.
On August 6, Egyptian Streets published an article, written by its Chief-Editor Mohamed Khairat, revealing the story behind the nine-year-old boy who accompanied President Sisi on the Presidential Yacht during the opening of the New Suez Canal.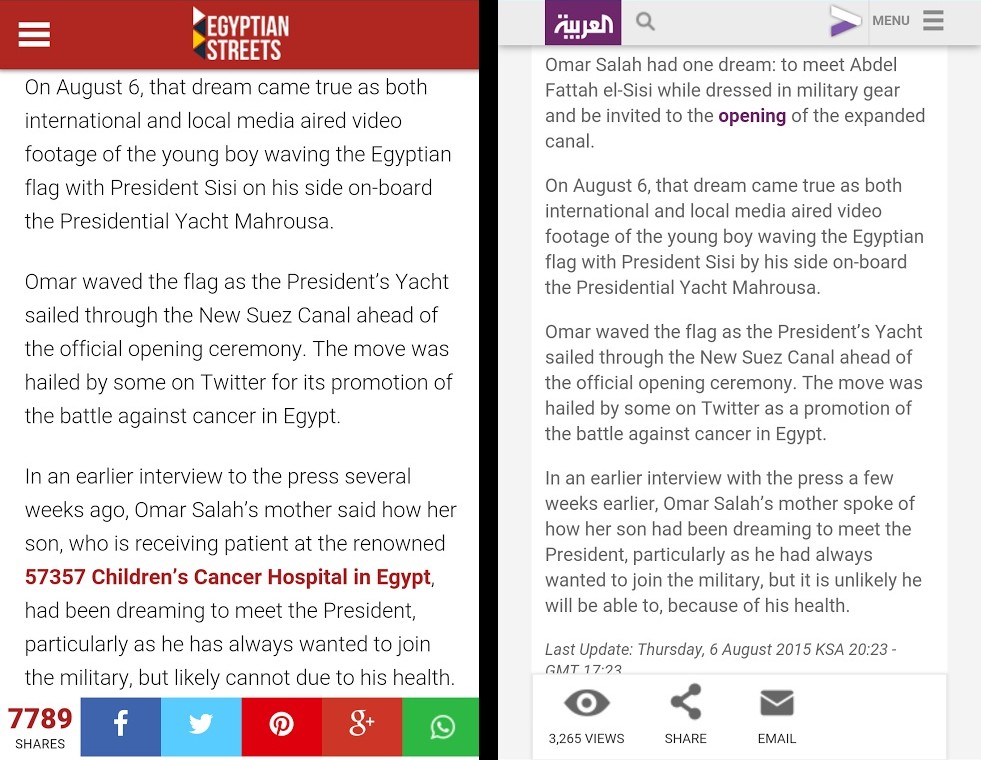 Several hours later, Al-Arabiya published the same story, copying and pasting the majority of the content from Egyptian Streets' article. In fact, apart from the introduction and the removal of all references to 57357 Children's Cancer Hospital in Egypt, Al-Arabiya's article used word-for-word the phrases used by Egyptian Streets.
Shocked that such a highly esteemed media organization would allow plagiarism, Egyptian Streets emailed Al-Arabiya News' PR, Chief-Editor and all other publicly available email addresses to express its concern. In the email, ES asked Al-Arabiya to either properly link back to ES, provide quotation marks, publish an apology or simply remove the article completely.
What had been most upsetting by this plagiarism was the removal of all mention of the 57357 Hospital. The article had primarily been written to highlight the fact that cancer kills 24 percent of the approximately 8,400 children that develop cancer on a yearly basis in Egypt.
Yet despite ES' attempts to rectify the situation, the emails were ignored.
The second case of plagiarism
On August 14, just over a week later, ES published a news article covering the tragic death of Bongo the Orangutan, who died from heatstroke at the Giza Zoo.
Once again, several hours later, Al-Arabiya's mysterious 'staff writer' published an article titled 'Egypt's scorching heatwave kills Bongo the orangutan'.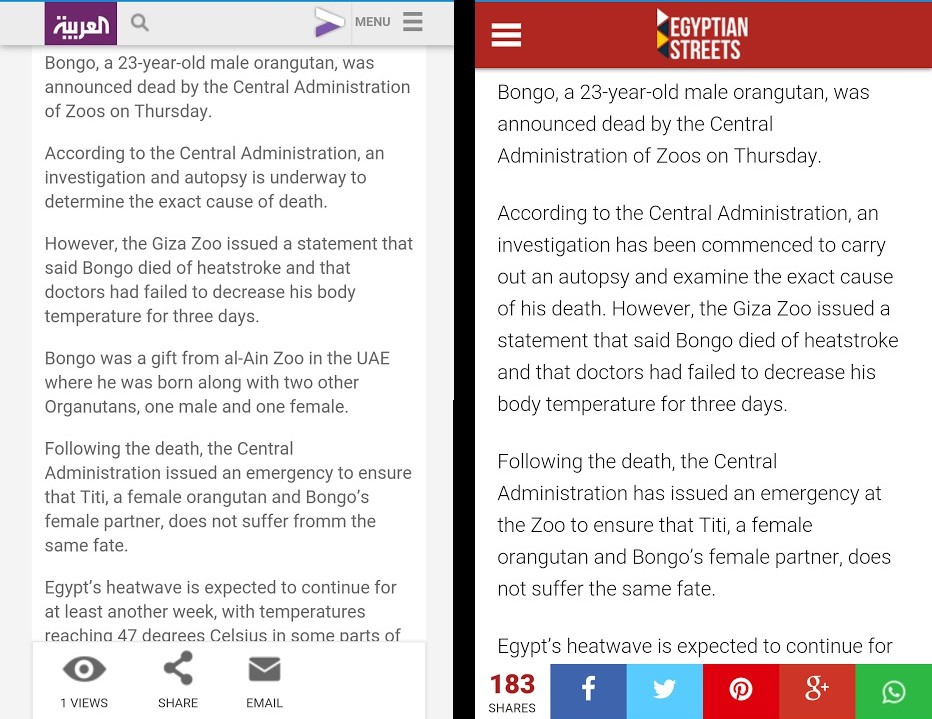 Unlike the article about the cancer-stricken child, Al-Arabiya completely failed to mention ES and instead cited Ahram Online's article in the introduction as the source of the news.
However, reading further in the article, it quickly becomes apparent that Al-Arabiya's writer has once again plagiarized, word-for-word, much of ES' article.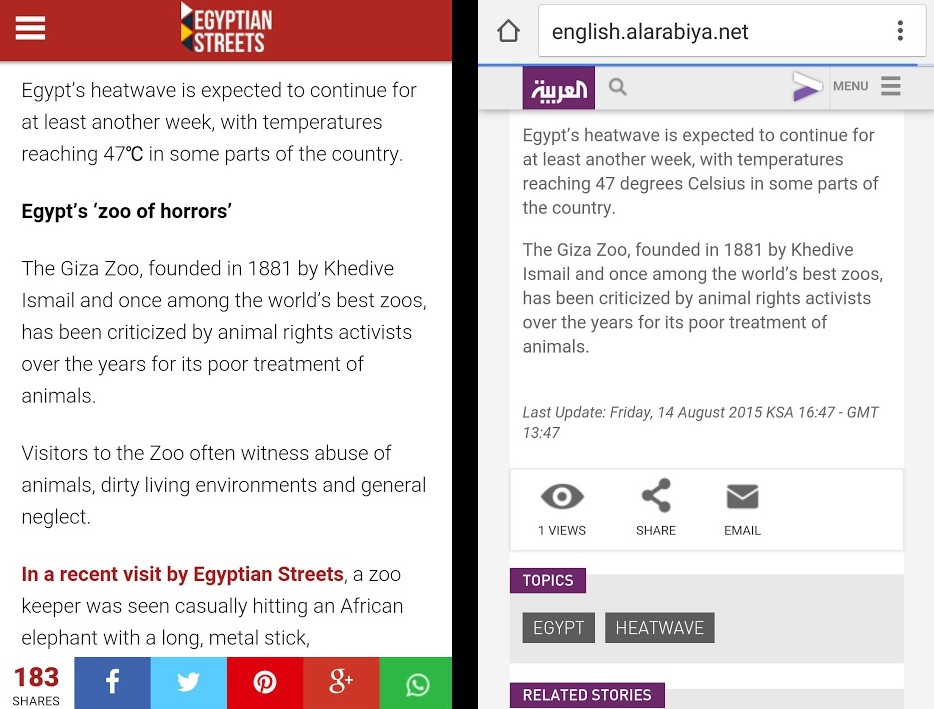 While ES had previously avoided publicly exposing this plagiarism, it appears that there is a trend by 'staff writers' to plagiarize articles and Al-Arabiya's editorial and PR team has not shown any interest in complaints made to it.
Perhaps more importantly however, these are just two articles out of hundreds published by Al-Arabiya on a weekly basis. It remains unclear whether Al-Arabiya News' 'staff writers' are equally plagiarizing from other media organizations, or whether Egyptian Streets has simply been the unlucky victim of this complete disregard for media and journalistic ethics.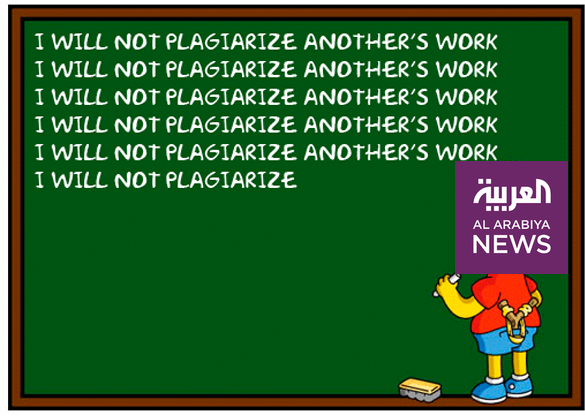 If you know of any other instances of plagiarism by Al-Arabiya News, or would like to get in touch regarding the content of this article, please email [email protected]
---
Subscribe to our newsletter
---