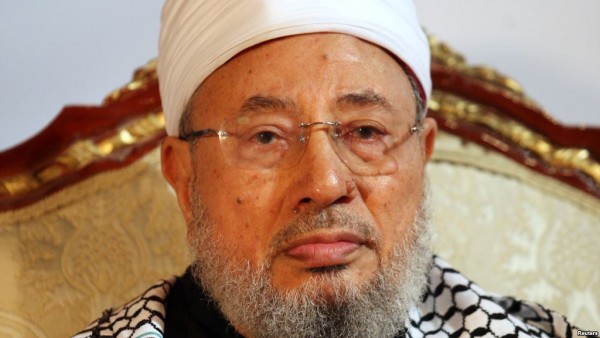 Prominent, Egyptian-born Islamist cleric Youssef al-Qaradawi was one of at least 35 alleged Islamists referred to military trial today. The 35 arrested were accused of setting up Islamist cells that were responsible for killing a police officer.
Al-Qaradawi, who currently resides in Qatar, will be tried in absentia along with two other suspects who also live abroad. Him and two other, unnamed Muslim Brotherhood figures have been accused of inciting groups to carry out violent attacks.
According to a statement issued by the prosecutor general, "The investigations revealed that the leaders of the international organisation of the Muslim Brotherhood, in coordination with some radical left-wing and religious movements, were involved in the murder of police officer Wael Tahoon, and in attacking public and private facilities."
An arrest warrant was issued by intergovernmental policing organisation Interpol in December 2014 for Al-Qaradawi in light of him being wanted by Egypt's authorities.
As well as being the chairman of the International Union of Muslim Scholars, Al-Qaradawi is best known for his programme "Al-Shar'ia wa al Hayah" (Sharia and Life). He is also known for being a prominent intellectual force within the Muslim Brotherhood. However he has turned down offers to hold an official role in the organisation twice, once in 1976 and once in 2004.
Since the overthrow of Islamist President Mohamed Morsi in 2013, a crackdown on Muslim Brotherhood supporters, which has seen hundreds killed and imprisoned, has taken place.
Trials of alleged Islamists typically happen in civilian courts. Indeed, it was a civilian court that sentenced hundres, including Morsi, to death.
However, the occasional use of military courts has been widely criticised by human rights campaigners, who argue that military trials circumvent due process and result in unnecessarily strong verdicts.
---
Subscribe to our newsletter
---