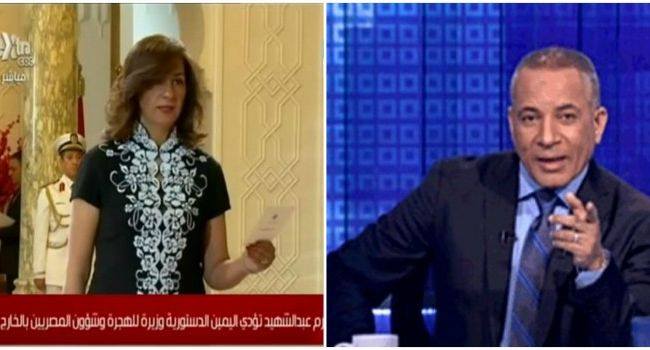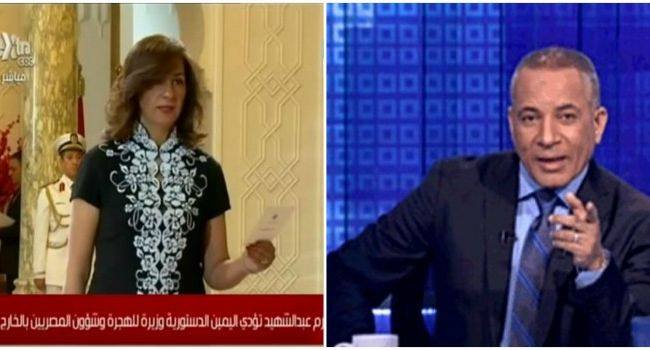 Newly appointed Minister of Immigration and Egyptian Expatriate Affairs, Nabila Makram, stirred controversy over the clothes she donned while being sworn into Egypt's new cabinet on Saturday.
Makram attended the swearing-in ceremony wearing a short-sleeved black top and loose black pants. While Makram and the two other women in the cabinet, Ghada Waly and Sahar Nasr, were commended on social media for looking "elegant" and "presentable," one television host declared that Makram's attire was "inappropriate for the occasion."
Ahmed Moussa spoke out on his talk show, "'Ala Mas'ouleety," saying that Makram has a "respectable history" but that she made the wrong call wearing that outfit.
The women ministers' appearance prompted a flurry of conversation on social media platforms, with Twitter users using the hashtag "Egypt is getting prettier" to say it has been "a long time" since Egypt had "chic" women ministers.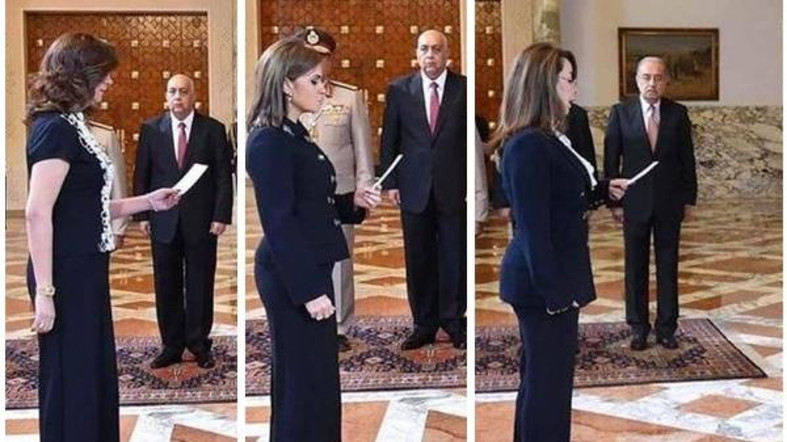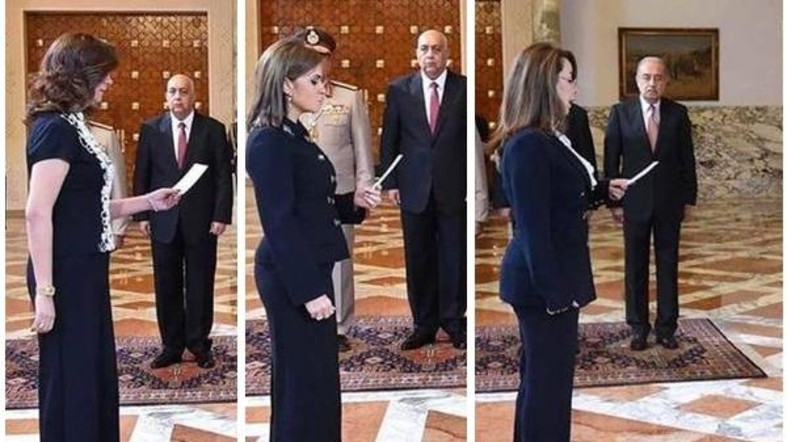 In response to Moussa's claim and the debate that followed, privately owned AlMasry AlYoum cited an "informed source" as saying that the presidency does not have stringent rules for what to wear when meeting the president or being sworn in, adding that a formal dress code is nonetheless expected. The source continued to say that Waly and Nasr, the Minister of Social Solidarity and Minister of International Cooperation, respectively, fit the expected guidelines, while Makram applied the guidelines "loosely" in comparison to her women colleagues.
According to the source, the correct protocol in such occasions calls upon women to have their hair "at least partially up" and to abstain from applying heavy makeup. However, the source also said that some of the male ministers did not fully adhere to the dress code, which does not allow them to wear red ties, for example.
Makram later phoned in to journalist Wael El Ebrashy's talk show, "Al Haqeqa," to respond to the controversy, saying that she will be working with regular citizens on the ground but that she is not willing to change who she is simply because she has become a minister.
Prior to being appointed as a minister, Makram worked in the Ministry of Foreign Affairs, during which time she served as Egypt's consulate general in Rome and deputy consulate general in Dubai.
---
Subscribe to our newsletter
---