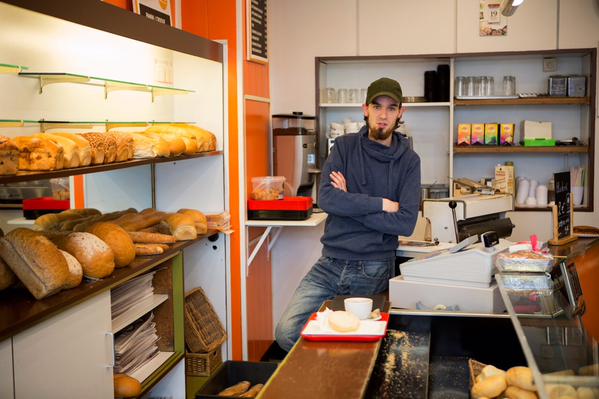 Would you like some jihad with that? In Antwerp, Belgium, a former Islamic State militant is running a bakery shop selling bread, sandwiches, pastry and coffee.
Born and raised in a Catholic family in an Antwerp suburb, shop owner Michael – his last name is withheld – converted to Islam in 2007 and took on the name Younès, according to reports by the French magazine Paris Match and European television channel RTL.
In 2012 the 26-year-old joined the radical Islamic group Sharia4Belgium, which was dissolved in the same year for incitement of hatred and is currently forbidden. At the end of 2013 Younès left Belgium for Syria.
'The main reason I left is because I wanted to live in an Islamic environment," he remembers.
Younès spent six weeks with an ISIS army faction in Aleppo, where he engaged in battle with the Free Syrian Army.
"I slept with my AK47 and two grenades next to my head," he recalls. He says the reason he stayed in Syria for just six weeks is because he missed his family. Younès is father to two sons and is divorced. He is currently married to a seventeen-year-old Muslim woman.
Upon his return, Belgian authorities arrested Younès . He was in pretrial detention for two months, after which a Belgian court handed him a three year suspended sentence, because it could not be proven he had committed any crimes during his stay in Syria. He is currently in a government program for returned militants.
However, Younès admits to having tortured people and still has an ISIS flag hanging over his bed.
"Prisoners were blindfolded and when they refused to answer questions they were whipped. It is a country at war; people were used to it," he said.
Younès claims he has renounced jihad but is convinced that "Islamic ideology and Islam will one day dominate the world." He also says he has no regrets about his time in Syria.
Un jihadiste belge rentré de Syrie témoigne dans @ParisMatch Devenu boulanger, il ne regrette rien. @BGiroudon pic.twitter.com/1z7n0AHxyH

— Pauline Delassus (@PaulineDelassus) September 23, 2015
Younès doesn't sell ham in his bakery, but uses turkey as a substitute. He likes being his own boss, so he is free to pray five times a day. He only wears traditional Islamic garb at home, but not at the shop, because that would not be good for business. He does, however, sport a bushy beard and refuses to shake hands with women.
About the Yazidi women captured by ISIS and being sold as slaves, Younès said it's "better to be a slave than to be dead." He also shared his thoughts on Palmyra, the UNESCO world heritage site that has been partly destroyed by ISIS: "The Islamic court forces us there. These places were places of disbelief."
Last month, ISIS militants beheaded an archeologist who looked after the ruins for more than 40 years.
On social media the response to Younès' story has been mostly negative, with many commenters calling to boycott the bakery and some even threatening with violence.
"Another crazy one. Is there anyone in Antwerp who can go take care of this?" one reader writes.
"When will justice finally protect citizens?" somebody else wonders.
"He went from being a butcher to being a baker. That's one step in the right direction," says another, in one of the very few more positive reactions.
Belgium, with a population of 11 million, is one of Europe's biggest suppliers of foreign fighters for ISIS, with an estimated 380-480 nationals having travelled to Iraq or Syria to join the caliphate.
---
Subscribe to our newsletter
---