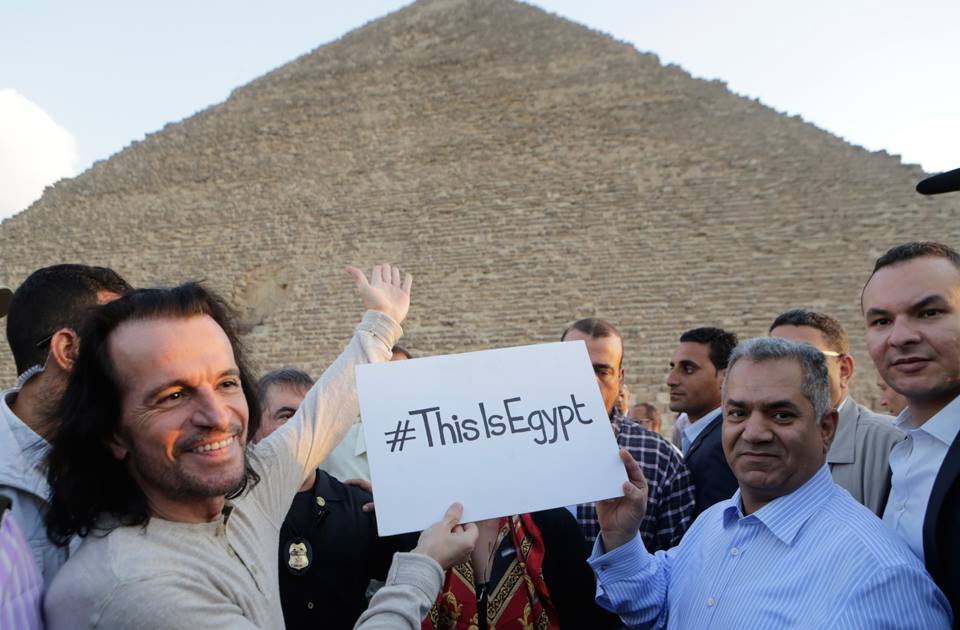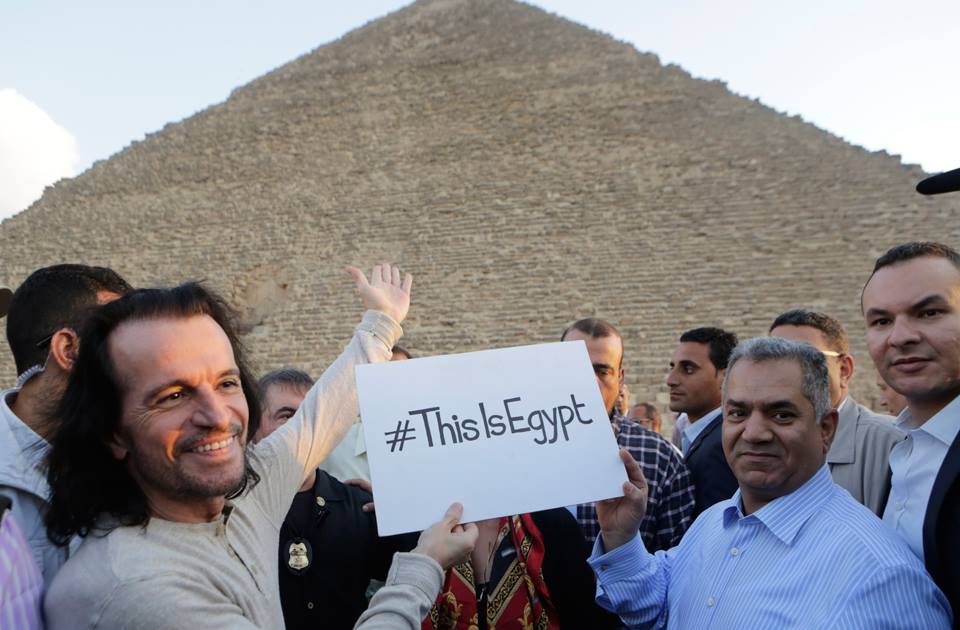 By Nada Deyaa'
For over 25 years, Yanni's music has been an inspiration for many of those who believe that music is a form to escape reality into a better world. Yanni arrived to Egypt on Monday to perform two live concerts on 30 and 31 October.
With loud cheers, many were calling his name while holding his posters and playing his music on a sound system at the airport, Minister of Tourism Hisham Zaazou  said, who warmly welcomed Yanni along with his band.
Last month, the world renowned Greek-American musician Yiannis Chryssomallis, whose stage name is Yanni, officially announced that he will be performing "The Dream Concert" at the Giza Pyramids for the first time.
"We are preparing a tour for Yanni to show him the beauty of Egypt," said Ayman Saad, member of the Ministry of Tourism's Media Office.
The tour will include visits to the Pyramids, Khan El-Khalili, Al-Muez Streets, and Cairo Citadel. The pictures taken from these tours will be used to promote tourism in Egypt with the hashtag #ThisIsEgypt to show people the true image of Egypt, Saad said.
On his way to Egypt, Yanni posted a picture of a gift Egypt Airways offered. The caption read: "Amazing what you find on an EgyptAir. Homemade Yanni chocolates". He also posted another picture on his official Twitter account with the crew before the departure from John F. Kennedy Airport in New York.Last week, #ThisIsEgypt went viral on social media when Morgan Freeman visited Egypt to shoot at the Pyramids; he was holding a sign with the hashtag written on it.
Earlier this month, Yanni recorded a video message to his fans in Egypt on his official YouTube channel. Yanni appeared excited and thrilled when he told the anticipated audience that they "make me feel so welcome to your country, I cannot wait to perform in front of your magnificent Pyramids. It's going to be phenomenal!"
Yanni also said he watched all of the videos he received from his Egyptian fans all full of "support and love".
"There is nothing like the excitement and interaction with a live audience," Yanni said in a 2012 interview with Savannah Now, an American Website. "I get butterflies before every single show and I feel an immense connection and inspiration from every audience, anywhere in the world. Nothing beats performing live, there is nothing like it."
Tickets are sold at prices from EGP 600 to 3,000.
---
Subscribe to our newsletter
---