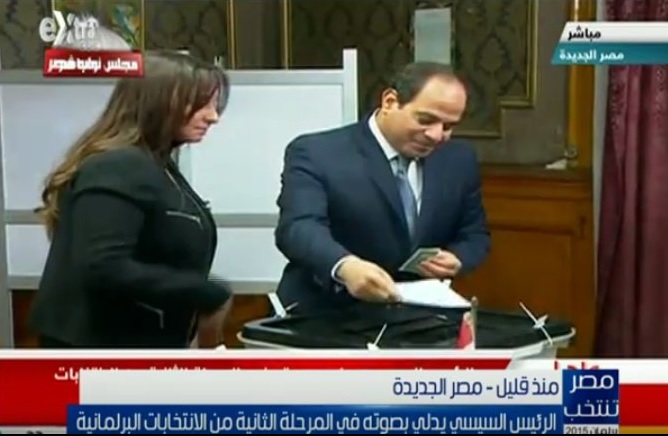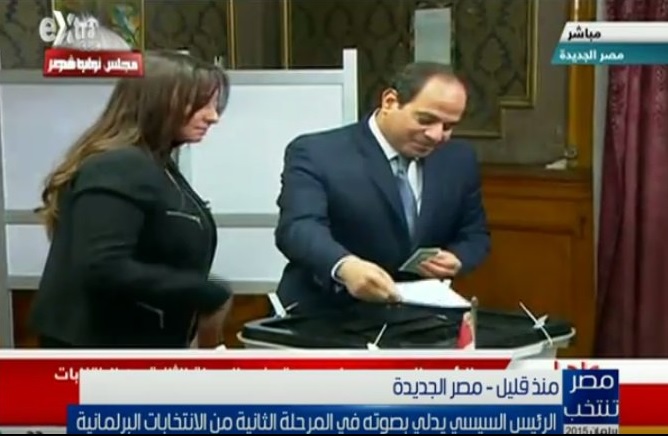 Egyptian President Abdel Fattah Al-Sisi visited the district of Heliopolis in Cairo to participate in the second phase of Egypt's parliamentary elections.
The President's ballot marked his first ever vote in parliamentary elections as members of Egypt's military are not permitted to vote.
Cameras flanked the President as he entered the booth, with live television footage showing him greeting supporters and election booth officials.
Egypt's Prime Minister Sherif Ismail also cast his ballot shortly after the booths opened.
Voting for the second phase of elections kicked off a day earlier for Egyptians abroad, with more than 10,000 Egyptians voting by 2PM on Saturday, according to an elections official.
The first phase of elections saw 30,531 Egyptians abroad casting their votes. The turnout was touted as 'disappointing' by the media, as the number represented just 4.5 percent of the 680,000 registered Egyptian voters abroad.
A total of 28.2 million people are eligible to vote in Egypt's second phase of parliamentary elections. The second phase covers 13 governorates, including Cairo, Qalyubia, Daqahliyah, Menoufia, Gharbia, Kafr el-Sheikh, Sharqiya, Damietta, Port Said, Ismailia, Suez, North Sinai and South Sinai.
---
Subscribe to our newsletter
---