This episode we take you behind the scenes to capture raw human talent: the intimate brainstorming, trials, and experimentation of 3 musicians and a poet preparing for a spoken word performance. What's more, is this is the first time the group has ever come together to play. Listen as they find their groove and harmonise in a beautiful ascension you never typically are privy to.
Episode transcript:
Hebah: When you go to a performance, you take your spectator seat and wait dutifully to be moved. Sometimes you aren't impressed. And sometimes you are. And when you are, you often marvel at how they were able to do that. There's a group in the UAE, a motley crew of artists, who are blending spoken word and beautiful music who have moved us and we want to share them with you. But to share it as honestly as we know how, we're going to deconstruct their performance, and share with you the behind the scenes – the intimate brainstorming, mindless strumming of instruments, and fiddling of words and sounds that are so necessary to bring you that polished version you see on stage.
If I can set the scene. There's five of us, sitting on chairs and couches amidst flickering candles and microphones plugged into instruments. We're in Maruan's living room – he's a Palestinian German hybrid who has been playing the oud since he was 11. That's him, strumming. Sitting next to him, her curly hair pulled up in a bun, is Farah Chamma a young, fiery spoken word poet in Dubai, though her words reach across the region and beyond. Often she performs political or social pieces in Arabic, French, or Portuguese – and I've seen her bring an audience to goosebumps and tears. She's 21, Palestinian by heritage, Brasilian by passport, and Emirati by residency and claim to home.
Sitting next to Farah is Eleftheria, a Greek classical musician, trained on any instrument you can think of, though her instrument of choice this evening is the viola. This is the first time this group has ever come together to play – it's the first time for Elie to even meet everyone, and because she's trained in very classical Greek music, she's a little nervous bc she isn't sure if her style will mesh with Arabic classical music. And lastly, sitting behind an electric keyboard, wires everywhere, and his laptop, is Molham. He's a sound engineer by training, and pulls the world's sounds through his computer speakers. The group is meeting tonight to prep and brainstorm for a poetry performance in a month's time. A quick heads up, apart from this intro, we want you to feel as if you're in the room – no more interruptions from us, this is the raw tape. Just sit back, and hear them fly. Let's begin.
Farah:
-انت من "الجاردن أفتر" لما احكتلي جملة هي
When you said that sentence at the Garden After, 
it just stuck. And then I thought of it, and then I was feeling very disenchanted, and I wrote a poem called Disenchantment, a short one. And then, I
هك صار الموضوع انّ
This is how it happened, 
I just want to tell them the truth. I have nothing to – people expect me to write about Jerusalem, to write about Syria, and I don't feel connected to any of that. Really, I don't. And I want to – say that! I really, I get 4 or 5 messages saying, please write about Jerusalem.
Maruan: Really?
Farah: Yea.
Maruan: It doesn't have to be. It doesn't have to be.
**************************************************************
Farah: So, I wrote this, I was sitting, and actually feeling like I have nothing to say anymore. I have nothing political I'm affiliated to, I have no cause — I don't feel.. involved, in the world as much as I used to? Or as much.. and it's like, this method of deconstructing that you're on stage. So you're on stage, and you're saying that you're on stage, and you're asking people how they're feeling as you're on stage. So it's like, we're so aware that we're on stage, now. So your playing should be quite linked to this idea. I don't know how.  Maybe if I say something, you could react accordingly, or actually, I don't know.
Maruan: Could you maybe say it first? So then we can know what is it about, actually.
Farah: Yes, I will. And of course I'll have it memorised… :
We have ten minutes.
To remind you that we have ten minutes.
We have ten minutes to remind you that this is a performance.
That this is timed.
We have ten minutes to remind you that this a performance that we rehearsed,
and that parts of this performance will rhyme.
We have ten minutes to say that we have nothing to say,
nothing to add.
This will not be informative.
Intellectual.
We have no fingers to raise.
No fingers to point.
No arguments to pinpoint.
We have ten minutes to say that we have nothing to say,
so what do you want to feel?
This performance is timed.
So what do you want to feel?
And this may be no different from all the bells that chime,
from all the sermons you stopped attending,
from all the lectures,
from all the masses.
It may be no different from all the classes,
from all the wasted time.
So what do you want to feel?
You may feel nothing at all tonight.
You may feel nothing all tonight.
Disenchanted.
This may not surprise you.
Not make you weep, or laugh,
or feel your stomach being pulled.
It may blend into your walls,
your desk, desktop, side lamp.
Your good mornings,
it may blend into all your silent mornings.
It may become as banal,
as flat, as your flat,
as your sex,
as your doormat.
So what do you want to feel?
Or do you want to feel?
I apologise if I like to think that I am an underground artist.
If it makes me feel down to earth.
I apologise if underground reminds me of death.
I apologise if I fear being the bridge between two commercials,
one of which is an anti-aging cream.
I apologise if I scream.
If this is the only way I know how to scream.
If this is the only way I reach my insides.
I apologise if I fear being televised..
if this may sound like something you've heard before…
This is where it's going.
Maruan, Elie, Molham: Very nice.
Farah: So I need ideas, if you have things, sound effects — so, bring it on. If you have thoughts..?
Elie: I like the idea that we are.. a variety of fundamentals. Not only something stressful and dramatic, and I would like to have a moment where you are playing with this idea, and you are making fun, and you are happy also.
Farah: Oh definitely, there could be a part where I slow down, and I can actually say, slow down.
Elie: And you can make a comments about that: like I have just ten minutes, but ten minutes can be so much, especially in silence.
Maruan: What we did last time was to change to C Major. Where we played C Minor and then changed to C Major, so we feel like it's a bit more positive, let's say.
Farah: So I can rush it. I told you it's not over, it's very open to you– because I'm speaking on your behalves, so I want you to tell me what you're feeling, how you're going to translate this into music.
Elie: For example, we can play something like we're practicing in the beginning. Like warming up, like you're cueing. It can be part of the performance, because how you have to go inside, how you have to be in this mood. Or we can tune together, we have similar strings, so it can be, the audience may take it like, ah they're playing.
Farah: Yes, because when I'm on stage, I'm going to say, "We Have Ten Minutes", people are not going to think this is the performance. They're not going to know I'm talking to them. I'm not going to go and say, the poem is called, We Have Ten Minutes — no, I'm going in and start, look at them and say, "We Have Ten Minutes" … so they're going to think we're going to start the performance in 2 minutes, "we have ten minutes tonight so please turn off your phones".. no I'm not going to say that. So I'll say, We Have Ten Minutes, and then maybe during you'll be tuning.
Molham: And you know, I was thinking. We could have it become very stressful. You know when you're on time, and you have this amount of time that is left, and you're still not finished, so maybe the less time that we have, the more musical, or maybe…
Farah: Faster beat, I was thinking..
Molham: Yea, yea..!
Farah: So I was interrupted on the TV interview, and I want someone to cut me. So maybe by your violin you cut me. Because it was so annoying, I was on TV, and she would get orders in her ear, and stop listening to what I'm saying. I'd be saying, "Yea I wrote this".. and she would say, "Sorry, sorry, we're changing the question." So, "I apologise if I don't want to be televised" .. and then you cut me.
I want these distorted .. "Tonight we have" … things like that. And not very emotional, like the Garden, I don't feel like crying this time. Oh oh this is going to be good.
So, we'll see, it will come, the text will grow, it's on December 7, so I'm sure I'll keep writing it during this time. And it's difficult to…
Maruan: We have to try. We have to start, and we record, and every time these ideas will come.
Farah: Let's play? Let's play.
**************************************************************
الإبداع ليس له حدود … في حضور الكلمات …و التمرد على الواقع … يخرج فينا الفنان ليغير كل المفاهيم …

Posted by Abdullah Dergham on Tuesday, December 8, 2015
Their final performance at NYU Abu Dhabi as part of Hekayah, December 7, 2015.
Featuring: Maruan Betawi, Farah Chamma, Ahmad Molham Makki, and Eleftheria Togia.
Featuring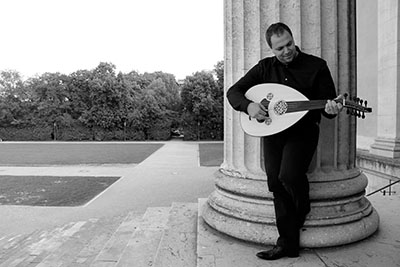 Maruan Betawi started his music journey at the age of 10 by learning the basics on the piano. He found his true musical calling when he started studying the Oud (Arabic lute) in 1995. In 2012, Maruan Betawi (Oud/Guitar) joined forces with Ismael Betawi (Violin/Cajon), Marliese Glück (Percussion) and Oliver Nözel (Flamenco Guitar) and put all of their creative focus in a new musical project, MAQAMUNDO.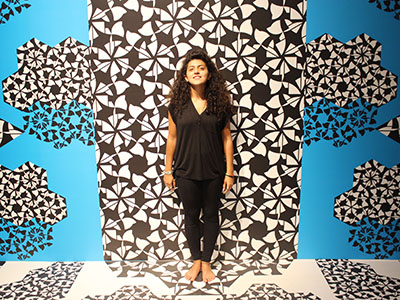 Farah Chamma is a Dubai-born Palestinian spoken word poet who's been performing since the age of 15, very often accompanied by the oud. Currently, she is experimenting with multilingual poetry.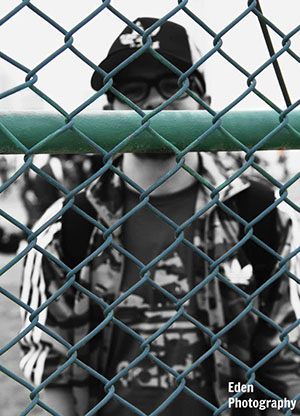 Molham Makki is a Dubai based electronic musician who's interested in the psychology of the human mind and how certain sounds or movements could affect that and implement certain feelings using not only musical notes but a whole range of designed sounds that could trigger different things in different people.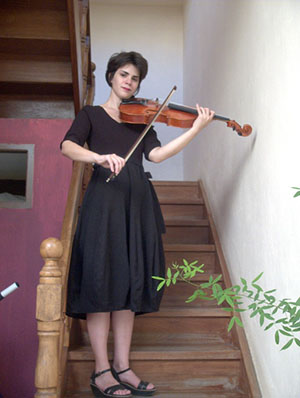 Eleftheria Togia is a professional viola player and musicologist. She is a PHD candidate at Ionian University (Performance of 20th century viola compositions). As a member of the orchestra she has collaborated with NSOOA, NSOOT, RSOOA as an associate principal viola, with outstanding musical personalities such as: Martha Argerich and Yuri Bashmet.