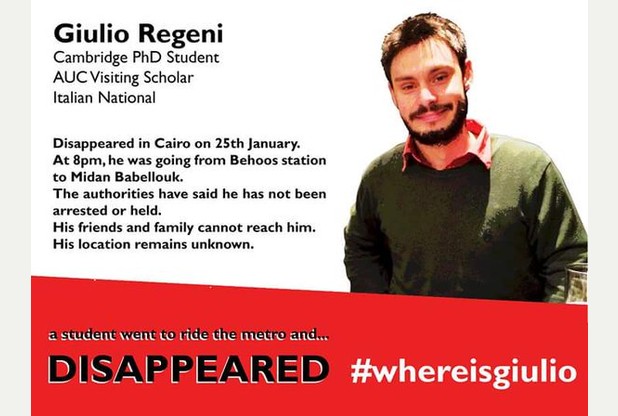 Egyptian authorities are continuing to search for Italian PhD student Giulio Regeni, who "mysteriously disappeared" in Cairo on January 25.
Regeni, 28, was reportedly last seen on the fifth anniversary of Egypt's 2011 revolution in downtown Cairo, where police presence was heavy at the time.
According to media reports, he arrived in Cairo in September and has been carrying out field research regarding trade unions for his PhD at Cambridge University.
In a statement released on Sunday, Italy's foreign ministry urged its Egyptian counterpart to track down Regeni, saying it is following the affair "with the utmost attention and concern."
Meanwhile, Cambridge University has launched a social media campaign with the hashtag #WhereIsGiulio, in hopes of finding any leads that will help authorities track down the student.
hundreds of cases of forced disappearances in #Egypt in the last months, but #WhereisGiulio if police says they do not have him?

— alessandro accorsi (@ali_burrasque) February 3, 2016
Countless numbers held by security forces in #Egypt in incommunicado detention. Could missing student Giulio Regeni be one of them ?

— Orla Guerin (@OrlaGuerin) February 2, 2016
While no information regarding the search has been made public and Regeni's friends and family have declined to comment on the case until official statements are released, there have been concerns that Regeni was forcibly disappeared by Egypt's security forces.
However, security authorities have maintained that he is not in their custody.
---
Subscribe to our newsletter
---