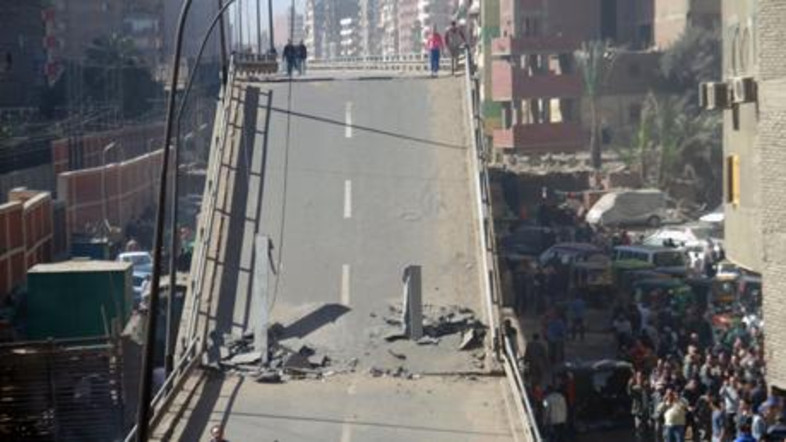 Three people were killed after a bridge collapsed in the Borg al-Arab area in Egypt's coastal city of Alexandria during the early hours of Tuesday, privately-owned Youm7 reported.
Several people were injured from the accident but their health conditions were described yesterday by the Alexandria Health Ministry spokesman Magdi Hegazi as "stable."
Rescue workers recovered the bodies and the injured from the stream of irrigation water that the crossing traverses.
Egypt has for a long time suffered from poor infrastructure, often causing fatal accidents.
In December 2015, the Transportation Ministry said that maintenance of 119 main bridges from a total of 400 needing "immediate and rapid" reparations had been completed.
One of the main reasons for the weakening and eventual collapse of bridges has been signaled to be over-loaded trucks, The Cairo post quoted a spokesman from the General Authority for Roads and Bridges as saying last August.
According to the spokesman, there has been a spike in violations of the weight limits set for truck loads since the 25 January uprising in 2011. He added that "40 percent of the bridges" were constructed half a century ago, further illustrating the pressing need to repair them.
The shortfall in regular maintenance of bridges is a further reason for the frequent incidents of collapsing bridges in Egypt. The Central Agency for Public Mobilization and Statistics (CAPMAS) claimed in May last year that that at least half of Egypt's bridges "are in severe degradation and vulnerable to collapse at any time due to lack of regular maintenance and overloading," state-owned Al-Ahram reported.
At the request of the Egyptian government, the General Authority for Roads, Bridges and Land Transport issued a project report in July 2015 saying that Egypt aims to improve bridge maintenance by "establishing continuous maintenance cycles, improving technological capacity necessary for the maintenance, especially inspection and repair skills" and "building and operating bridge maintenance system (BMS) which enables the execution of the designed maintenance."
---
Subscribe to our newsletter
---