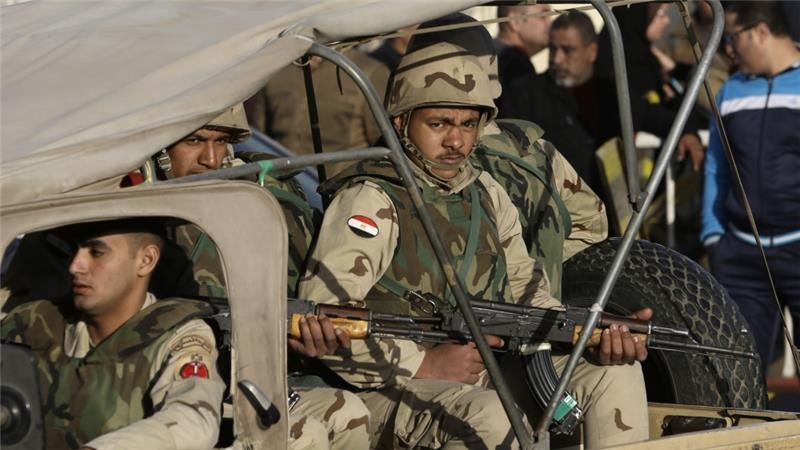 As Saudi King Salman bin Abdulaziz Al Saud commenced his first official visit to Egypt, ISIS-affiliated militants launched an attack in the North Sinai region killing seven people and wounding 15.
According to MENA, the attacks, which Ansar Bait Al-Maqdis (Wilayat Sinai) claimed responsibility for on social media, killed six Egyptian military personnel and one female civilian.
The deaths occurred after two armored personnel carriers were targeted by explosive devices planted on the side of the road in Rafah and Sheikh Zuweid.
Despite local media reporting the incidents, Egypt's Military is yet to release an official statement.
The deaths come as the Saudi King pledged greater cooperation with Egypt in cracking down on terrorism. While Egyptians are expecting the visit will reap in Saudi loans, the visit has also seen discussions about regional security, terrorism, and Saudi's relationship with Yemen, Iran and Syria.
Coinciding with the visit, Egypt's Ministry of Foreign Affairs released a statement raising "concern" about Iranian arms being smuggled to Yemen.
"There are lots of questions about the contradictions between Iran's official positions and its real actions which do not contribute to stability in the region but rather reflects the Iranian intervention policy in Arab affairs," said the Foreign Ministry's spokesperson, reported Al-Ahram.
Egypt and a number of Arab and 'Islamic' countries are part of a Saudi-led military coalition aimed at curbing the Houthi rebels' power in Yemen. However, Egypt's military involvement has so far been limited to protecting its naval interests and participating in a major military exercise.
---
Subscribe to our newsletter
---