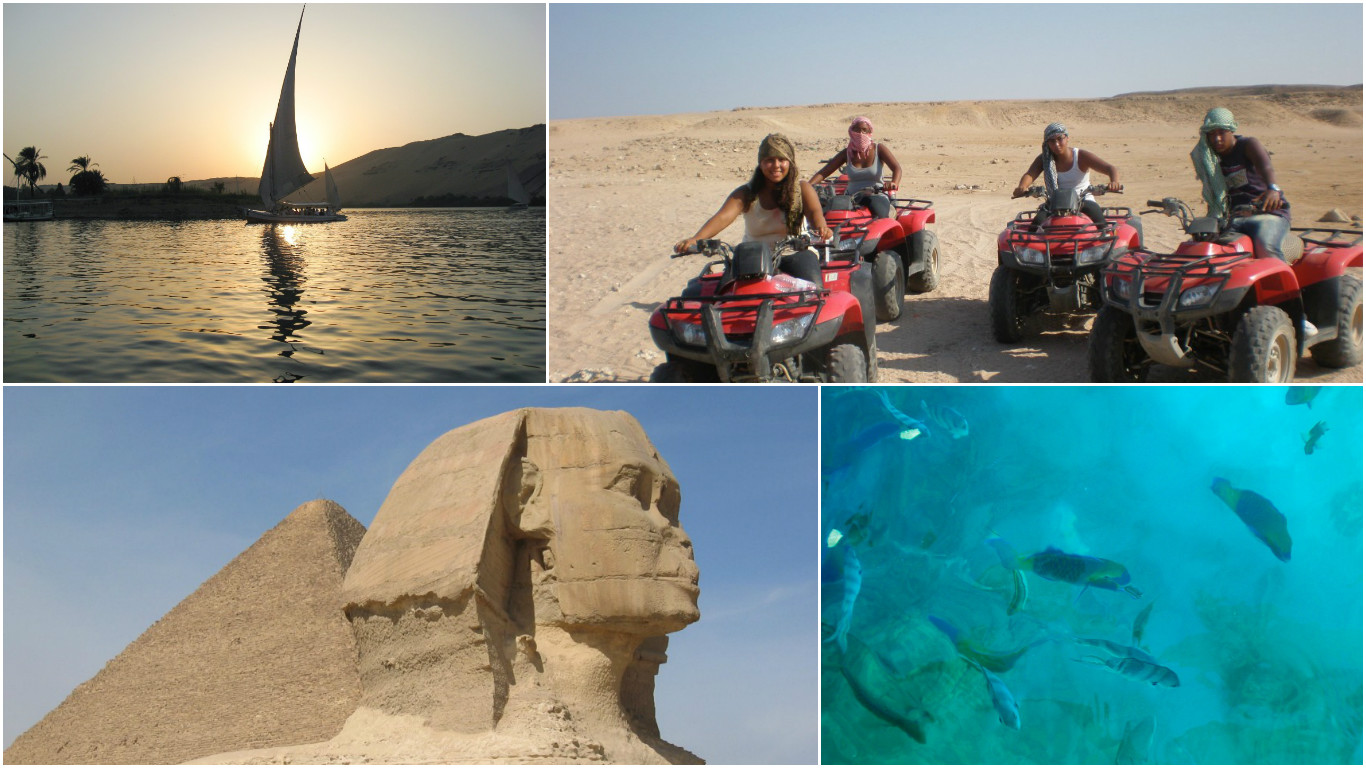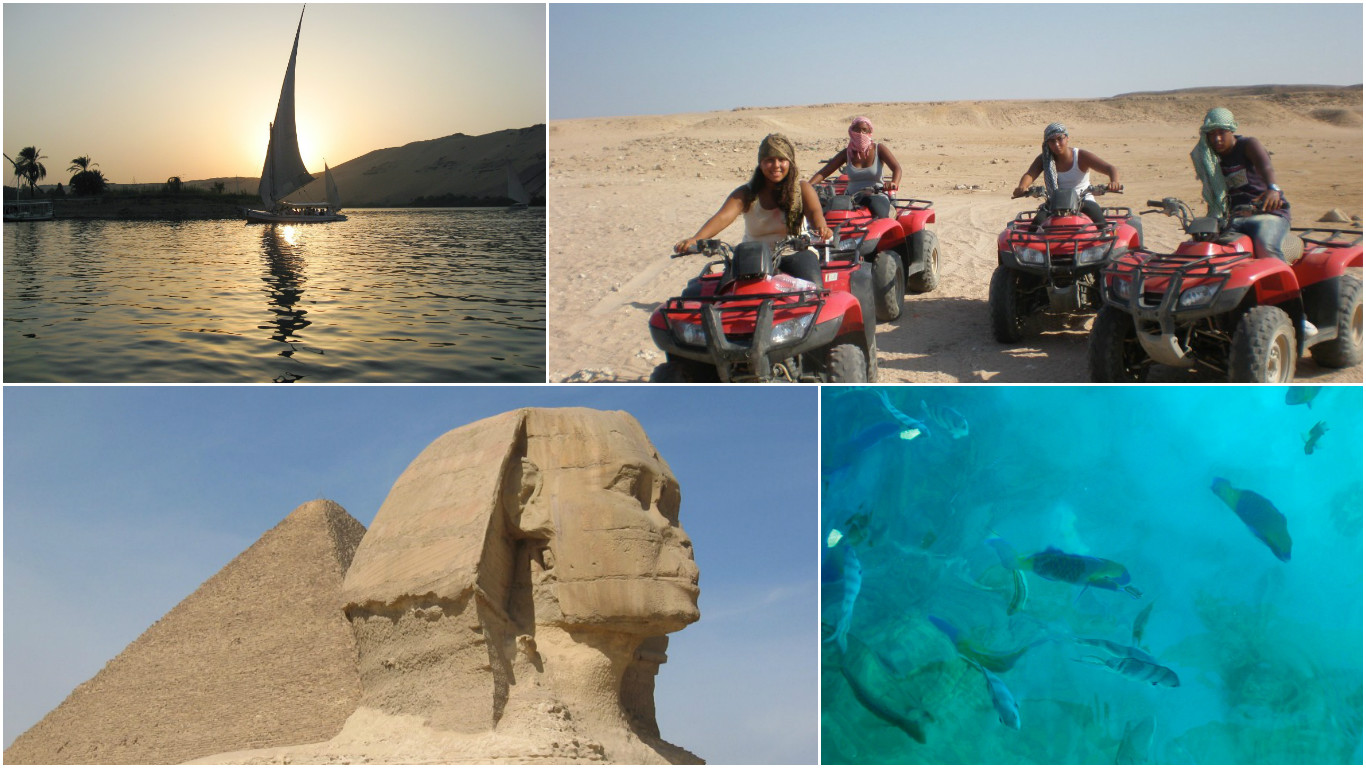 This post originally appeared on Passport & Plates
Egypt was my first international vacation after moving to the U.S. at the ripe age of four. It was 2004, and I was overjoyed to be spending the summer in the land of pyramids, pharaohs, and feluccas. That summer was nothing like I had expected, but I had an amazing time nonetheless, and returned for another four summers during my teen years.
While I still haven't seen some of the most famous monuments outside of Cairo (I know, I'm pretty embarrassed about it too), I want to share with you some of my favorite experiences in the City of a Thousand Minarets. These are the five experiences not to miss in Cairo.
1. The Pyramids of Giza and The Sphinx
I mean, duh right? Who goes to Egypt and doesn't visit the Pyramids? Well, nobody really but I can't exactly write a list of must do's without the Pyramids now can I? They're an architectural marvel and definitely worth the hype. You can be an uber-tourist and ride a camel or horse here (I did both, no shame), but make sure you haggle hard. Unfortunately, there's a big tendency to rip off foreigners.
2. Shop at the Khan El Khalili Market
When I told my grandma I wanted to come here, she threw a mini fit but eventually turned it into a family outing. I think it's because Egyptians don't like crowded places with lots of tourists, even though the entire city of Cairo is crowded and filled with tourists. Whatever, you should go either way. The Khan el-Khalili is a bazaar – the really cool kind of bazaar that you see in movies about the Middle East. It overwhelms and enchants the senses. You can easily spend a few hours here haggling with merchants, drinking tea at a café, or if you're brave enough – sampling some local Egyptian street food.
3. Sail on the Nile
Picture this: it's early evening, the weather is cooling down, and you're eager to watch the sunset on the Nile. Why simply watch the sunset from the bridge when you can see it while sailing on a boat? Hire a felucca (a traditional Egyptian sailboat) complete with music and a captain and enjoy a beautiful sunset sail. Bring your own food and make a picnic out of it. If you're more of a party boat kind of person, then opt for a Nile cruise: you get flashing lights, Egyptian dance music, and a motorized boat instead. No matter which you choose, you're in for an enjoyable evening.
4. Bask in the crystal-clear waters of the Red Sea
Okay, I'm cheating a little because the Red Sea is technically 2 hours outside of Cairo (if you go toAin El Sokhna). But, don't tell me you're going all the way to Egypt and spending your entire trip in Cairo! You're going to want out of the crowds and chaos that is the capital, and what better way to relax than to go to the beach? To date, one of the most beautiful beaches I've been to has been the one at Sharm el Sheikh. Sharm is a solid 8-9 hours from the city, but if you're looking for a nearby getaway for some sun and sea, then Ain El Sokhna is an excellent choice.
5. Zoom through the desert on a dune buggy
You're probably thinking one of two things. Either "Riding a dune buggy sounds awesome, tell me more!" or "How dare you suggest something so touristy!" If you're thinking the latter, I hope you still think dune buggies are cool. Otherwise, I'm not sure we can be friends. Anyway, driving through the desert with your head and face wrapped in a brightly colored scarf is FUN. This is coming from the girl who accidentally hit a giant rock and flipped her dune buggy over. I'm really accident prone, okay?  Despite that little incident, I still think it's fun and want to do it again. You can find a tour company that does them near the Pyramids, but if you find yourself in either Luxor or at a resort near the Red Sea, you can rent buggies there as well.
I know the situation in Cairo isn't at its best at the moment, but I do encourage people to visit one day. It is truly a cosmopolitan city that has something for everyone: history, food, culture, entertainment…the list goes on and on. And despite the chaos and culture shock that both you and your stomach are guaranteed to experience, Egyptians will welcome you with open arms and generous hospitality, and you'll leave the city with life-long memories.
Have you ever been to Cairo? What experiences would you add to this list? Let me know in the comments and don't forget to check out my website Passport & Plates by clicking here.
---
Subscribe to our newsletter
---