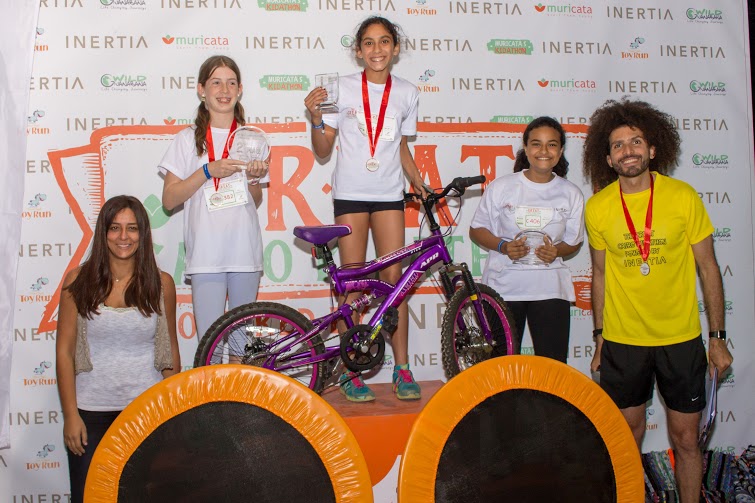 Bright and early on Friday morning, more than 300 children broke out their running shoes and took to the streets of Zamalek to participate in the Great Cairo Kidathon, Muricata's biggest marathon for kids to date.
The marathon saw children between the ages of 6 to 14 running Zamalek's Sawy Cultural Wheel route, which is a popular route for running initiatives that have cropped up in recent years. While the younger age groups (6-8 and 8-11 years old) ran 2 KM, those aged 12-14 kicked the challenge up a notch and ran the loop twice for a total distance of 4 KM.
Although adult runners are often seen getting their exercise on Zamalek's streets and elsewhere in Cairo – most recently in Maadi for Cairo Runners' half marathon – the Great Cairo Kidathon was geared towards children to enhance their overall physical and mental wellbeing at an early age.
In addition to giving children and their parents the opportunity to exercise and get a breath of fresh air, the kidathon incorporated an element of charity by requiring children to donate a toy through Marwa Fayed's toy run. All toys received through the marathon were then donated to Abu El Reesh hospital.
"We did not anticipate this overwhelming enthusiasm from the children and their parents," said Egyptian mountaineer and the founder of Muricata, Omar Samra. "Many children donated more than one toy for registration. They were as interested to help out as they were to race if not more, and this was very moving."
All participants walked away winners, with a certificate and a medal to attest to their enthusiastic participation in the marathon, but 18 lucky children also received trophies and valuable prizes such as bikes and watches.
Following the marathon, participants and their family members enjoyed a variety of activities, including family yoga, an arts and crafts session and an exclusive performance by popular Egyptian band Cairokee.
With the sponsorship of real estate company Inertia and the organizational support of the TriFactory, the marathon was hailed as a major success and is set to become an annual event.
---
Subscribe to our newsletter
---