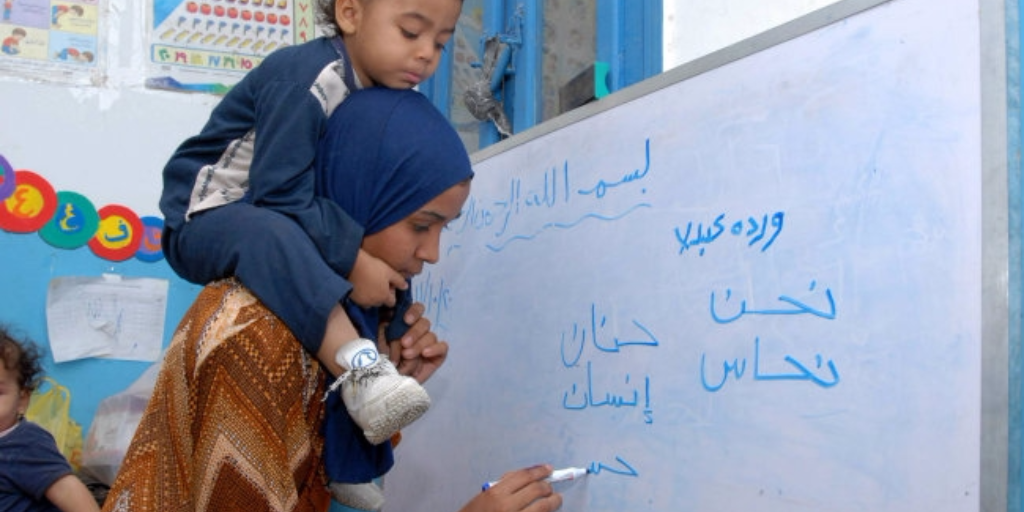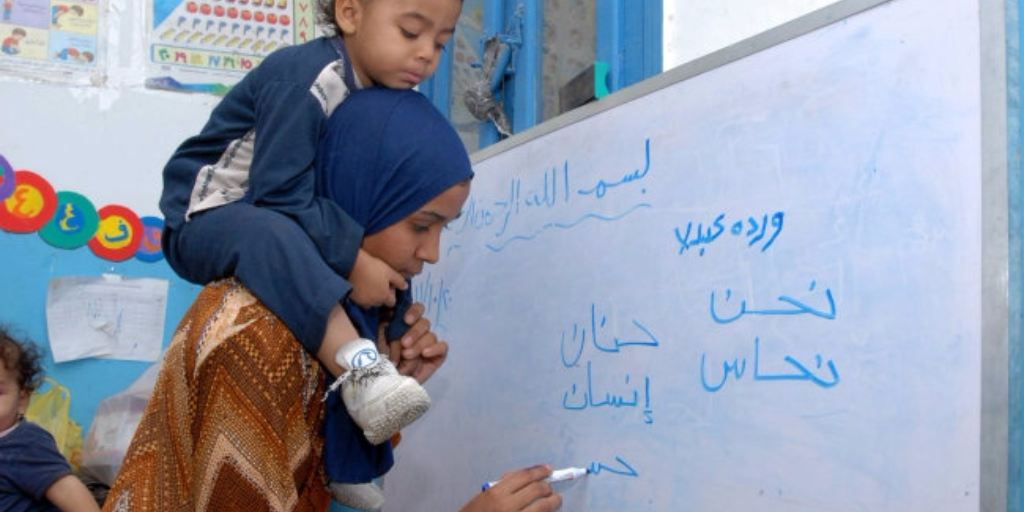 By Rana Kamaly, BECAUSE


Egypt is estimated to have 16 million illiterate people, whose lives are loaded with issues that don't usually cross our minds. From using an ATM to reading street signs, to improving their children's chances: rural migrants to the city face particular barriers. Government, corporate and civil society initiatives aim at breaking this cycle—but progress is slow.
On a hot afternoon in Maadi, Mohamed Amin,* a forty-five year-old builder, is struggling to use the ATM to get his salary. He spends two hours trying in the summer heat. 

Amin is just one of the estimated 16 million illiterate people in Egypt, making up at least 28% of the population according to CAPMAS. He has no means of understanding the leaflets that came with his card, nor the ATM's on-screen instructions. It wasn't until the security guard got tired of him standing there in his work clothes that help was offered.
"I just gave him the card, and the man laughed at me and said, 'Can someone be that old and have never used an ATM before?'" says Amin. "At this point I realized that not being kind is also a form of illiteracy."
Amin admits that not all people are that cruel or arrogant. "Some people are very kind and helpful, but usually people who are literate don't consider … I keep wondering, why didn't someone teach me how to use a card?"
According to Nahla Gamal Amin, who works with many illiterate people as the manager of the Adult Education Center at Ain Shams University, the credit card issue is very common. "We see this every month, workers lining up to take their salaries while waiting for a student or employee to pass by so that they can help them. It just kills their privacy and self esteem," Gamal Amin says.
Across town in Nasr City, and thirty-five year-old pregnant mother of three Amira Mostafa* has just finished a tense phone conversation with one of her neighbors. "Was this Nadia from apartment seven or Khadija from apartment three?" she asks herself. On her phone, the women's names are marked with random symbols, as Mostafa cannot read.
"It's just a daily challenge to use this thing," she says, "But people in the building want to be able to reach me twenty four hours a day, so I have to have one."
Illiteracy and exclusion
Both Mostafa and Amin are migrants to the city. Mostafa moved to Cairo five years ago from a village in South Egypt to take up cleaning work and to support her husband in his job as a bawab; and Amin moved six months ago from the primarily rural Upper Egypt. 

It is estimated that 63% of Egypt's illiterate people are clustered in rural Egypt, which remains at stark economic disadvantage to Lower Egypt.
Illiteracy's roots are in poor education; but its incidence and impact is worsened by factors of class, gender and urbanization. The social exclusion of the situation hits home far harder when an illiterate person from the countryside migrates to the cities in search of better economic and, ironically, educational conditions. So near but yet so far, it is here that the social safety net of rural life falls away, and the linguistic challenges begin.
When Mostafa moved to Cairo three years ago with her husband, "It was my first time to really feel what education might have offered. In our village where I grew up, not being able to do the math, I trusted the man and never thought about [being scammed]."
Reem Saad, Associate Professor of Anthropology in the American University in Cairo, focuses some of her research on rural Egypt. "When an illiterate person is living in their village, it's not that much of a handicap, as they grew up to this familiar space … But when they live in the city, it makes them feel disoriented and not fully in control. This is not only due to illiteracy but also because they lost their social network and the shift in nature of life, living circumstances and routine in general."
She adds: "With the shift more to ATM usage even with public sector salaries and insurance money, it definitely became a common problem because illiterate people are vulnerable to being cheated or have to rely on strangers."
While it would be ideal to eradicate illiteracy altogether, for a current generation it remains an accessibility issue. As Saad comments, the city should be accessible for the whole population not just the "perfect few". If basic facilities like ATMs, public signage, and public offices are not accessible to people with disabilities, elder people, young kids, illiterate people, autistic people; who, she asks, is it accessible for?
The roots of illiteracy
All signs point to Egypt's education system, listed as one of the poorest in the world. However, further social and economic factors compound the problem. 

While there are penalties exacted on parents whose children don't attend school, the law is rarely applied. Many children play truant due to the distance to their school, or simply by being put off by the place, Gamal Amin explains. Furthermore, the economic benefits of literacy are not at all apparent to parents, who, if illiterate themselves, reason that they have worked with their hands all their lives and not suffered.
"The unemployment rates for the illiterate is only 4%, while 12% for the literate according to the latest statistics," claims Gamal Amin. Upon actually learning to write, the necessary certificates and exams take a long and complicated process to be issued, so it is hard to convince people of the direct immediate effect on their work or salary. So, Gamal Amin asks, what motivation is there to learn?
"We try to tell them that things take time," she says.
All the same, Mostafa is deterred only by one thing. "My husband wouldn't even let me try to learn, as he believes I will leave him for a literate man." She steals glances at her children's books when she can. "I now know the numbers and half the alphabet, but then they leave and I will forget it all, because I don't practice."
According to studies, 69% of Egypt's illiterate people are female. 

Gamal Amin says that spouses like this are very common, as illiteracy can result in low self-esteem.
She wishes it were different. "The sea of knowledge is endless and open to anyone," says Gamal Amin. "It's a great privilege to be able to hold a book and read for yourself. It just makes it harder for someone to control your mind."
This may be the most alarming aspect of all, endangering the most fundamental aspects of citizenship.
"Illiteracy is used by some as a way to exclude people, it is used as a way to classify them and deny them some rights," says Saad. In 2012 and 2013, progressive intellectual and author Alaa Al Aswany and politician and Nobel Laureate Mohamed ElBaradei called for removing illiterate people's voting rights, based on the idea that the talk shows and TV news that illiterate people rely on for information is insufficient to give them the responsibility of a vote.
Gamal explains that these undemocratic views may be grounded in the idea that illiterate people, with fewer means of verifying information they are given, can easily manipulated. But Saad warns: "You have to keep in mind that if the society keeps treating the illiterate person like he is not capable enough to make proper decisions, then with time he himself will us it as an excuse to not be held accountable," Saad says.
Breaking the cycle
Both Mostafa and Amin are determined to ensure their children learn to read and write. Amin hires private teachers for his children to ensure "… they don't end up like me."
Mostafa recalls the day she took her four-year-old to be enrolled at the public school nearby. "I was so happy as the school is near and they say it's better than the one we had back home," she says. But the school refuses to take the girl, in a catastrophic irony.
"She can't write her name," confessed Mostafa. "It's my fault, I couldn't really teach her."
Instead, Mostafa's daughter is educated in the family's village. "But I know the school is horrible there, and the road to the school is not very safe. But my kids must learn."
Egypt has numerous large-scale initiatives to combat illiteracy. Government action is primarily taken through the General Association for Literacy and Adult Education (GALAE), which launched a ten-year initiative that sets up literacy classes in public centers ranging from mosques to clinics and distributing free courses and guidebooks. On the side of the private sector, Vodafone Egypt in collaboration with GALAE announced in 2015 its ambitious plan to eradicate illiteracy in Egypt entirely. Under the project title Knowledge is Power, its EGP 50 million fund is being put into projects in eighteen out of twenty-seven of Egypt's governorates. 

Twenty thousand people per year are served by Caritas Egypt's Adult Literacy Program, and has been recognized by UNESCO as "one of the nine best adult literacy programs in the world." Supporting non-profit efforts like these, and those on a smaller and more localized scale, is the Arab Network for Literacy and Adult Education established in 1999.
Gamal Amin at the Adult Education Center is, of course, at the core of this effort, and sees on a daily basis what it takes to begin studying alongside all of life's other pressures. The Center aims to facilitate the education process of any adult at any level of education, be it a person who can't read or write, or an adult researcher. Free literacy classes are on offer for people like Amin and Mostafa, offered by teachers that the AEC trains first.
These efforts, combined with local community initiatives, indicate that the response from government, the private sector and the non-profit world has been expansive. However, according to the Arab Human Development Report in 2002, "This rate is not expected to disappear 'until 2040.'"
But Gamal Amin is hopeful. "When people are motivated from within they can really do it. There are people who went as far as getting their masters and PhD, because they really loved it."
She continues: "We have an Arabic saying that translates to 'After he turned grey they sent him back to school'," she says. The phrase takes a sarcastic tone towards people who take up new things late in life. "This belief should be destroyed—no one is too old to start."
*Names have been changed


---
Subscribe to our newsletter
---