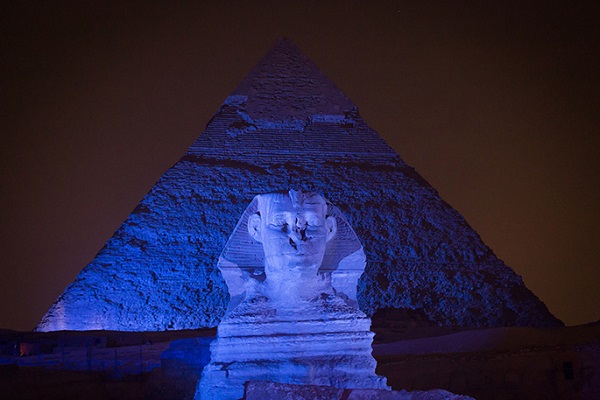 As part of the Light It Up Blue (LIUB) global campaign for World Autism Awareness Day, Cairo tourist attractions and most prominent landmarks to light up in blue on April 2.
Many landmarks joined the campaign including Giza pyramids, the Cairo Opera House, The American University in Cairo (AUC), Children's Cancer Hospital Egypt (CCHE 57357) and the Citadel among many others marking this worldwide event.
The day aims to raise awareness on autism in a society where children and adults with this disorder are often stigmatised.
This year, the Egyptian Autistic Society has launched its large-scale national awareness campaign under the slogan, "yes I'm autistic, but I'm much more" in an attempt to attract attention to key issues surrounding the disorder in Egypt.
Momentum Egypt is the advertising agency and creative mind behind the 2017 campaign for Autism. They have launched their awareness campaign for The Egyptian Autistic Society under the title #MoretoAutism aiming to show the hidden talents of children with autism.
"Those children have been suffering for years, have been discriminated against, have been shunned by society," according to Momentum Egypt official Facebook page.
Egypt participated in the awareness day for the first time in 2014, with the Citadel of Cairo illuminated in blue and purple to mark the day.
Designated by the United Nations on April 2 of every year, World Autism Awareness Day encourages efforts to raise awareness of children with autism and bring attention to this often-misunderstood neurological disorder.
---
Subscribe to our newsletter
---