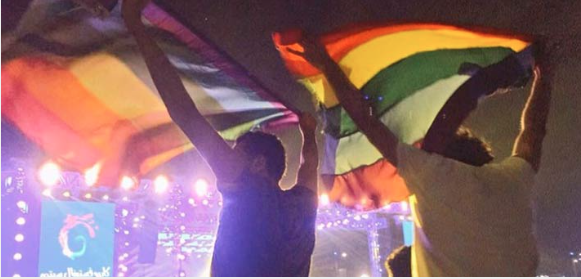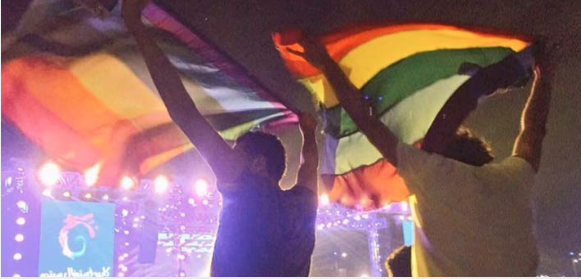 Dokki Misdemeanour Court sentenced a student from Mashrou Leila concert to 6 years in prison & EGP 300 over 'practices of debauchery', according to state-owned newspaper Al-Ahram.
Police arrested seven concert-goers in Cairo on Monday after they raised a rainbow flag during a performance by Lebanese rock band Mashrou' Leila over the weekend, security sources say.
In a rare and public display of solidarity with the LGBTQ community, video footage of the flag being raised prompted wide-spread debates throughout the capital, and resulted in multiple arrests.
Sources said that those in custody are being held over charges of "promoting sexual deviancy," a phrase used interchangeably with homosexuality by Egypt's governing authority, after they had been seen raising the flag.
Alternative rock band Mashrou' Leila, whose lead vocalist is openly gay, has not yet responded to news of the arrests.
#Cairo! This was one of the best shows we've ever played! Was an honour to play to such a wonderful crowd! So much love! <3 #مشروع_ليلى pic.twitter.com/OX9YAXXfeD

— Mashrou' Leila (@mashrou3leila) 23 September 2017
In a recent statement, however, a representative from Egypt's Musicians Syndicate said that the band will be banned from preforming in Egypt again- a declaration that caused an outcry among the nation's LGBTQ individuals and allies.
Nabil Sadek, the Egyptian Public Prosecutor, demanded that the State Security Prosecution immediately investigate events surrounding the incident, reported the state-run MENA outlet.
He has yet to announce whether official charges are going to be filed, or if the case will be brought to court.
Despite the fact that homosexuality is not explicitly illegal in Egypt, the society continues to take a conservative stance on the subject, and discrimination is common. Gay men have been repeatedly arrested and accused of blasphemy, debauchery, and charges related to immorality.
Mashrou' Leila, a group of musicians from Lebanon with a growing fan base in the Middle East as well as western nations, have faced bans in the past due to their openly supportive stance of LGBT rights. Most recently, they were barred from performing in Jordan for the second year in a row.
Egyptians took to social media to express their anger at the ban, and support for Mashrou' Leila and the LGBTQ community:
"We were not waiting for Mashrou Leila to prove that we exist or to raise the rainbow flag in Egypt. We are here and continue to the other end of the rainbow."

More than 30,000 Flashlights were lit up out there in Cairo for @mashrou3leila 💕💕
Much love 💜💞#مشروع_ليلى #ليلى_في_القاهرة #cairomagic pic.twitter.com/XwqclsIhyc

— Daydreamer. (@a_torkyy) 24 September 2017
---
Subscribe to our newsletter
---